Mesquite Country Bread, Pan De Campo
Mesquite country bread is made with mesquite powder (flour) and yeast (levadura) and the combination makes this an original unique  pan de campo.   I first tasted this recipe when I helped bake it with Francisco Guerra, San Antonio chef and caterer, at a celebration of the Native American community, Tap Pilam, at the Land Heritage Institute, a 1,200-acre site with archaeological evidence of continual human habitation over 10,000 years.  Here I'm celebrating the last slice with Andrew Zimmern and Ramón Vasquez, Director of the American Indians in Texas at the Spanish Colonial Missions (AITSCM).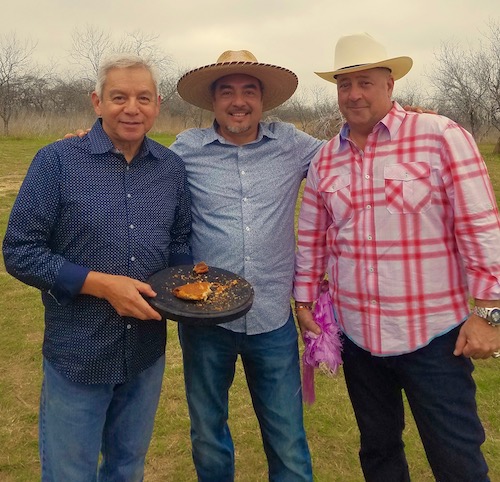 This mesquite country bread is so flavorful that it'll probably be gobbled up by your guests within minutes.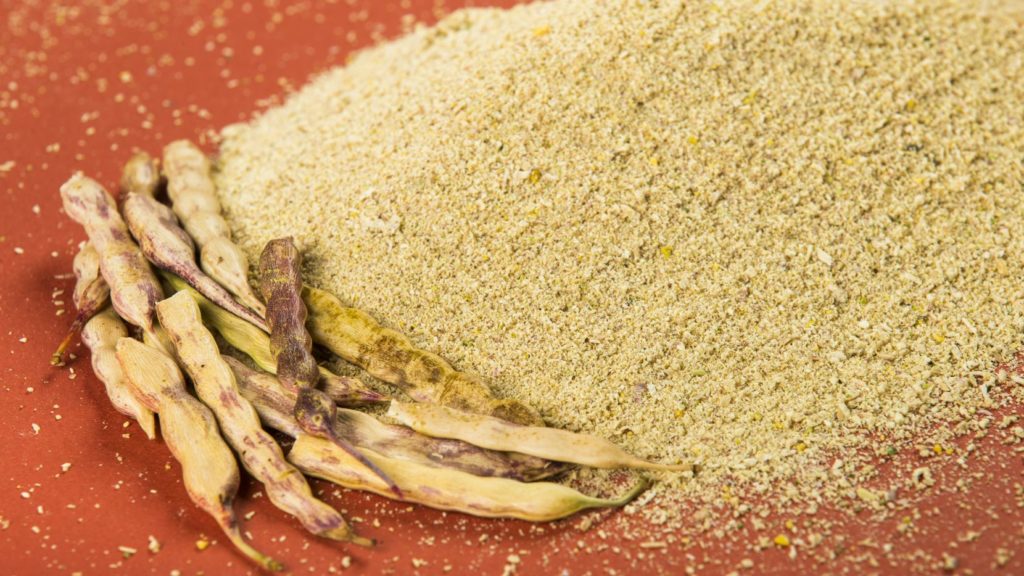 I blend mesquite powder (flour) with wheat flour. With the yeast, it rises so that it is light on the inside and heavily crusty on the outside. I've adapted the recipe so you can cook it at home in your oven. The mesquite flavor lets your palate recall and celebrate the ancient and expansive outdoors of Texas.
Recipe for Mesquite Country Bread, Pan de Campo de
This recipe is adapted from my cookbook: "Don't Count The Tortillas: The Art of Texas Mexican Cooking"
Ingredients (makes 1 10-inch round loaf)
3 cups all-purpose flour
1⁄4 cup all-purpose flour for kneading
1⁄4 cup mesquite powder (flour)
1 teaspoon salt
1⁄4 cup no transfats palm oil shortening or other vegetable shortening
1 cup warm water
1⁄4-ounce package of yeast, 2 1⁄4 teaspoons
Method
1. Preheat oven to 350 ̊F.
2. Add the yeast to the warm water and let it stand for 10 minutes to dissolve and start puffing up.
3. Sift together the flour, mesquite powder, and salt until thoroughly combined.
4. Add the shortening and mix together until the shortening is completely blended in.  Add the yeast water slowly, mixing to form a soft, moist dough. Knead the dough for 6 minutes, adding flour as needed, and fashion it into a ball. Place it in a well-oiled bowl and let it rest covered with a damp cloth in a warm place for 45 minutes to 1 hour, until it has doubled in size.
5. Fashion the risen dough into a disk so that it fits snugly in the bottom of a Dutch oven. Cover it and let it rise in a warm place for another 30 minutes.
6. Keep the lid on and bake for 20 minutes. Remove the lid and continue baking for another 25 minutes.
Serve the bread warm or at room temperature.
NOTE: If you found my article helpful, I invite you to follow me on Twitter, Instagram and Facebook, or subscribe below for updates (I'll email you new essays when I publish them).
---
---