Make Machacado — Texas Salt Lake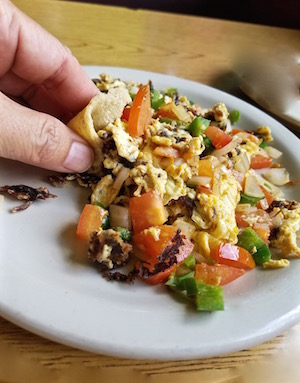 "Machacado Con Huevo" uses the basic element, salt (sodium choride), to dry and preserve meat.  It's a traditional breakfast dish based on a technique that we inherited from our native Texas ancestors who handed it down to each subsequent generation.  Over thousands of years, a Texas salt lake provided an unending supply of salt.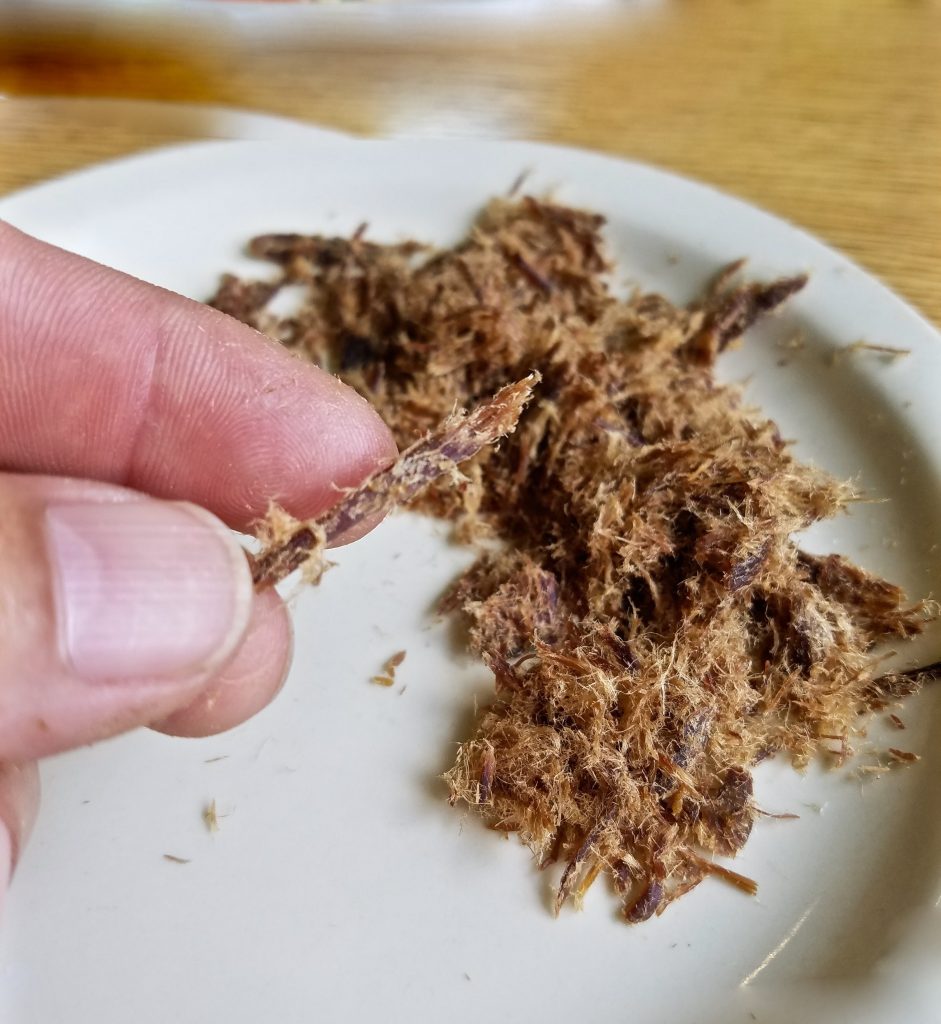 Crush or pound the "machaca" into fine threads, and then scramble it with eggs for a delicious, traditional Mexican breakfast.  As an added step, if you add tomato, onion and chile serrano, the red, white and green colors of the Mexican flag render the dish: "A La Mexicana."
Salt is essential for survival because without it our body fluids become chemically unbalanced, which leads to loss of muscle function, loss of nervous system function and eventually death. Near Raymondville, Texas there is a salt lake that is thousands of years old.  The lake water bed is 99.0897%  pure sodium chloride, and the water is saltier than even ocean water.  Native Americans continuously harvested the lake and used the salt not only to preserve food but also as a staple for commerce, selling it to other communities inland throughout Texas and also farther south into what is now Mexico.
Rock salt from the shores provided an ongoing source of income that fostered not only commerce, but also cultural exchanges, like produce, tools and earthenware.  Archaeologists have uncovered pottery shards from MesoAmerica that date long before the arrival Europeans. The shards are evidence of trade with the Huastec region, near Veracruz, Mexico.
Sadly, salt would join the other tragic losses that Native Americans endured once the Spanish empire arrived. The Spanish military, upon seeing this rich economic resource, claimed it. The king of Spain issued a royal decree declaring that the salt belonged to him.  To this day the lake is still called "La Sal Del Rey" — "The Salt Of The King."
Recipe for Machacado

(this recipe is adapted from the book, "Truly Texas Mexican: A Native Culinary Heritage In Recipes")
Ingredients
4 eggs, beaten
2-1/2 ounces machacado, Mexican dried beef (2/3 cup) (Buy it from the store or make your own, as described below.)
3 tablespoons white onion, small dice
2/3 cup tomato, diced
2 tablespoons canola oil
1 serrano chile, minced (4 teaspoons)
Method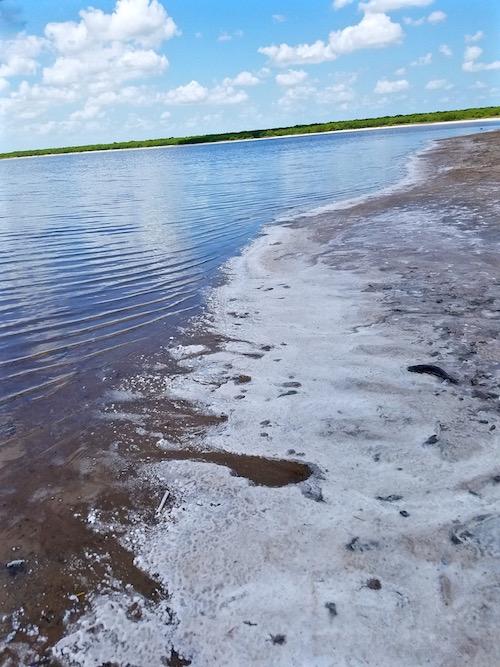 For the Machado
To dry the meat, plan ahead. It takes 4–12 hours.
1. Select a cut of meat that has very little fat, such as round steak, shoulder, or rump, and cut it into 1/4-inch to 1/8-inch slices. If the meat is too soft to slice, place it in the freezer for a couple of hours to stiffen it. Slice it lengthwise with the grain so that you see the muscle fibers running up and down, not sideways. By cutting the slices this way you will be able to break the meat into fibrous strands once it is dry.
2. Cover the slices with a very thin layer of fine salt and then follow the instructions for your dehydrator. It will take 4–12 hours.
3. When the meat is dehydrated, use a mallet to pound it and break it apart into thin strands. You thus have machacado.
To Make Machacado con Huevo
Make sure the dried beef is pounded into very small pieces. If the pieces are too large, place them in a molcajete and use the tejolote to pound them apart into small bits.
1. Heat the canola oil in a skillet over medium heat and add the onion and chile. Cook for 1 minute until the onion softens, and then add the machacado and cook for 2 minutes until the meat is a little crispy.
2. Add the diced tomato and cook, stirring, until it is soft. Then add the beaten eggs and cook on low heat until the egg is done.
Serve it with flour tortillas and refried beans, and thank your maker that our ancestors taught us how to dry meat.
REFERENCES helpful for further study about Native Americans of Texas, the ancestors of today's Mexican American community
The Texas Indians by David La Vere
Tejano South Texas by Daniel D. Arreola
The Conquest of Texas: Ethnic Cleansing in the Promised Land 1820-1875 by Gary Clayton Anderson
The Indians Of Texas by W.W. Newcomb, Jr.
The Narrative of Cabeza de Vaca by Álvar Núñez Cabeza de Vaca
Texas Beyond History by the University of Texas at Austin http://www.texasbeyondhistory.net/
NOTE: If you found my article helpful, I invite you to follow me on Twitter, Instagram and Facebook, or subscribe below for updates (I'll email you new essays when I publish them).
---
---