Horchata, Agua Fresca Made Naturally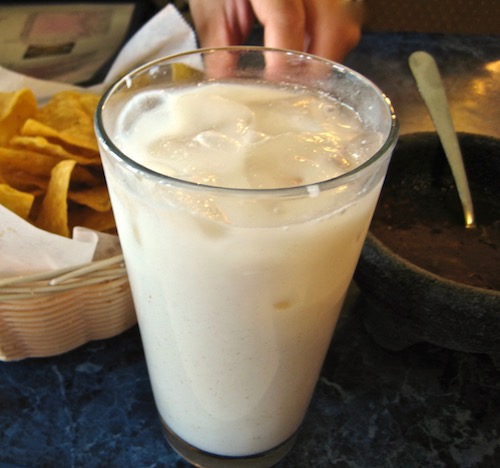 Horchata is a classic "agua fresca" and an example of how people and food constantly evolve.  It's connected also to people's identity.  A delicious Mexican iced drink of almonds and rice essence, horchata was brought to Mexico and Texas by the Spanish when they came here to expand their empire.  How did the Spanish learn to make horchata?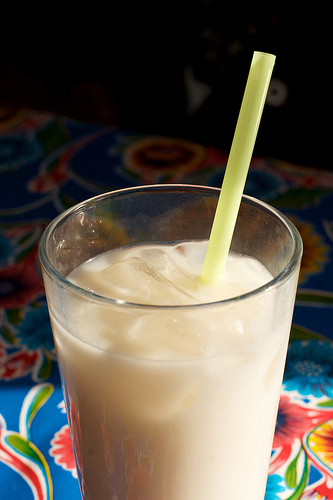 From the Arabs when the Arab empire conquered them in Spain during the 8th-13th centuries.
Arab cooks made this cool refreshing drink using the tuber, tiger nuts (chufas).  In Mexico and Texas, tiger nuts were replaced by rice and almonds, and a new drink with ancient roots was born.


Every region, from Houston to San Antonio to Oaxaca, has Horchata variations.  Down in Oaxaca the drink is made with rice and almonds and served with a splash of prickly pear puree and cubes of cantaloupe.  Now that's nice!  The Oaxaca recipe follows below.
Here in the Texas Mexican, region, just North and South of the Rio Grande River, the drink is straightforward, leaving out the almonds altogether and using just cinnamon as a seasoning.  The right blending of these ingredients with ice is brilliantly simple, simply brilliant.  Who needs all that other stuff in this heat!

Many restaurants in Texas serve this natural agua fresca, but others have started selling syrup-based drinks, calling them agua fresca.  Brands such as El Niño, Nestle, and others, are marketing what they call "agua fresca," making efforts to advertise their use of real fruit and ingredients, but they remain corporate offerings with added chemicals.  Served in large beverage dispensers,  these corporate brands are cheaper, easier to make (just mix the syrup with water) and have a longer shelf life. I prefer restaurants that serve the handmade, natural, fresh ingredients, low on the sugar.  I want persons, actual cooks, to prepare my food, rather than corporations. These aguas frescas will continue to evolve and where they go is up to cooks in today's kitchens.
Recipe For Horchata, Texas Mexican Style
Recipe adapted from the cookbook, "Truly Texas Mexican: A Native Culinary Heritage In Recipes"
Ingredients  Makes 2 quarts
1/2 cup rice
2 quarts water
2 sticks canela (Mexican cinammon)
1/2 to 1 cup sugar or to taste
Method
1.  Bring the water, cinammon and rice to a simmer and cook until the rice is just barely tender, about 10-15 minutes
2. Remove the canela and process the rice and water in a blender until the mixture is completely smooth and there are no particles at all.  You may have to do this in small batches.
3.  Pour the mixture into a pitcher and add the sugar according to your taste.
4.  Chill thoroughly,  (at least two hours) and serve over ice.
You are drinking a unique identity drink of the Arabs, the Spanish,  Mexicans, and Texas.
Recipe For Horchata Oaxaqueña
(This recipe thanks to Chef Iliana De La Vega of El Naranjo restaurant in Austin, Texas)

Ingredients Makes 2 quarts
3/4 cup rice, rinsed in a colander
1 cup almonds, blanched and peeled
1 stick canela, Mexican cinammon
1 1/2 quart filtered water
3/4 cup simple syrup (you can use agave nectar instead, hmmmm!)
1 cup cubed cantaloupe
1/2 cup pecans pieces
3/4 cup prickly pear puree
Method
1.  Soak the rice, almonds and canela in 3 cups of hot water overnight or for at least 6 hours.
2.  Process the mixture in a blender until completely smooth.
3.  Strain into a pitcher through a fine mesh sieve in order to remove any particles.
4.  Add the simple syrup or the agave nectar according to your taste and chill thoroughly
5.  To serve, place about 1 Tbspn cantaloupe, 1 tspn pecan pieces, and 1 Tbspn of the puree in a tall glass, add ice, then the horchata. Serve with long spoons for stirring.
This will take you to the Northern Sierra Madre mountains of Oaxaca!
Horchata picture credit:

Some rights reserved by K. Yasuhara
Top Horchata Picture by: Ernesto Andrade from Fremont, United States (Mexico Tipico – Lunch) [CC BY 2.0 (http://creativecommons.org/licenses/by/2.0)], via Wikimedia Commons
NOTE: If you found my article helpful, I invite you to follow me on Twitter, Instagram and Facebook, or subscribe below for updates (I'll email you new essays when I publish them).
---
---