Empanadas De Camote, Sweet Potato Yum!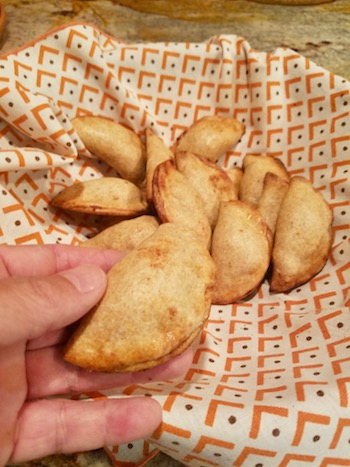 Empanadas de camote are a traditional treat, and they're  just right for winter weather.  This recipe adds an anise flavor to the dough, and I bet you won't be able to eat just one.  Mexican pastries, pan dulce, have become a strong culinary tradition over the centuries, at the hands of creative bakers all over Mexico and Texas.  These empanadas make use of our native sweet potato, taking advantage of its natural sugars and creamy texture.  I always make a big batch. They go pretty fast.
Recipe For Empanadas de Camote | Sweet Potato Empanadas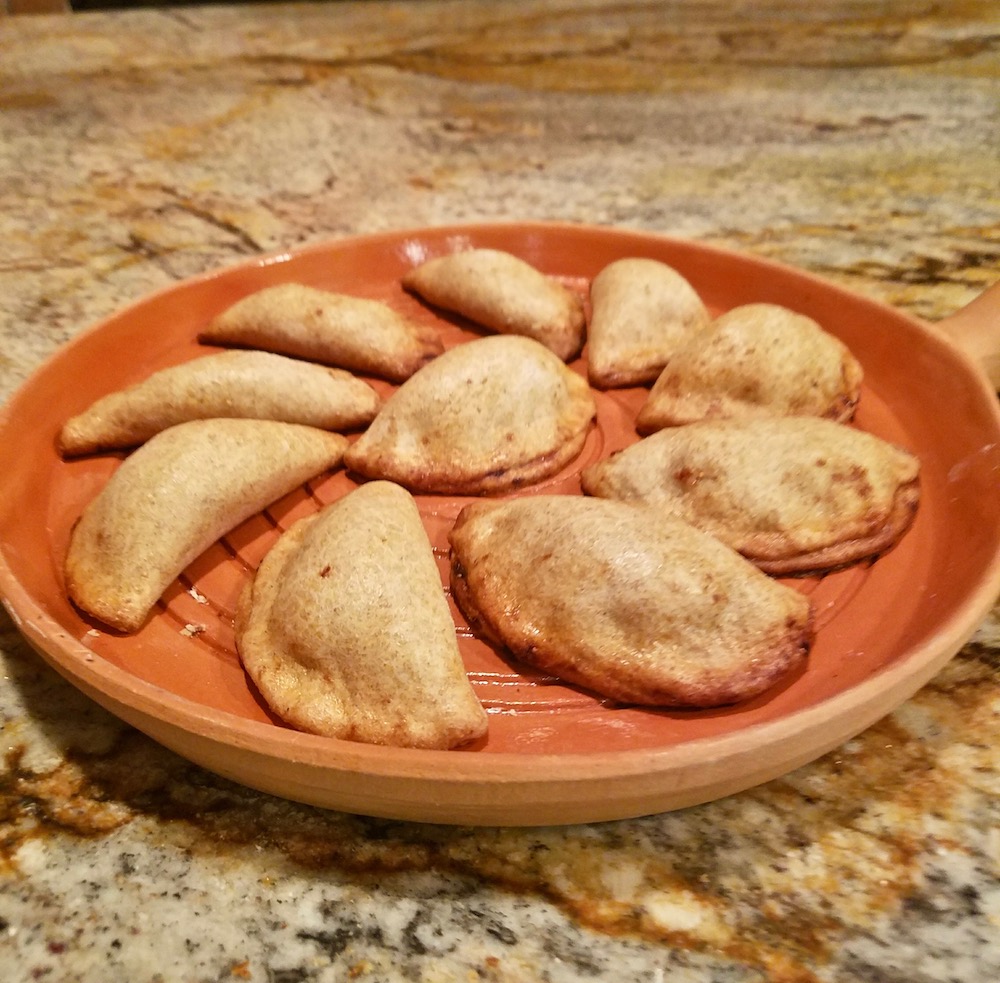 Adapted from the cookbook: "Truly Texas Mexican: A Native Culinary Heritage In Recipes"
Ingredients (makes twenty-four  4-inch empanadas)
2 pounds sweet potatoes
4 tablespoons piloncillo or brown sugar
For the Dough
1 pound all-purpose wheat flour
1/2 cup sugar
1 teaspoon baking powder
1/2 teaspoon salt
4 ounces (5 fluid ounces in a cup) palm oil shortening or other nonhydrogenated vegetable shortening
1 teaspoon anise seeds
1 2-inch stick Mexican canela (cinnamon)
For the Egg Wash
1 egg
1 teaspoon milk
Method
For the Filling
1. Cover the sweet potatoes with water, bring to a boil, and cook for 25–30 minutes until they are completely cooked and soft when pierced with a fork. Drain them. Peel them and mash with a masher, food mill, or food processor until they are smooth.
2. Place them in a saucepan, add the piloncillo or brown sugar, and cook over medium heat for 5 minutes, long enough for the piloncillo to dissolve and
distribute evenly. If the mixture is too dry, add 2 tablespoons of water. The desired texture is a not too moist paste. Set aside to cool until you are ready to
assemble the empanadas.
For the Dough
Preheat the oven to 350°F
3. In a small saucepan bring 1 cup of water to a boil. Add the cinnamon and anise seeds, boil for 1 minute, turn off the heat, and let it steep for 10 minutes.
Strain with a sieve.
4. In a food processor, pulse together all the dry ingredients to combine them well. Add the palm oil shortening and pulse for a total of about 15 seconds
until the mixture forms small granules.
5. Turn the processor back on and immediately start pouring in the anise and cinnamon water slowly, about 2 tablespoons at a time (you will not use all
of it) until the mixture forms an elastic dough.
6. Roll it out on a floured surface with a floured rolling pin, to a 1/8-inch thickness. Use a cutter or bowl to cut out 4–5-inch diameter rounds. Using a water
bowl and your finger, trace a 1/4-inch stripe all around the edge of each round. The extra dough will be used to make a second batch.
7. On half of each round, spread 2 tablespoons of the sweet potato filling, fold the other half on top of the filling while making a half-moon, and press the
edges firmly to seal. The water stripe will help hold the seal.
8. Using a spatula, lift the empanadas and place them on a greased baking sheet.
9. In a bowl, whisk together the egg and milk and brush the tops and sides of the empanadas. Bake for 30– 45 minutes or until they are golden brown.
Happy holidays!
NOTE: If you found my article helpful, I invite you to follow me on Twitter, Instagram and Facebook, or subscribe below for updates (I'll email you new essays when I publish them).
---
---