"Hojita" — Mezcal & Hoja Santa Cocktail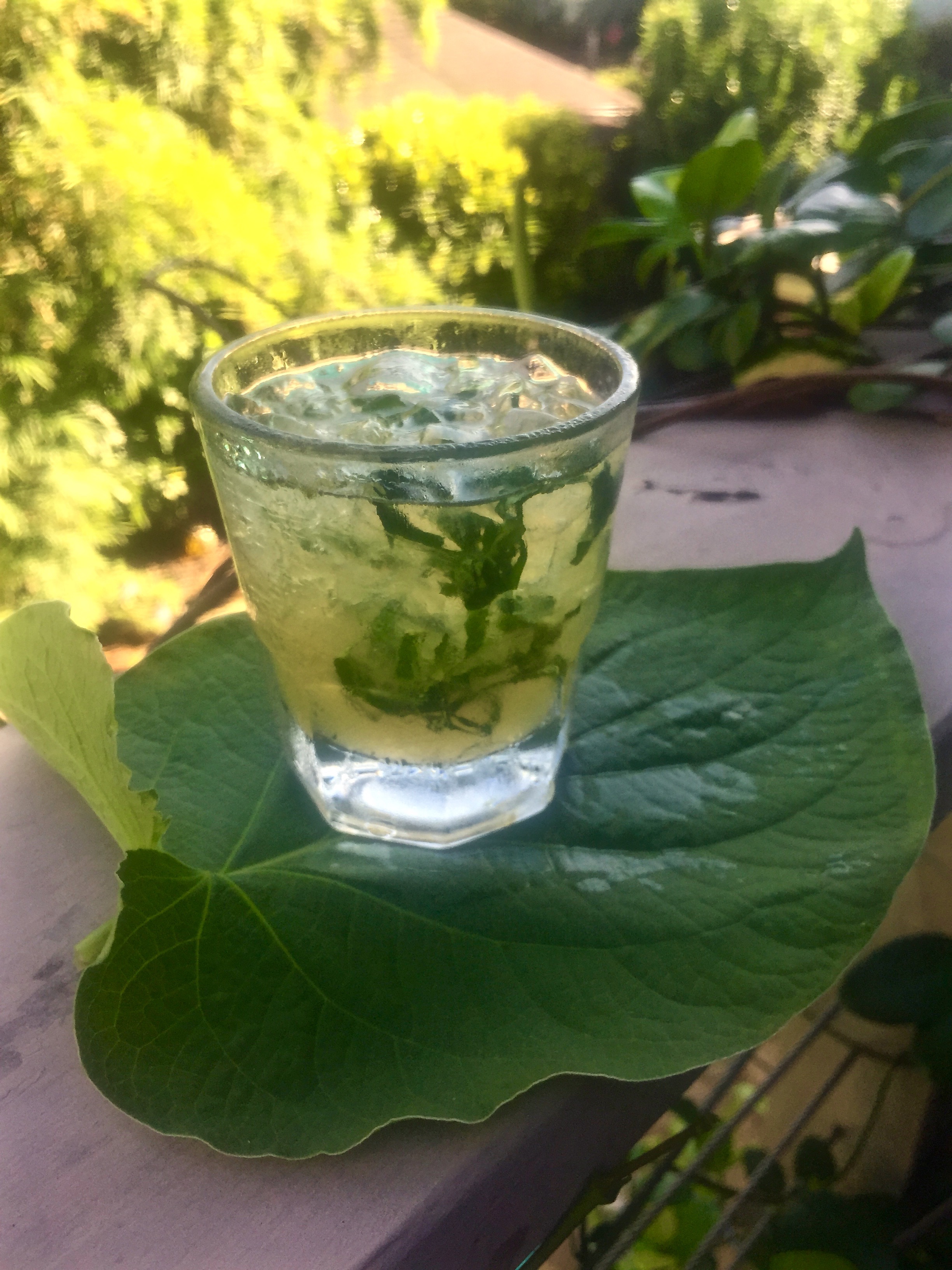 I muddle Hoja Santa to add flavors and aromas of licorice, anise and sassafras.
Native to central and southern Mexico and all of Mesoamerica, this ancient plant is a member of the genus, "piper," same as the Indian black pepper plant.  It's used to flavor chocolate, to cook tamales and is added as flavoring to chiles rellenos.  It is the base for a delicious Oaxacan green mole.  The hoja is also used to wrap fish that is then baked.
Here I've turned it into a cocktail.  On summer weekends, I muddle the leaves in mezcal or tequila.  It's aromatic and refreshing.
You may have difficulty finding fresh hoja santa,
so I suggest that you take a cutting from someone who has one in the garden and grow your own.  An Hoja Santa plant is 6 to 7 feet tall and is fairly easy to grow, so long as it has sun and plenty of water.
Recipe: (makes 4 cocktails)
Ingredients:
2 Fresh Hoja Santa Leaves
8 ounces Mezcal (or Tequila)
4 ounces Fresh Lime Juice
2 ounces Agave Nectar
Crushed Ice
Method:
1.   Cut off the center spine of the hoja santa as shown here with a sharp knife, roll the leaf like a cigar and slice it into thin strips (chiffonade)
2.  Muddle the Hoja Santa in the mezcal (or tequila)
3.  Add the lime juice and agave nectar and mix thoroughly.
4.  Fill old-fashioned glasses with crushed ice and pour the muddled mixture.
I think I'll order myself an "Hojita" !
NOTE: If you found my article helpful, I invite you to follow me on Twitter, Instagram and Facebook, or subscribe below for updates (I'll email you new essays when I publish them).
---
---