Gorditas Are For Everyone, A Texas Mexican Tradition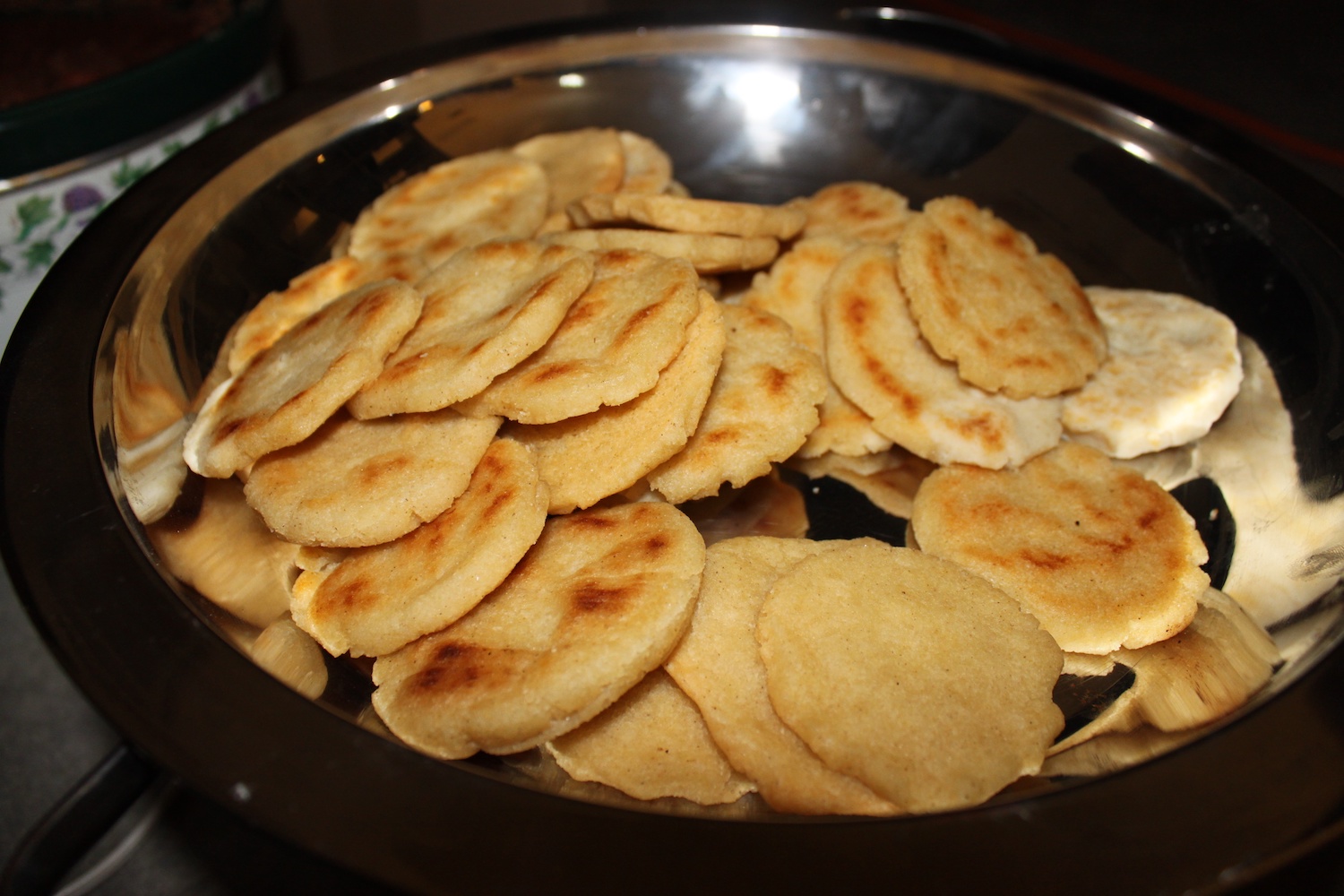 Gorditas YES!
Perfect for parties as an interactive food for business meeting luncheons, board meetings or charity fundraisers.  They're ideal for parties because as interactive food, guests can fill them with a variety of fillings, a DIY station.  But first eat a couple just straight. It's the best way to enjoy the crispy outside crust that enfolds the moist and creamy cooked corn masa.
Vary the size and you can have either finger food or a sit-down meal. But this is not a trendy food. Don't fall into the trap of the haphazard jumble.
Just because you throw things together doesn't mean they go together.
Gorditas are a mouth-watering treasure with deep roots in the Mexican culinary tradition.    Certain combinations for gorditas have been tested over centuries. They are tied to culture and the land. If you've not cooked gorditas before, start with the basics and do them simply.  Taste fully, slowly, and you can connect with natural flavors from past and present indigenous cultures.  My favorite fillings are the ones I suggest in the recipe, either well-fried (refried) beans or freshly made guacamole. These are the ones that for me have the most traditional flavor, texture, aroma and color.
Corn or maize "was domesticated first in Mexico around 5,500 BC and it gradually spread northward, appearing first in what is now the US around 3,500 BC, according to archeological evidence from a cave in New Mexico."  (Murray Berzok, 2005, p. 51.)  Native Americans devised ingenious irrigation methods as they farmed corn.
I say Gorditas are for everyone because corn is so natural here and has always been shared. Traditions are constantly changed and renewed, so if you have a favorite family recipe for gorditas, please share it with me in the comments section.
MAP OF 1821 MEXICO
I have drawn circles on this 1821 map of Mexico to show three areas where I have found distinctive recipes:  Present day New Mexico (USA), Texas (USA), and Queretaro (Mexico).
In New Mexico the Hopi and Pueblo recipes use rather slender tortillas, molded by hand, some flavored with Guajillo chile.  Down in Queretaro, the corn masa is blended with chile Ancho and cheese!  The recipe I'm sharing is one I've adapted from Texas gorditas, using  Queso Fresco.  I hope you find these gorditas as delicious as I do.
Gorditas Recipe
(for more traditional recipes, see my cookbook, Truly Texas Mexican: A Native Culinary Heritage In Recipes )
Ingredients (makes 25 small gorditas)
1 lb corn flour (masa harina)
2 1/2 cups water, if you need a little more, add 1 or 2 Tbsp at a time
6 oz queso fresco, finely crumbled
Salt to taste.  I use 1/2 tsp
3 Tbs Canola oil or as needed (use any non-hydrogenated vegetable oil)
Method
1.  Combine corn flour, salt and water to make a masa.
2.  Add the queso fresco and knead to combine thoroughly.  The masa should feel like a soft clay, not too firm.
3.  Cover the masa with a damp cloth and let rest for about 20 minutes to rehydrate the corn
4.  Roll the masa into 25 balls, then flatten each ball into a little gordita.  Have a bowl of water handy so that you can keep your hangs slightly moist.  This will keep the masa from sticking to your hands as you form the gorditas.
5.  Heat a comal, griddle, or cast iron skillet to 375°-400°F, and apply a film of oil on the surface.
6.  Place the gorditas on the griddle and and cook until they are fully cooked and golden brown.
7.  Split apart or slice with a knife or fork and fill with the following.
FILLING:
–A layer of frijoles refritos or guacamole
TOPPINGS:
–a mixture of thinly sliced iceberg lettuce and small diced tomatoes
–crumbled queso fresco.
–a spoonful of salsa ranchera
OPTIONAL FILLINGS (use the same toppings mentioned above)
–a layer of beans with a spoonful of Chilorio
–a layer of beans with Chorizo
—Puerco En Chile Colorado
–Cactus With Shrimp, Nopalitos Con Camarón
Gorditas are for everyone!
(1) Murray Berzok, L. (2005), American Indian Food. Westport: Greenwood Press.
NOTE: If you found my article helpful, I invite you to follow me on Twitter, Instagram and Facebook, or subscribe below for updates (I'll email you new essays when I publish them).
---
---