First Public Reading of "Truly Texas Mexican"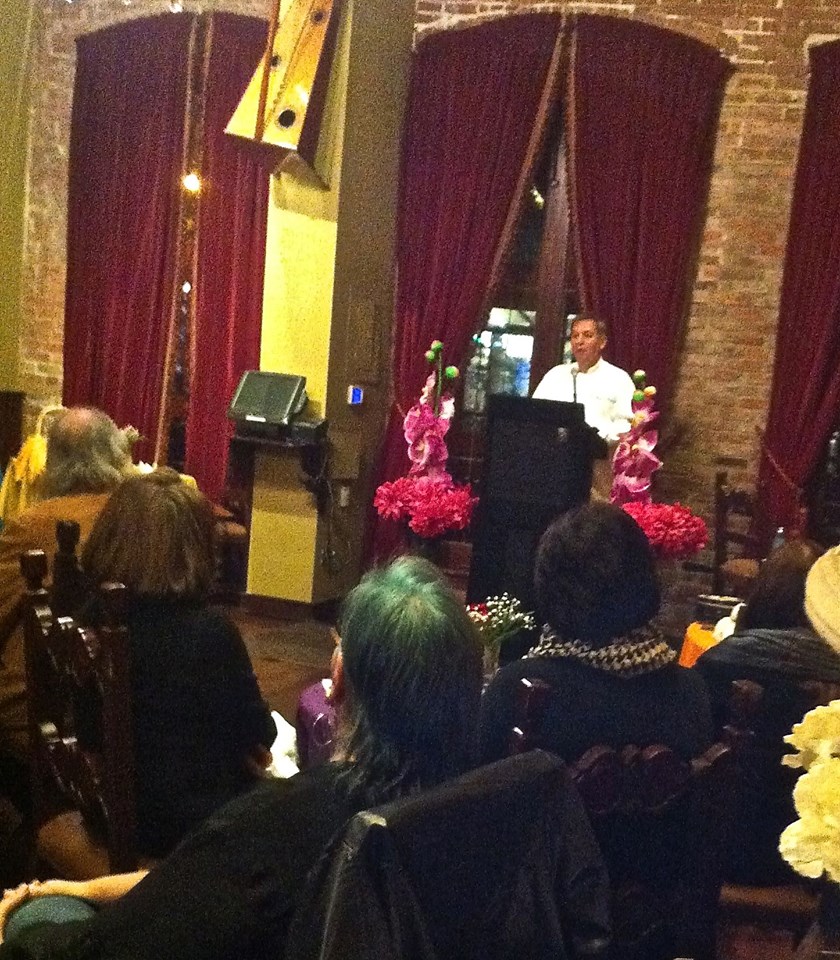 Preceding the release of the book, I was invited to read sections from history, archaeology and recipes.
Truly Texas Mexican: A Native Culinary Heritage In Recipes
Mi Tierra Mexican Restaurant, Founded in 1941
November 14, 2013 6-9 PM
50 scholars, artists, chefs and activists.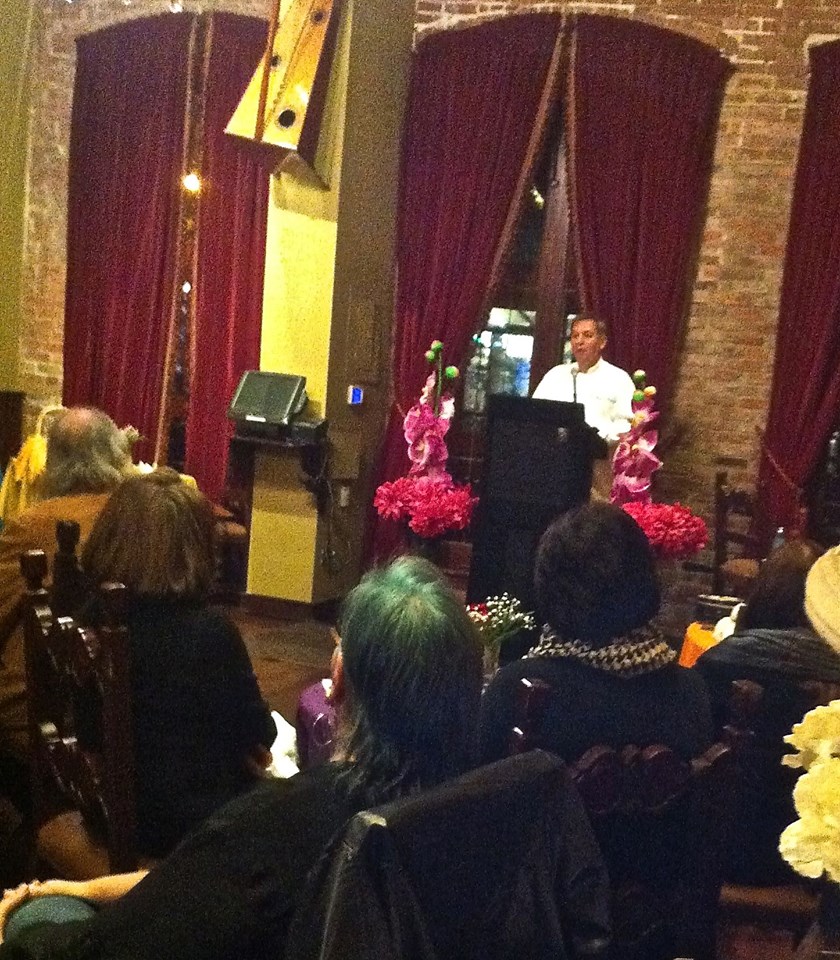 San Antonio, Mi Tierra Restaurant, is where as a boy I used to eat tacos de picadillo, soft corn tortillas, early in the morning after spending the night selling wholesale produce in the downtown market.  Reading this book at "la marketa" was a coming home of sorts, conversations delving into food, its connections to our Texas history and identity.
This is the video documentation of the reading and discussion.  It is produced by Daniel González.

Dr. Ellen Riojas Clark, University of Texas at San Antonio and Jorge Cortez, Mi Tierra Restaurant, hosted the reading of Truly Texas Mexican. The book is the  culinary history of Native Texas Indians, ancestors of today's Mexican American community, with 100 recipes.
The book is available at  Texas Tech University Press, Barnes & Noble, Amazon.com, and other retailers.
What chefs and food critics are saying:

"Medrano's tome is well-researched and well-illustrated with maps and appetite-stirring photographs of dishes like grilled clams in tequila broth; watermelon canapés with avocado, serrano, and grapes; and a red jalapeño champagne cocktail…he reclaims native foods (squash, corn, cactus) and dispenses of the <Tex-Mex> processed glop that has come to weigh down our combo platters.  Truly Texas Mexican shows us the diversity and joy of Lone Star possibilities through our history and our palates.  It is truly a delight."
— Cowboys And Indians Magazine

"Adán Medrano speaks from his roots and shares his passion for food, providing an insightful perspective on an often mischaracterized Texas Mexican cuisine."
―Alain Dubernard, CMB, The Culinary Institute of America, San Antonio

"treasury of 100 kitchen-tested recipes showcasing the heritage of Texas Mexican cuisine. From tasty Beef Tamales to Potato and Egg Tacos, Crab and Avocado Cocktail, Hibiscus Drink and much more, Truly Texas Mexican features flavors to remember. A superb addition to cookbook shelves!"
— Midwest Book Review

"In the deepest part of our soul we are celebrating food and hospitality. These recipes share not only where our culinary traditions come from, but the resiliency of our ancestors and the healing power of food."
―Johnny Hernandez, chef/owner of La Gloria Street Foods of Mexico, The Frutería-Botanero, and El Machito

"Texas Mexican" food begins centuries before the first Europeans set foot in the United States, with the simmering beans and roast wild chiles of the tribes that first inhabited the Lone Star State, and continues into the homes of families across the Southwest today—including his own.
–Garden & Gun Magazine

"Adán Medrano is putting the spotlight on a style of food that often has been overlooked. Once you explore this remarkable Texas Mexican cuisine you will discover a richness that will be cherished for generations to come."
—Diana Barrios Trevino, owner of Los Barrios Enterprises

"Tex-Mex has had its story told in the works of writers such as Robb Walsh. Now it is time for the Texas Mexicans to have their foods and their heritage acknowledged, which is what Medrano's book provides."
— John Griffin, SavorSA

"Within the last ten years, people have started recognizing the cuisine (Tex-Mex) as an original American regional food. While this has been a worthy change, people have not really traced the roots of the cuisine, particularly to the distinctive indigenous groups of the region, which is what Adán does."
— Jeffrey Pilcher, PhD, Professor, Food History, University of Toronto Scarborough

Truly Texas Mexican is at least as much manifesto as recipe collection. In fact the recipes are part of the manifesto. And what is Medrano proclaiming? Nothing less than that he, his family, the audience, the entire Tejano/Chicano population of Texas and the Southwest, are a deeply rooted people, despite prevailing opinions to the contrary in both Mexico and the U.S.
–The Texas Observer
Description:  Texas Mexican cuisine is deeply rooted in the indigenous cultures of what are now US central and south Texas and northeastern Mexico. The history of the cultures of this region begins in 900 AD, the period when anthropologists can identify distinct native communities and cultures. Historians assert that over the next 3 centuries (between 900 and 1200 AD) the cultures and identities of nearly all the Texas Native American communities were clearly formed.
The 100 recipes in this book represent only a small part of the rich repertoire of Texas Mexican dishes that have been taught from one generation to the next. They belong to the indigenous people who have inhabited Texas for thousands of years, mastering the selection of ingredients and the application of culinary techniques.  The recipes are presented within their history, both prehistoric and recent, in an effort to make the dishes more enjoyable and instructive of who we are today.
We are about community and a celebratory, nourishing table. We are the Mexican-American, Texas Indian, Texas Native American, Chicano chefs and cooks who choose to live on this our ancestral land and make a serious, delicious contribution to the culinary work of our ancestors. Our cooking gets its character from the terroir, the special geography, geology and climate of the land; from the combination of ingredients which over time have proven to be fitting; and from the cooking techniques that efficiently impart the flavor characteristic of our history.
NOTE: If you found my article helpful, I invite you to follow me on Twitter, Instagram and Facebook, or subscribe below for updates (I'll email you new essays when I publish them).
---
---