Fideo Loco or Fideo, Which Is Your Favorite?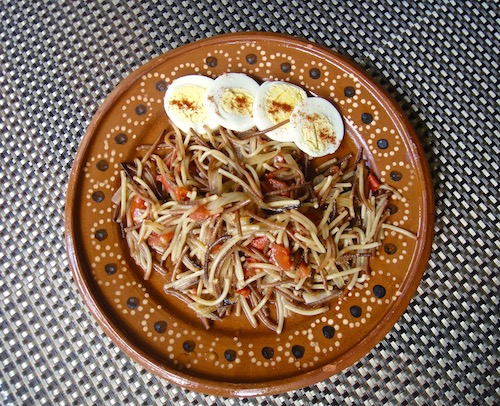 Fideo Loco and Fideo are both delicious Texas Mexican American traditions, and I'd like your help with research I'm doing about this culinary heritage.  I grew up with fideo and also ate it at cousins', neighbors' homes.  I'm looking for other stories and experiences.
Did you eat fideo or fideo loco at home?

Do you have a favorite family recipe?

Did you first eat fideo or fideo loco at a restaurant?

Do you consider fideo mainly a vegan dish?

Do you prefer Fideo over Fideo Loco?
Is one or other for special occasions or for everyday?

Do you cook fideo for your family?
I'll really appreciate your sharing your experiences with me.  Please let me know in the comment section below.

Meanwhile, here's my recipe for fideo.
Recipe for Fideo
Ingredients (serves 4)
2 Roma tomatoes, diced (or 4 ounces canned tomato sauce)
1 small white onion, sliced
1 clove garlic
8 black peppercorns
1/2 teaspoon salt
1/8 teaspoon, or slightly less, cumin
1/2 pound fideo (coiled vermicelli)
5 cups water
2 tablespoons canola or other vegetable oil
4 eggs, hard-boiled
Method
1. In a molcajete or other mortar, mash the black pepper, garlic, salt, and cumin into a fine paste. Set aside.
2. In a large sauté pan, heat the oil and sauté the vermicelli until it acquires some golden color, about 2 minutes. Add the onion and continue cooking until the onion is translucent.
3. Add a little water to the molcajete to scrape the paste from the sides and add it to the vermicelli. Add the tomatoes or tomato sauce and the rest of the water. Bring to a boil and cook for 12 minutes until the pasta is cooked and the liquid is reduced. Taste and adjust the salt.
4. Slice the hard-boiled eggs and place them atop the fideo.
Serve immediately.
NOTE: If you found my article helpful, I invite you to follow me on Twitter, Instagram and Facebook, or subscribe below for updates (I'll email you new essays when I publish them).
---
---