Mexican Salad – Ensalada de Bodas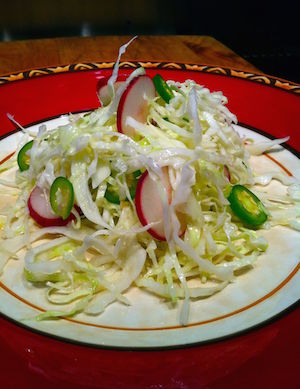 This Mexican Salad, Ensalada de Bodas, has the beautiful flavor and aroma of Serrano (probably my favorite chile flavor) enveloping the tang of cabbage and radishes.  Surprised that the vinaigrette has rice vinegar?
Think about the Asian influence in that region.  The Mexican salad is from the Baja California and Sonora states in the Northwestern region of Mexico.  The map below shows the two states.  I've adapted this recipe which I learned from Chef Iliana De La Vega when she was a faculty member and teaching at the the Culinary Institute of America.  I love the salad.
Recipe for Mexican Salad, "Ensalada De Bodas"
Recipe is adapted from the Mexican Cookbook: "Truly Texas Mexican: A Native Culinary Heritage."
Ingredients (makes 6 cups of salad)
6 cups white cabbage, very thinly sliced and thoroughly rinsed
1 bunch radishes, thinly sliced
2 large Chiles Serranos, thinly sliced
For the Vinaigrette:
1 garlic clove
4 Tbsp Extra Virgin Olive Oil
2 Tbsp Rice vinegar
1 Tbsp Apple Cider vinegar
1/4 tsp salt or to taste
Method
1.  In a bowl, cover the sliced cabbage with warm salted water and let it stand for about 20 minutes or so until it begins to become translucent.  Drain well. Reserve.
2. Mash the garlic into a paste using a garlic press and mix it with the oil, vinegars and salt.
3. Combine the cabbage, sliced radishes and sliced Serrano chiles and add the vinaigrette, tossing to coat thoroughly.
Serve at room temperature.  Let me know how this recipe turns out for you.
See how close to US California are the Mexican states of Baja California and Sonora.

Map Courtesy of the University of Texas Libraries, The University of Texas at Austin.
NOTE: If you found my article helpful, I invite you to follow me on Twitter, Instagram and Facebook, or subscribe below for updates (I'll email you new essays when I publish them).
---
---