Empanadas De Pino, Iconic Dish Of Chile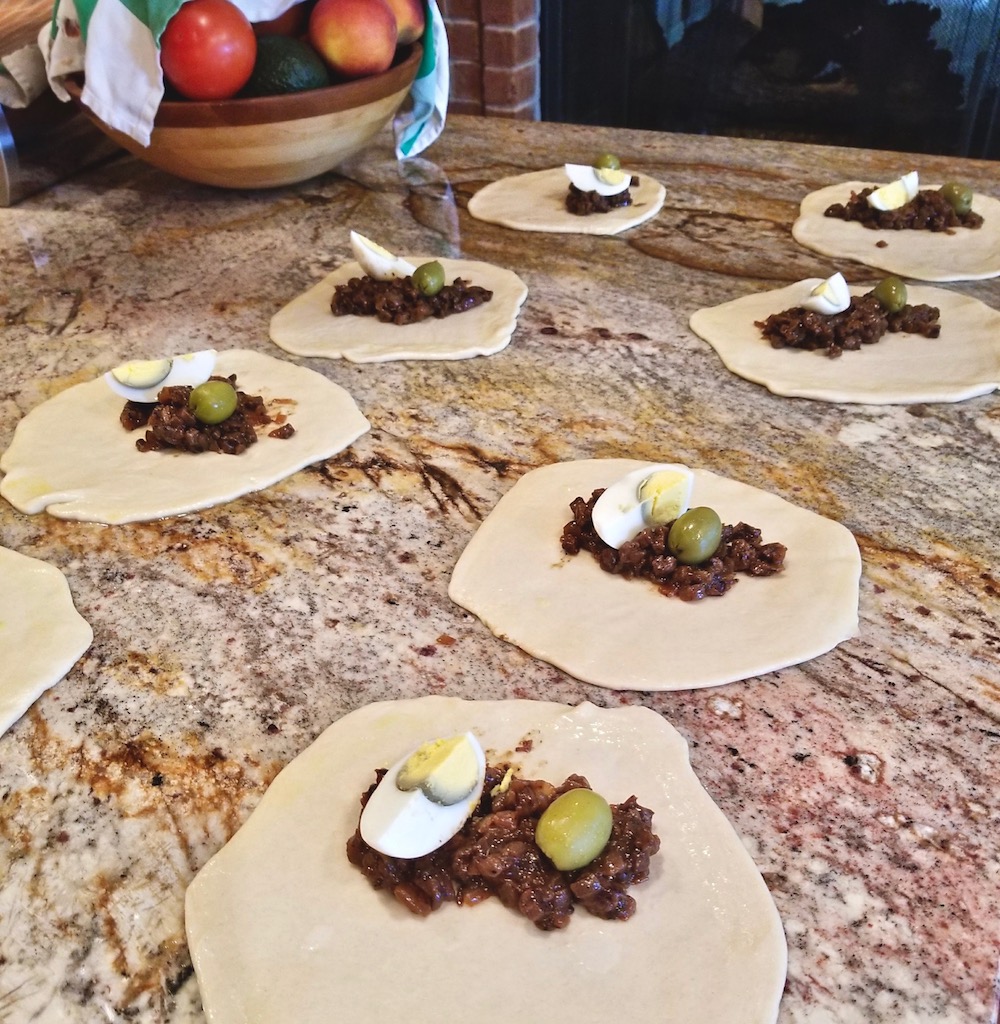 Empanadas De Pino are the iconic food of Chile. The word, pino, is derived from the Mapuche indigenous word, pinu, which means: pieces of cooked meat.
The Mapuche are the indigenous communities of Chile with roots dating back 2,000 years, to the cultures named Pitrén (100 – 1100 CE) and El Vergel (1100 – 1450 CE). The Mapuche language is Mapudungun  and it is spoken by close to 1,000,000 people in southern Chile and western Argentina.
Mapuche cooks started making these empanadas during the Spanish conquest,with the introduction of  wheat and beef.  By the 1600s empanadas were already mainstreamed into the cuisine of both Spanish and Indigenous communities.  In 1620, a  Spanish writer and soldier,  Francisco Núñez de Pineda y Bascuñán (1), was part of the Spanish army  that attacked the Mapuches in an effort to exterminate them.  Núñez  was captured by the Mapuches, who were led by their chieftain, Maulicán, and was held captive for seven months.  He wrote that during his captivity, the Mapuche fed him empanadas.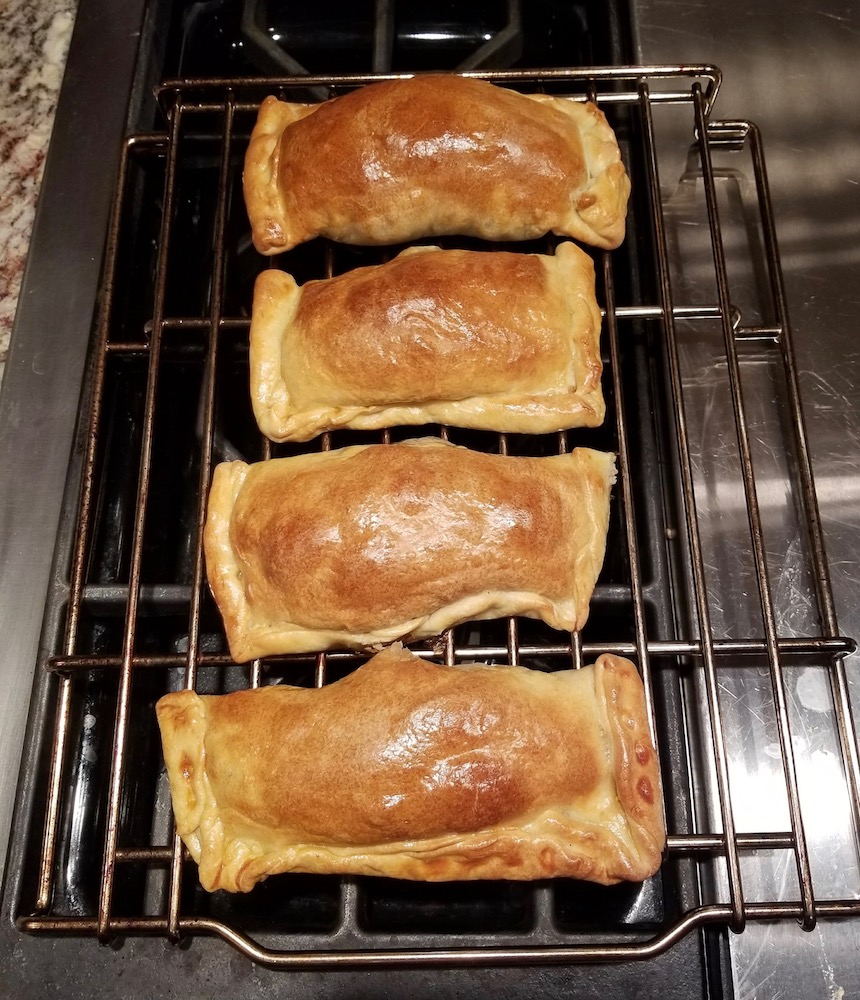 It was 1986 when I first visited Chile, and I kept going back, for business, once or twice each year, for 23 years. Dictator Pinochet was in power at that time. One day when I arrived  in Santiago, I learned that a journalist friend, editor of the Jesuit monthly magazine, Mensaje, had been arrested for having published an essay critical of the government.  The morning of my arrival he had been released from jail. Those were difficult years.
There are many recipes for empanadas de pino that cooks have developed over centuries.  Jim Stuart, who blogs about Chilean food, notes the long history of this dish, citing an empanada recipe in an early 1882 cookbook.  I've tasted hundreds of empanadas de pino all over Chile, and I like this recipe because it is straightforward, rustic. The various flavors are layered, stored individually inside the empanada. I consulted with mi amigo, computer engineer, Rodrigo Ramírez,  who gave me tips on the flavor and texture of the dough, recalling his mom's recipe.  Make the pino, beef filling, one day ahead and store in the refrigerator for a day so that the flavors can develop well.
Let me know what you think.
Empanadas De Pino Recipe
Ingredients (makes 8 six-inch empanadas)
For the filling:
2 hard boiled eggs, quartered
8 pitted green olives
24 raisins
the pino:
1/2 pound round steak, cut into 1/8″ -1/4″ cubes
2 cups onion, small dice
1 Tbs Extra Virgin Olive Oil
1 Tbs wheat all purpose flour
1 cup beef stock
1 cup water
1/4 tsp salt
1/4 tsp ground black pepper
For the empanada dough:
3 cups wheat all purpose flour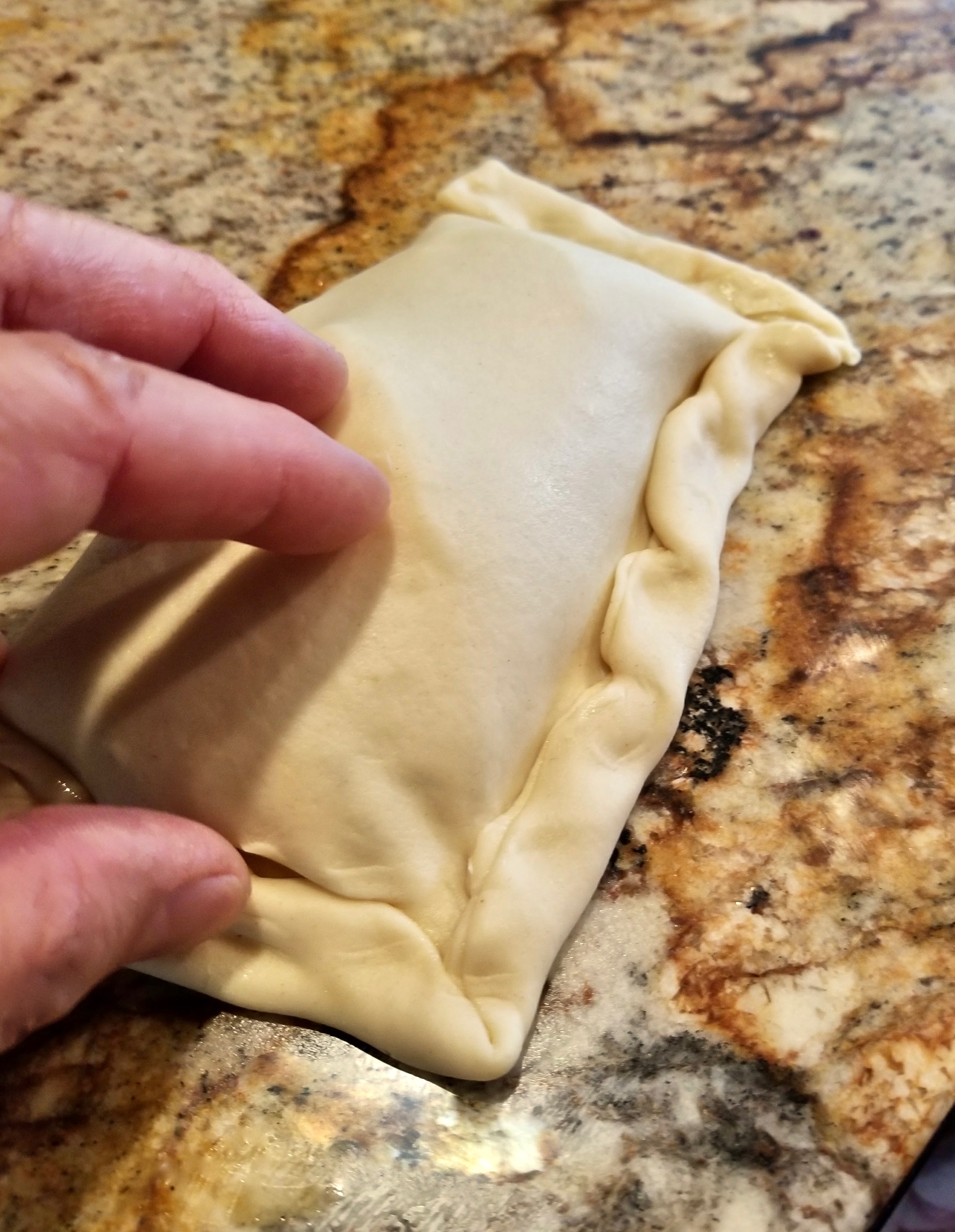 1 tsp salt
1 tsp baking powder
1/3 cup non-hydrogenated vegetable shortening (I use organic palm oil shortenin that is certified CSPO), melted
1 cup milk
For glaze:
1 egg
1 Tbs milk
Method
1. In a skillet, heat the  olive oil on high heat and when it starts to shimmer, add the small cubes of beef.  Brown the beef for 4 minutes, stirring.
2. Add the diced onion and cook for 5 minutes.
3. Combine the water and stock in a bowl, add the flour and salt and whisk until the flour is completely dissolved.
4. Add the liquid to the skillet and scrape the skillet to remove all the browned bits.  Add the black pepper. Simmer on high for 10 minutes until the liquid has evaporated.  The mixture should not be runny.
Allow the pino to cool down, then place in the refrigerator for one day so that the flavors develop.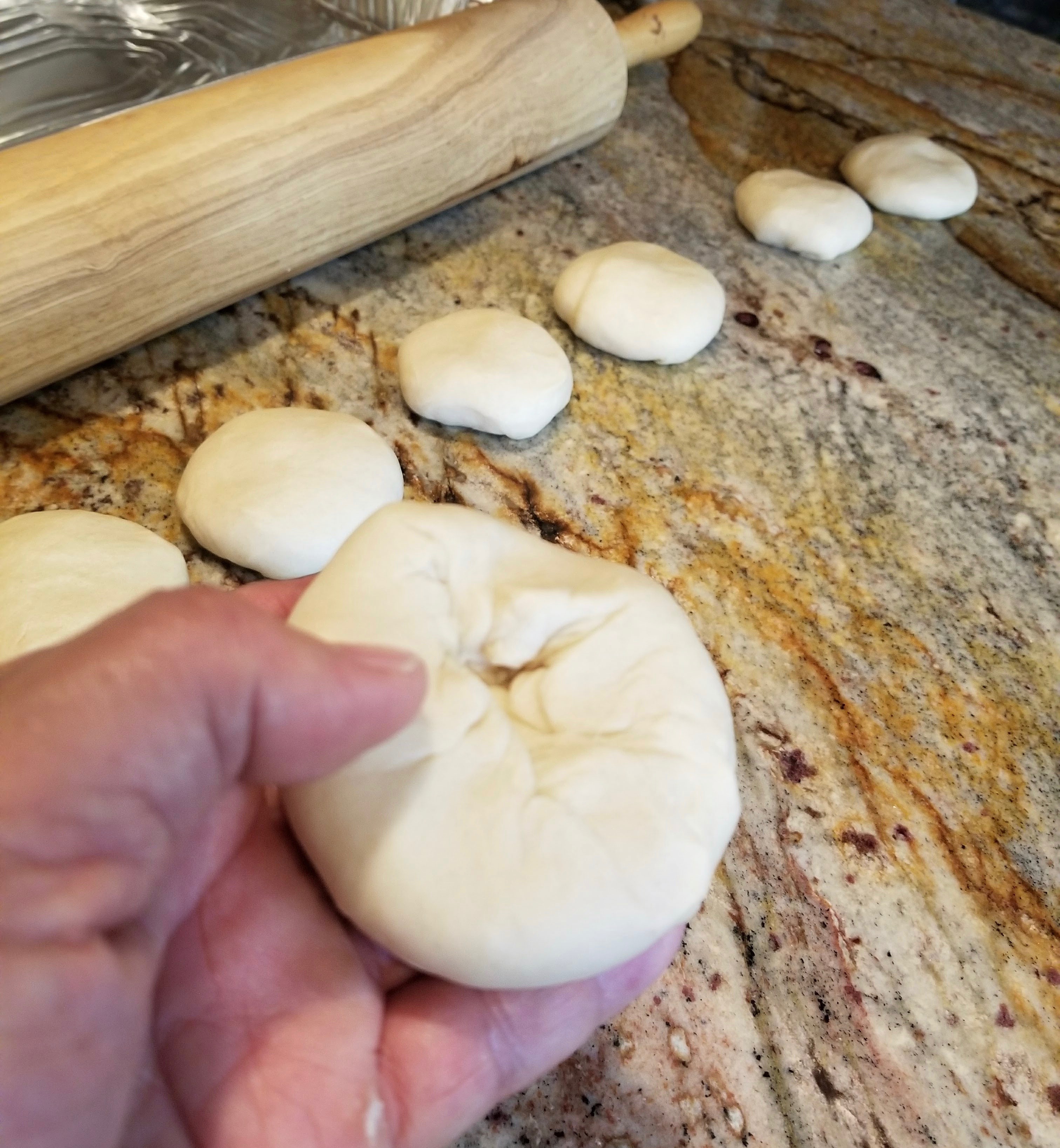 For the empanada dough:
5. In a large mixing bowl, sift or whisk together the flour, salt and baking powder.
6. Add the melted shortening and milk and stir with a spoon to combine.  When the mixture is cool enough to handle, combine to form a sticky dough.
7. On a flat surface, knead the dough with your palms, vigorously, for 6 minutes.  You will see the dough become shiny and elastic.
8. Let the dough rest for 20 minutes, then divide it into 8 equal parts and mold them so that they look like little round pillows.
9. With a rolling pin, roll out the little pillows to 1/8″ thickness, so they look like disks with an 8″ diameter.  It's exactly like rolling out a Texas Mexican flour tortilla.
10. Brush the edges of each disk with the egg wash.
11. Divide the pino among the four empanadas, placing 2 or 3 spoonfuls in the middle of each disk. On top of the pino place 1 quarter of a hard-boiled egg, 1 olive and 3 raisins.
12. Fold each disk into half-moons and tuck the edges to form a rectangle.
13. Brush the empanadas with egg wash and bake for 20-30 minutes until they are golden brown.
Serve hot.
The empanadas de pino can be stored in the refrigerator for several days  and reheated in a 350F° oven for 20 minutes.
I think they're delicious cold, too.
RESOURCE:
 http://www.memoriachilena.cl/602/w3-article-93852.html
NOTE: If you found my article helpful, I invite you to follow me on Twitter, Instagram and Facebook, or subscribe below for updates (I'll email you new essays when I publish them).
---
---