Lettuce Wedge Salad Starts With Farmworkers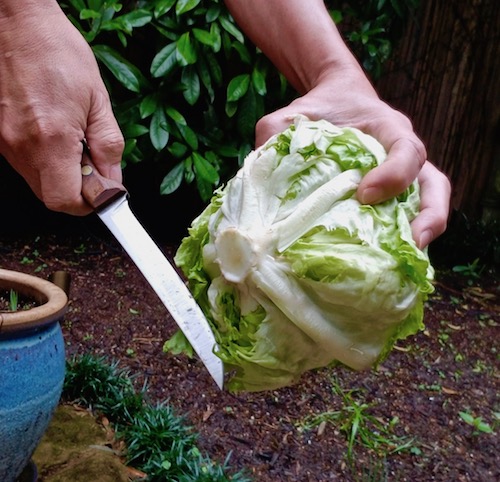 In the 1950's the Iceberg lettuce wedge with blue cheese dressing was ubiquitous in the US.  It remains a cool retro food on many menus and when I see it, I can't resist ordering it.   Fresh, lush, delicious, especially when the iceberg lettuce wedge is so crispy that it is actually brittle, crackling when you cut it with a fork, the blue cheese  dressing dripping lavishly.
I used to pick iceberg lettuce during the summer months, as a farmworker in Texas. Stooped over, knife in one hand, I'd use my other hand to grab the lettuce head. Quickly slice the root, place the head in the basket, repeat.  It was dirty, back-breaking work, and I knew I had to work fast in order to pick enough lettuce to take to market.  Day after day, the same thing, sweating in the summer sun, no running water, no bathrooms.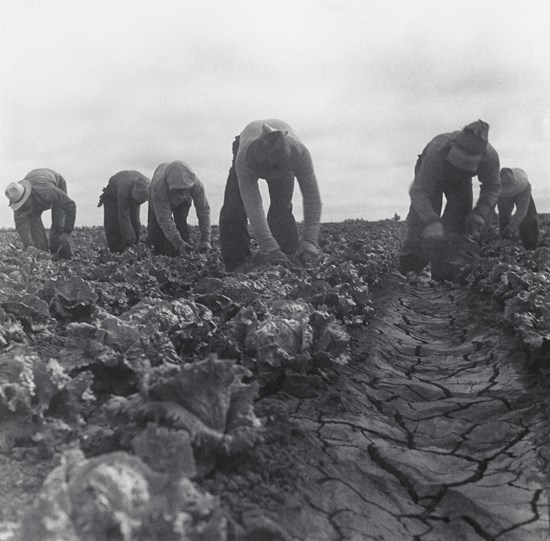 By 1970 I was no longer in the fields but in school. It was the year that, Cesar Chavez and Dolores Huerta of  the United Farm Workers (UFW) called for a national boycott of iceberg lettuce because the lettuce growers would not recognize the United Farmworkers Union, thus refusing to negotiate about the working conditions and pay.  $1.25 was the per hour average wage for pickers. Farmworkers lacked any health, education, or housing facilities.  There were no bathrooms either.  Moreover, growers had the ability to fire workers who objected to the conditions, and draw upon the large pool of unskilled migrant workers, largely Mexican-Americans, to make up their work force.
"Secret Ballot" was  crucial to the efforts of The UFW to organize the workers in California's Salinas Valley.  The secret ballot guaranteed protection of the workers from intimidation.
I supported the boycott vigorously, through the 1970s,  participated in rallies to raise awareness.  My chest swelled with hope upon learning, in 1973, that the US Catholic Bishops called for support of the iceberg lettuce boycott.  At their annual meeting on November 16, 1973, the bishops took a formal, public stand:
The National Conference of Catholic Bishops endorses and supports the UFW's consumer boycotts of table grapes and head lettuce until such time as free secret ballot elections are held.  The motion was carried unanimously. —National Conference Of Catholic Bishops, Washington, D.C.
During the boycott we ate Romaine lettuce.  Eating in a mindful way showed that we were at one with the United Farmworkers.
Today we can eat Iceberg lettuce, so I served my lettuce wedge recipe last night. The Iceberg wedge with blue cheese dressing (gooey, lava-like, creamy, delectable) will take you to a place of nostalgia and, hopefully, solidarity.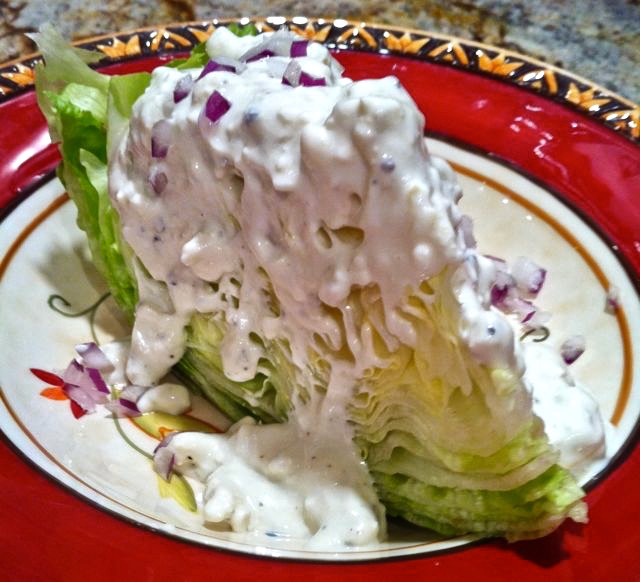 Recipe for Lettuce Wedge With Blue Cheese Dressing

Ingredients (serves 4)
Greens and onions:
1 Iceberg lettuce, cored and cut into four wedges
1/2 cup red onion, small dice, placed in an ice-water bath for 30-45 minutes then drained of all excess water.
Dressing:
1/4 cup mayonnaise
1/4 cup sour cream
3/4 cup crumbly blue cheese
1/4 tsp fresh yellow or white onion
1/8 tsp fresh garlic
1 1/2 Tbsp fresh lemon juice
1/4 tsp salt
1/4 tsp ground black pepper
1-3 Tbsp milk or water as need to adjust thickness of the dressing

Method
Make a thoroughly smooth paste (no lumps) of the onion and garlic using a mortar and pestle.
Combine the paste with all the other ingredients and whisk until well blended.
Pour over each of the wedges and sprinkle with the diced red onion.
Crunch, crunch — and excess of lavish blue cheese lava!
REFERENCES
National Conference Of Catholic BisHops, 1973
Picture courtesy of Museum of Fine Arts, HoustonArtist
Dorothea Lange, American, 1895–1965
Title:Six Lettuce Pickers
Date1935, printed c. 1965
NOTE: If you found my article helpful, I invite you to follow me on Twitter, Instagram and Facebook, or subscribe below for updates (I'll email you new essays when I publish them).
---
---