Crockpot Carne Guisada – Guacamole Salsa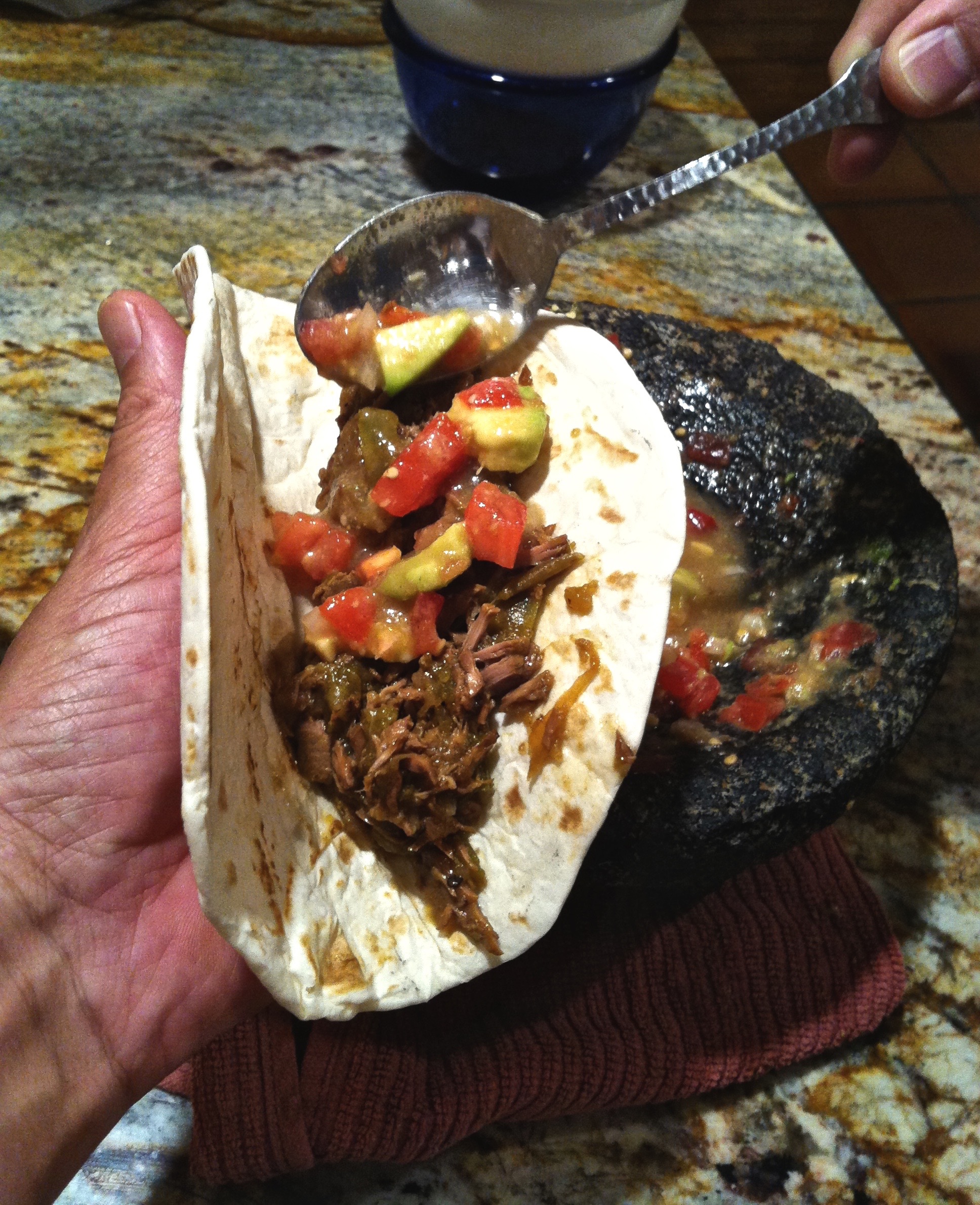 You can make crockpot carne guisada at night or in the morning.  In the morning I place all the ingredients in a crockpot, low heat. When it's ready at suppertime I make a quick, fresh salsa that has bits of avocado, giving this taco a creamy mouth feel.
Carne Guisada is great in the crock pot, and it's  exactly the technique that Texas natives were using in the Archaic and Prehistoric periods, 6,000 B.C to 1,500 A.D. (Mercado-Allinger, Aten, Avery, Bement, Blaine, …. & Weir, 2008)  They'd construct a bowl and use hot  stones to slow-boil meat and vegetables.  Carne "guisada" (stewed) is not to be confused with Carne "asada" (roasted or grilled).  Guisada is a favorite in central and south Texas, featured in family restaurantes like at Bob's Taco Station in Rosernberg, Texas.  
(My family never, under any circumstance,  added cumin to a guisado, nor used the French roux as thickener.)
If you don't have time in the morning to brown the meat and sauté the vegetables, skip that step and just place all the ingredients in the crock pot and turn it on.
Crockpot Carne Guisada Recipe: serves 4
Ingredients:
1 lb round steak
1 green bell pepper
1 small white onion, sliced (approximately one cup in volume)
1 garlic clove, minced
2 Tbs peanut, canola or other vegetable oil
1/4 cup water
1/8 tsp freshly ground black pepper
1/4 tsp salt
For the Salsa:
1 Haas avocado (here's a tip on how to select avocados at the grocery store)
1 small Serrano chile
1 large ripe tomato, diced
1/4 cup white onion, small dice
1/8 tsp salt
Method:
1. Dry the round steak and sprinkle with salt
2. In a skillet, heat the oil to the point that it shimmers and brown the steaks, just about 30 seconds on each side, then place them in a crockpot.  (Browning the beef gives it additional color and flavor. Omit this step if you're in a rush.  You can also omit sautéeing the vegetables)
3. In the same skillet sauté the onions and green bell peppers until the onions are translucent.  Transfer them to the crock pot, covering the beef.
4. Deglaze the skillet with the water and add it also to the crock pot along with the garlic, salt and pepper.  Cook on slow heat for about 6-9 hours
5. With tongs or a slotted spoon, remove the beef and set aside.  It will be falling-apart tender.
6. Pour the liquid into a sauce pan or skillet and boil on high heat, mashing the ingredients a little to help thicken the sauce.  Cook uncovered until the sauce is reduced by half.  Add salt and pepper to correct the seasoning as necessary.
7. Add the beef to the sauce and heat through. It is ready to serve.
To make the Salsa con Aguacate:
1. Using a molcajete or other mortar and pestle, mash the salt and chile Serrano into a fine paste.
2. Add the tomato and smash it a bit to combine with the chile.
3. Fold in the onion and avocado dice.
Make tacos using hot flour tortillas and recount what happened during your day!
¡Buen provecho!
Sources:
Mercado-Allinger, P., Aten, L., Avery, G., Bement, L., Blaine, J.,.,, & Weir, F. (2008). Cook stone. In Texas Beyond History. Austin: The University of Texas at Austin. Retrieved from http://www.texasbeyondhistory.net/st-plains/nature/images/cookstone .html
NOTE: If you found my article helpful, I invite you to follow me on Twitter, Instagram and Facebook, or subscribe below for updates (I'll email you new essays when I publish them).
---
---