Chorizo Bean Dip – Frijoles Con Chorizo!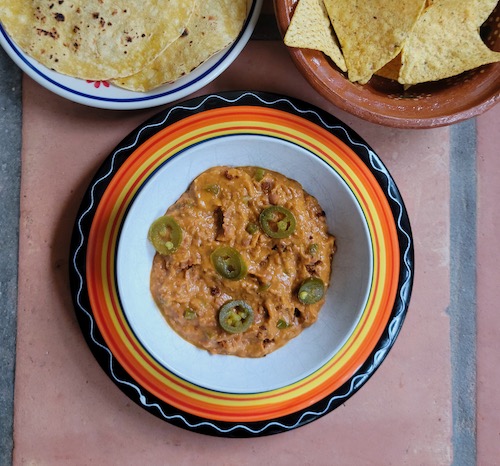 Chorizo bean dip is tangy, and the minced pickled Jalapeños enhance the tang with that necessary Mexican bite. This recipe tastes great with canned pinto beans that are sold as "refried" but with no fat. You can also use a good-quality store-bought chorizo. However, I urge that whenever you have the time and interest: Make your own delicious chorizo and beans!
You can make them in batches and then freeze them in small portions for later use.
Either way, this is a great party dip. I like to make rolled tacos with it, but crispy corn chips are great too. I like plenty of pickled Jalapeño slices as garnish.
Recipe for Chorizo Bean Dip
Ingredients (serves 8–10 as an appetizer, dip)
2 cups (one 16-ounce can) cooked, mashed pinto beans. You can use canned "refried" pinto beans that are sold with no fat.  Or use this recipe for perfectly cooked and flavorful pintos.
1/2 cup cooked chorizo. You can use a good quality store-bought brand, from the store or make your own Texas Mexican chorizo using this recipe.
2 Tbs pickled Jalapeños, minced
1/8 teaspoon salt or to taste
Sliced pickled Jalapeño slices for garnish
Method
1. Cook the chorizo until it is slightly crispy, about 10 minutes. Drain off all the oil.
2. Combine the chorizo, beans and minced jalapeños and mix thoroughly until the beans acquire a slightly orange tinge. Correct the salt. Garnish with pickled Jalapeño slices.
Serve with hot corn tortillas or crispy corn chips.
NOTE: If you found my article helpful, I invite you to follow me on Twitter, Instagram and Facebook, or subscribe below for updates (I'll email you new essays when I publish them).
---
---