Chorizo and Egg Tacos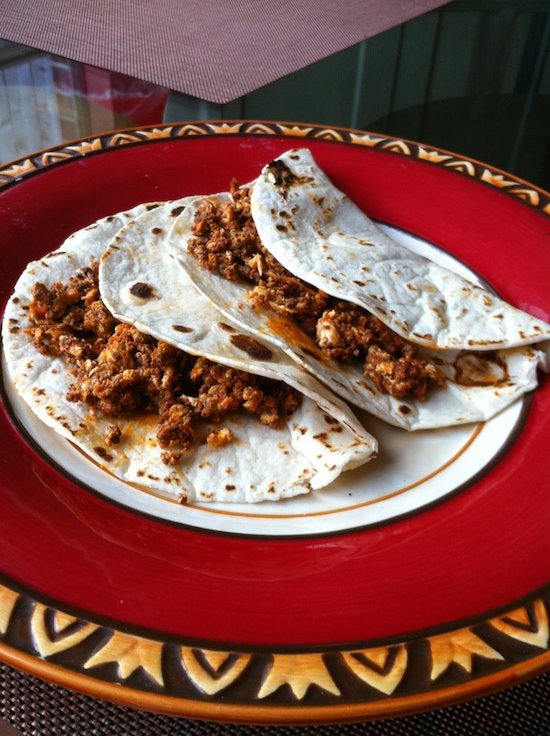 This story is another about delicious foods that evolved when foreign, imported products (pork) encountered the natural terroir (chiles) of Mexico.  Chorizo is the creative culinary result of imported pigs meeting the local chiles.
It's famous, of course,  as a breakfast treat but  it is also served as a spicy, aromatic topping on sopes, memelas and cazuelitas.
I think that once you try this recipe you'll want to regularly make chorizo rather than buy it.  This for two reasons.
First, you'll be able to add fresh cinnamon and control the amount of clove and cumin, thus personally creating and designing the multi-layered flavors and aromas of the chorizo.  In South Texas our tradition leaves out cinnammn and clove.   That's delicious too.  Try it both ways.
Second, you can leave out all that extra fat that is present in store-bought chorizo.  Oh, there's a third reason.  It's not very complicated to make and store.  I don't use casings because they are unnecessary.  I store the seasoned chorizo in plastic zip-lock bags and pop them into the freezer, ready for later use.
Recipe for Chorizo  (makes 3 1/4 pounds)
Ingredients
8 Chiles Anchos, seeds and veins removed
5 Chiles Pasilla, seeds and veins removed
3 lbs lean ground pork,
1 cup apple cider vinegar (you can use white vinegar if that's all you have)
3 cloves garlic, peeled
1/2 Tbs ground black pepper
1 1/2 Tbs salt
1/2 tsp ground Cumin
3 cloves
1/4 tsp ground cinammon
Method
To seed and devein the chiles, split them open either by cutting an incision with a paring knife or splitting them with your fingers.  Then take out all of the seeds and peel off the veins.  It's fairly simple.
 Here's a picture of a Pasilla chile with the seeds and veins and another of an Ancho chile already cleaned. Wear rubber gloves if you can to protect your skin from the capsaicin.
1. Place the chiles in boiling water for 15 minutes, then drain.
2. In a blender, purée the chiles together will all the other ingredients until very smooth.
3  In a large bowl, add the chile purée to the lean ground pork and mix well.
4. Refrigerate for 24 hours to let all the flavors blend.
5. Divide the Chorizo into small batches that are just the right size for later servings.  Stored in the freezer they will keep for up to 3 months, but I bet you'll eat it sooner than that.
To make Chorizo and eggs:
Method
1.  In a non-stick skillet, cook 1/4 cup of Chorizo on medium heat until it is completely cooked.
2. Lower the heat to low and then add 2 eggs.
3. Scramble the eggs to combine with the Chorizo.  Cook slowly just until the eggs are cooked without becoming dry.
3.  Serve immediately with hot flour tortillas for tacos.
¡Buen Provecho!
NOTE: If you found my article helpful, I invite you to follow me on Twitter, Instagram and Facebook, or subscribe below for updates (I'll email you new essays when I publish them).
---
---