Chile Relleno – Stuffed Poblano Chiles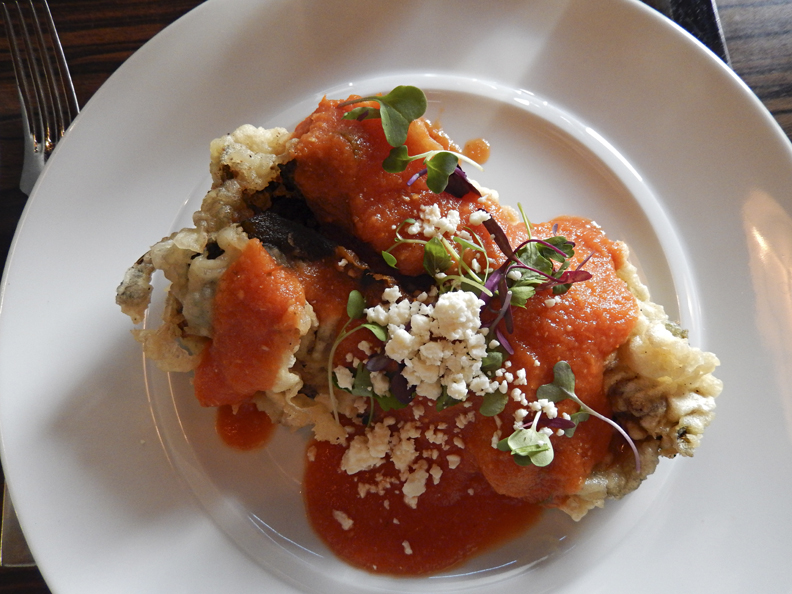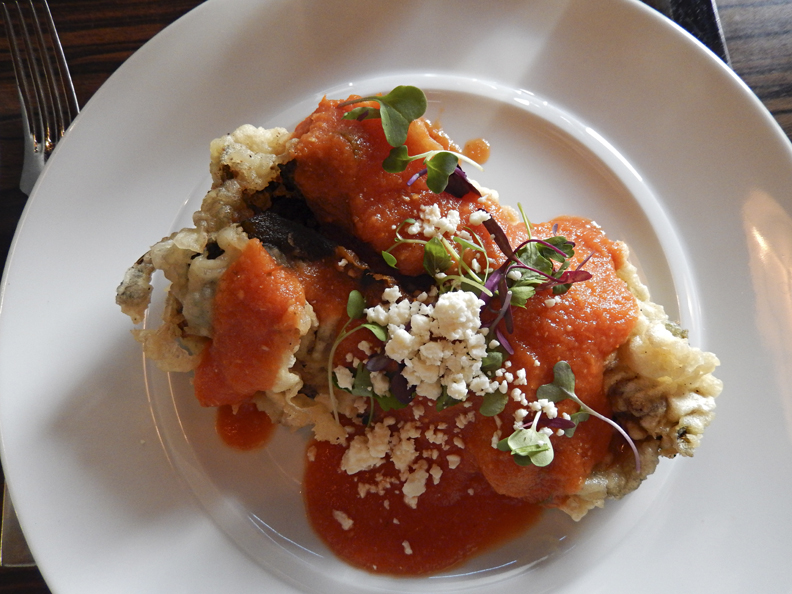 This is a dish for dinner parties. The picture was taken by my dear friend, renowned visual artist Cesar Martínez, during a dinner at the CIA Nao Restaurant in San Antonio. Chef Gerónimo López and his CIA staff prepared a full dinner, with appetizers, featuring the recipes in my book, Truly Texas Mexican: A Native Culinary Heritage In Recipes. Prepared this way, the chiles have a layered effect as you eat, first an airy crunch from the batter, then a substantial bite from the chile, and then softness towards the interior. Poblanos are sometimes called chile corazón and also chile joto in various regions of Mexico. Here in Texas the name is always Poblano.
They don't have much capsaicin so they are perfect for various stuffings ranging from light to more flavorful. In Texas Mexican cooking, and in my childhood home, when we stuffed chiles, we most often used chile dulce (bell pepper) for the reason that we don't want capsaicin getting in the way of the complex taste. The combination of pecans and raisins was one that my mother loved in cornbread stuffing, so I've used it here. She would have added diced potatoes.
For a fine-dining experience, add some edible flowers or micro greens, as in the picture. Doing so evokes our history as food foragers. In your backyard or garden you may have some edible dandelions or nasturtiums.
Recipe (serves 6)
Ingredients
6 fresh, firm poblano chiles
1 pound ground sirloin
1 tablespoon canola oil
1/8 teaspoon black peppercorns
1/8 teaspoon salt
1 teaspoon garlic, minced
2 tablespoons raisins
2 tablespoons pecans, roasted in a 350°F oven for 8 minutes
1 cup water
For the Tomato Caldito (Soup, Juice)
8 Roma tomatoes
1/4 small white onion, peeled
1/2 teaspoon fresh Mexican oregano
1 garlic clove
1/8 teaspoon salt
2 tablespoons peanut or canola oil
For the Batter
10 ounces all-purpose flour (2-1/2 cups)
1/2 teaspoon baking powder
1 teaspoon salt
1 egg
16 fluid ounces water
1/2 cup additional flour for dredging
MethodFor the Chiles
1. Place the chiles under a broiler, turning them so that they are entirely charred and the skin has blistered. Place them in a paper bag, close tightly, and let them sweat for 15 minutes so that they will be easier to peel.
2. Place each chile flat on a cutting board and peel off the skin with your fingers. You can use a dull knife if you need to gently scrape off some of the skin, but this should not be necessary if the chiles are properly charred.
3. Keeping the chile flat, cut a slit lengthwise in each chile, and gently remove all the seeds. Do not remove the stem. You will find a big cluster of seeds just inside attached to the stem. You can use a small knife to cut off this cluster of seeds if you cannot break it off with your fingers. Set the cleaned chiles aside.
For the Beef Filling
4. Place the salt, garlic, and black peppercorns in a molcajete and grind into a smooth paste. Add 1/4 cup water and set aside.
5. Heat the canola oil in a skillet at medium heat. Add the beef and cook for 8–10 minutes until it has browned. Add the molcajete paste, the rest of thewater, and deglaze by scraping off the browned bits at the bottom of the skillet with a wooden spatula or spoon. Cook for another 8 minutes. Add the roasted pecans and raisins and continue to cook until the raisins are plump and most of the liquid is gone. Set aside.
For the Caldito
6. In a saucepan cover the tomatoes with water and boil them for 10–15 minutes until they are completelycooked, with the skin peeling off. Drain and reserve the liquid.
7. Place the cooked tomatoes, garlic, and onion in a blender and puree.
8. Heat the oil in a Dutch oven and add the tomato puree slowly and carefully because the tomato will splatter when it meets the hot oil. Cook on medium, stirring, for 5 minutes. Add 1 cup of the water from the cooked tomatoes and the oregano, and simmer for 15 minutes. The consistency should be that of a thin soup. Keep the caldito hot until you are ready to assemble.
9. In a bowl, whisk together the dry ingredients.
10. Beat the egg and water together, add to the dry ingredients, and whisk until the batter is smooth.
11. Place about 1/2 cup of flour in a large plate and lightly coat the exterior of each stuffed chile, shaking off excess. They are now ready for dipping and frying.
12. In a deep skillet add vegetable oil to a 1-1/2–inch depth and heat to the point that it is shimmering (350°F).
13. Using a spatula and tongs, dip each flour-coated, stuffed chile into the batter, place in the skillet, and fry each side for 2 minutes until golden brown.
Place on paper towels to drain.
To serve, place each chile on a plate and pour plenty of the hot caldito over each one. Here I serve it with cilantro rice. To say that this is heaven is no exaggeration.
NOTE: If you found my article helpful, I invite you to follow me on Twitter, Instagram and Facebook, or subscribe below for updates (I'll email you new essays when I publish them).
---
---