Almejas Con Chile Y Tomate, a.k.a., Fettucine Vongole Fra Diavolo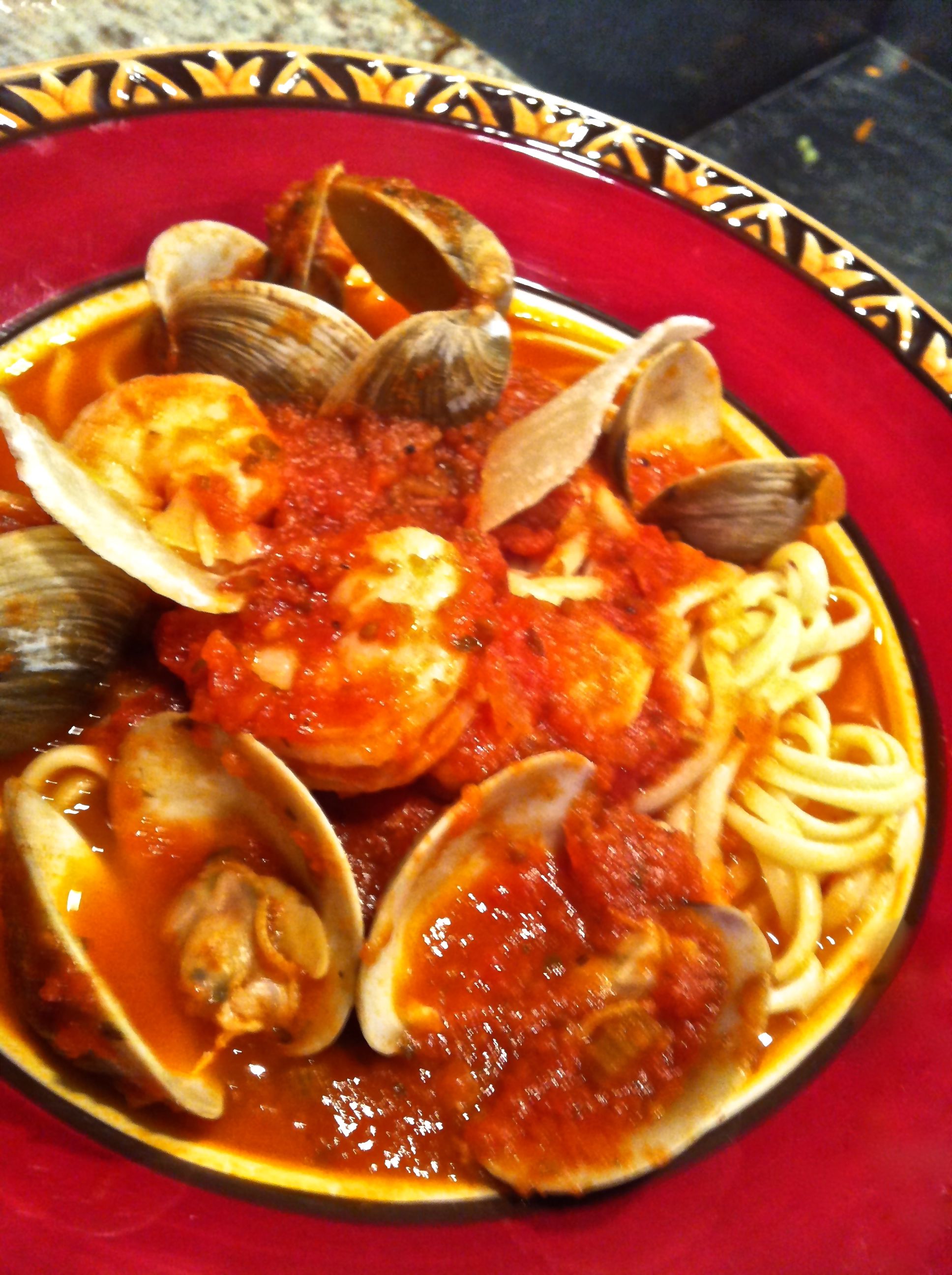 A couple of years ago I posted this recipe and because today the weather in Houston is a bit nippy, I find myself craving a hearty, hot, spicy seafood dish:  Fra Diavolo! Clams and shrimp in tomato and red chile sauce.
I like to serve this in a huge platter, fettucine mixed all together with the clams, shrimp and the colorful tomato sauce.  It looks delicious and everyone can just dig in and enjoy.  The flavor base for the fresh seafood is made with tomatoes and red chiles.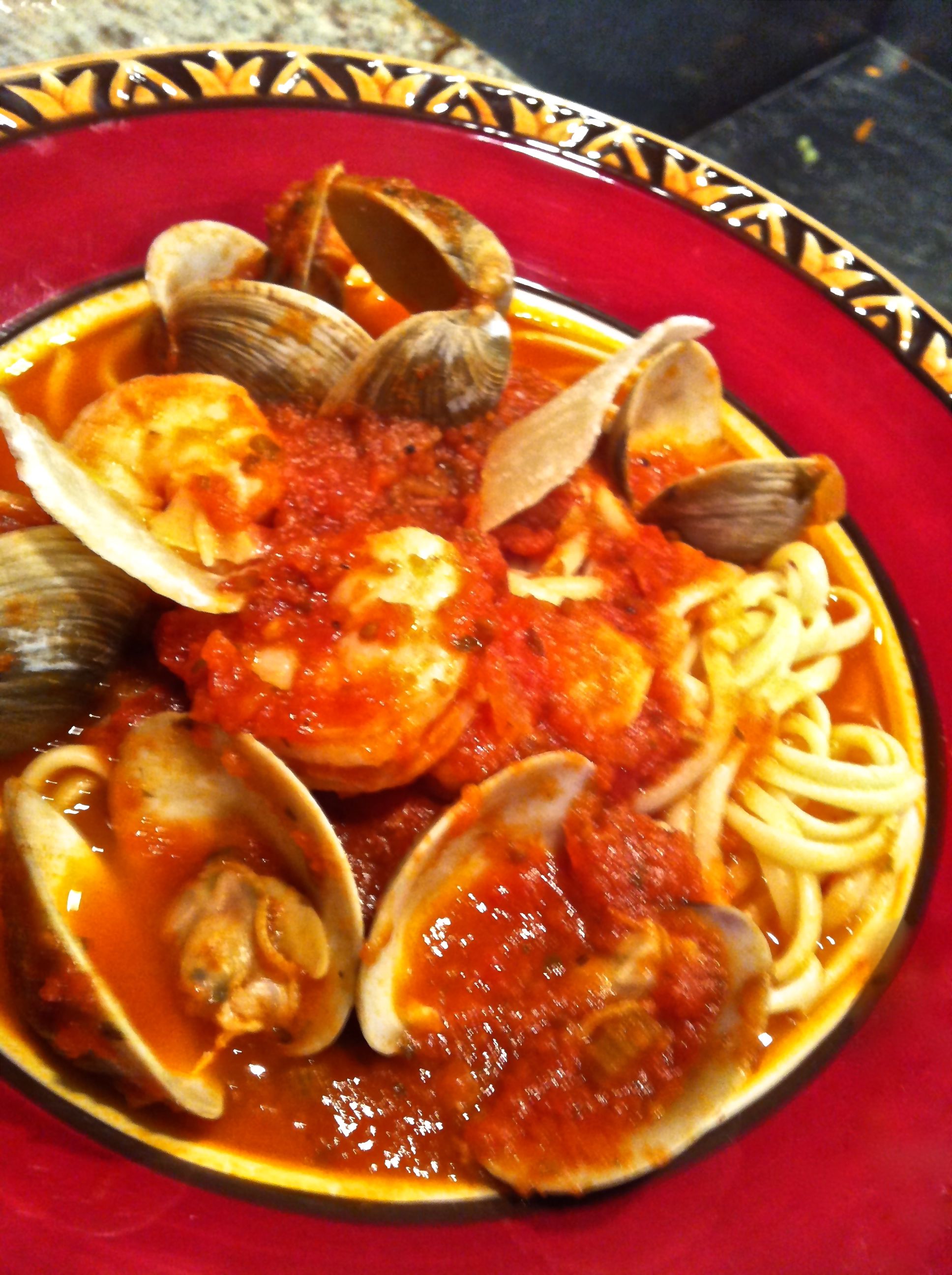 "Fra Diavolo" is the name of a 19th century Italian opera. The name means "brother devil," and refers to a real Italian bandit, a thief, Michele Pezza, "whose exploits during the Napoleonic occupation had become so well-known that folk memory ascribed supernatural powers to him"(Letellier, 2011).  His character is fearsome, daring, fiery, outlaw.
It is not clear when or where the Mexican chile was added to the Italian style  tomato sauce, but the "Fra Diavolo" sauce is not of Italian origin.  A cook, probably in NYC, (Fabricant, 1996) added the chiles, liked the fiery spiciness, and named it after that fiery Italian bandit. I don't like that people have historically linked our chiles to bandits, outlaws, and reprehensible traits, but there it is. I can see that the dish is indeed fiery and piquant.
I use Chile De Arbol because it adds a smoky taste.  If you have to substitute, find a chile that adds smoky flavor, not just heat.
RECIPE (serves 6)
Ingredients:
6 cups (1 recipe) hearty tomato sauce in my previous blog.  You can also buy your favorite good tomato sauce in a jar, but  no basil, no mushrooms, none of that stuff, just a straightforward Italian tomato sauce.
1 dried Chile De Arbol, crushed into small bits, including the seeds
2 dozen Littleneck Clams, washed and scrubbed
18 peeled, deveined shrimp, 26/30.  This is 12 ounces by weight.  I like Texas gulf coast shrimp the best but any shrimp will do.
1 lb fettucine
Method: These steps start from the point that the tomato sauce is already made or you are opening a jar of store-bought.
1. Bring a large pot of salted water to a boil and cook the fettucine according to the directions.
2. Add the Chile De Arbol flakes to the tomato sauce and bring it to a boil.
3. Add the clams and shrimp, return the sauce to a simmer and cook for 7-8 minutes  or until the clams open up, are cooked and the shrimp, when sliced, is a delicate white color. Overcooking will make the shellfish rubbery.
4. Drain the fettucine and place it in a large platter or bowl. Pour the lush-looking sauce over the hot pasta and serve while it is steaming.
!Gracias a Dios!  Thank goodness for fresh seafood, Italian opera, pasta, tomatoes and chiles!
References:
Letellier, R. I. (2011). Daniel-francois-esprit auber: Fra diavolo. Newcastle upon Tyne: Cambridge Scholars Publishing.
Fabricant, F. (1996, May 29). Origin of popular lobster fra diavolo bedevils the experts. The New York Times. Retrieved from http://www.nytimes.com/1996/05/29/garden/origin-of-popular-lobster-fra-diavolo-bedevils-the-experts.html?pagewanted=all&src=pm
NOTE: If you found my article helpful, I invite you to follow me on Twitter, Instagram and Facebook, or subscribe below for updates (I'll email you new essays when I publish them).
---
---