Vegetarian Paella – A Spanish Tradition Turned Vegan
Vegetarian Paella is not just a substitute for paella made with seafood and chicken or rabbit.  It's a dish all its own.
I love the Paella Valenciana, of course, and for big parties, it's perfect.  If you have to make big amounts, you can put everyone to work making it. Traditionally, Paella is a social event.  It's cooked outdoors on an open fire, with party guests mingling.  But you can also cook and assemble it ahead of time, relax with your guests, and when you are ready to serve, reheat it in the oven, covered, and then serve it steaming hot.  I love to see the bright glee on faces when everyone starts to dig in and enjoy this fabulous dish.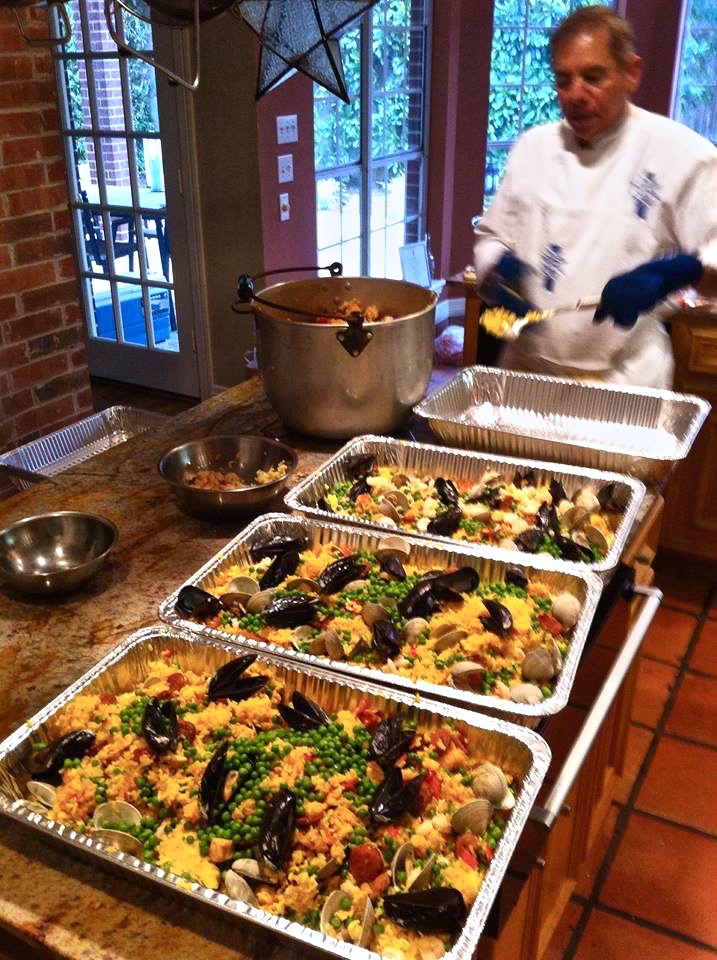 Vegetarian Paella is a dish on its own, now that there's increasing preference for vegetables.  Chef José Andrés opened his vegetable-oriented "Beefsteak" restaurant in 2015 to great reviews, and since then he's opened two more.   A famous culinary tradition from Spain, paella can take twists. My recipe with tofu and black olives may seem surprising, but it is delicious and totally vegan. It's got contrasting textures and colores.  Let me know how you like it.
Vegetarian Paella Recipe

Ingredients
1 white onion, sliced
1 red bell pepper, cored and sliced
1 garlic clove, minced
2 stalks celery, sliced
1 cup sliced water chestnuts
1 cup green peas, fresh or frozen
1 cup black olives, halved
1 pound firm tofu cut into 1″ cubes and sauteed golden
8 Tbs extra extra virgin olive oil
3-4 tsp saffron
2 tspn salt
1 tsp freshly ground black pepper
1½ cup dry white wine
2 cups brown arborio rice (I like to use also brown basmati)
4 cups vegetable stock, or warm water
Method
1. In Paella pan or dutch oven, heat pan over medium flame add olive oil, making sure it does not overheat and smoke.  add onions and saute until translucent.  Add bell pepper, celery, garlic and saute for about 3 minutes
2.  When the above ingredients acquire a nice light brown roast color, deglaze the pan by adding the white wine to the ingredients, making sure to scrape the pan so that all of the caramelized flavors (brown bits) are released into the wine.
3. When the wine has evaporated almost completely, add rice and stir ingredients together for about 3 minutes.
4. In a separate container, dissolve the saffron in the vegetable stock or warm water. Then add to the rice and vegetables. Add salt and pepper. Bring to a simmer. Cover the pan and simmer on very low heat for 20 minutes.
5. While the rice is cooking, in a separate skillet, preferably non-stick, add just enough olive oil to sauté he firm tofu squares to a golden brown on all sides. Then remove and place them on paper towels to release excess oil.
6. After the rice has cooked for 15 minutes, add the fried tofu, black olives, sliced water chestnuts and green peas to the rice mixture and stir very gently with a large fork (you are fluffing) to mix. Cover and simmer for the remaining time. The rice will be fluffy and beautifully saffron yellow.
Serve steaming hot.  Make it on weekends.
NOTE: If you found my article helpful, I invite you to follow me on Twitter, Instagram and Facebook, or subscribe below for updates (I'll email you new essays when I publish them).
---
---