Tomatillo Leeks With Agave Nectar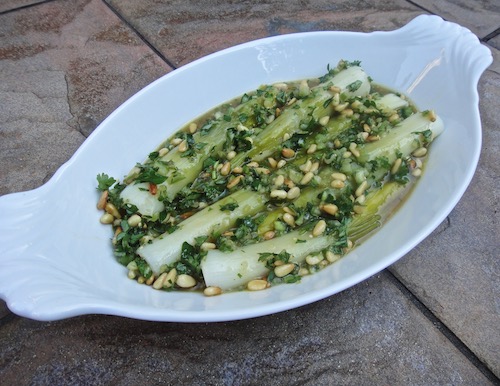 These "Tomatillo Leeks" are a nod to the vegan side of Mexican cooking.  It's what I grew up with, mainly, although from time to time we did eat meat.  The vegetarian and vegan dimensions of Mexican food are delicious, and if you look at many Mexican dishes, they are naturally vegan. Take posole, esquite, chacales, bean tamales, guacamole, calabacita and on and on.
In this recipe, the astringent tomatillo pairs well with the delicate flavor of the leeks. The agave nectar adds sweetness to the apple cider vinegar and makes a bright and tangy dressing.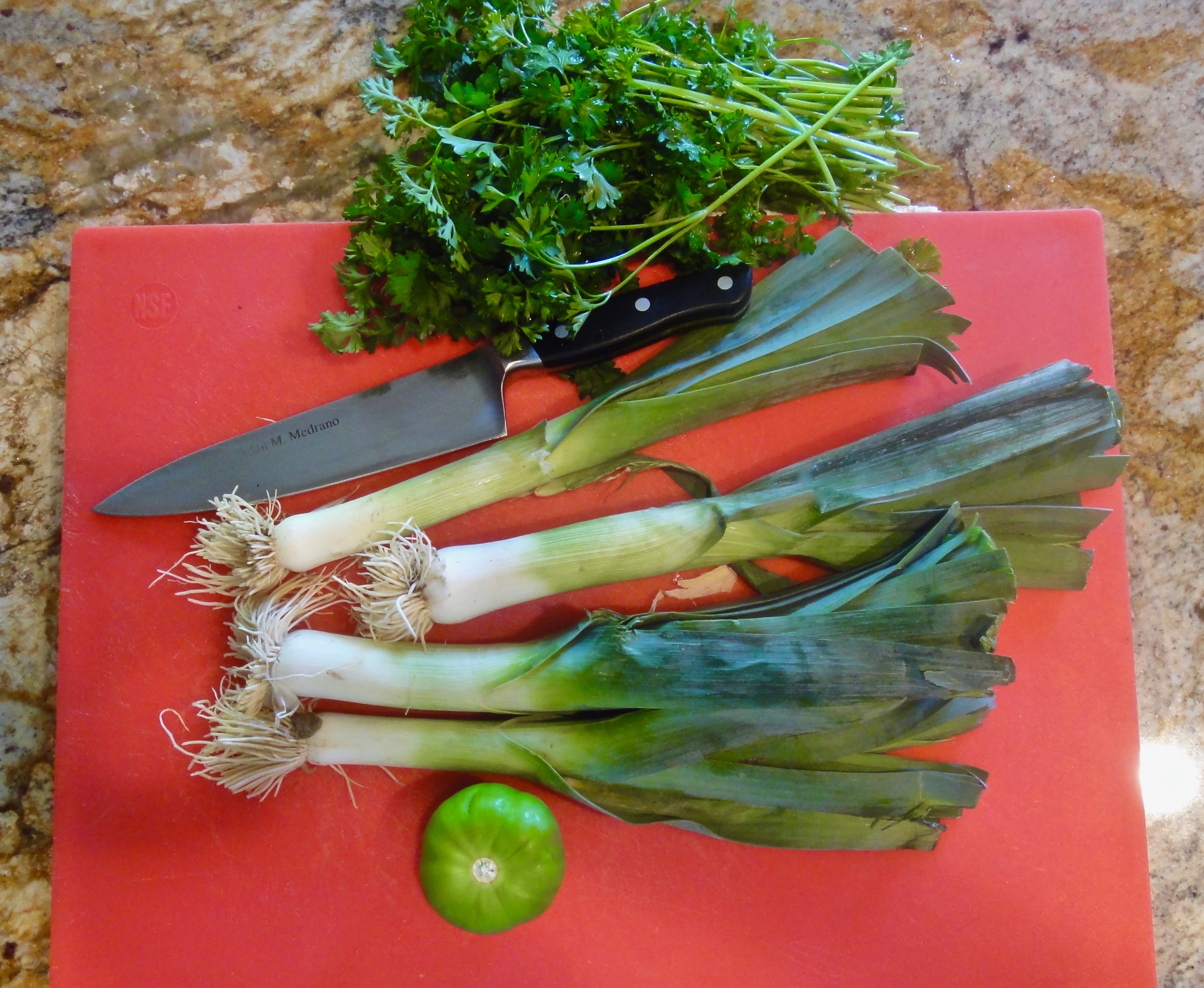 Recipe for Tomatillo Leeks
–Other recipes are in my book, "Truly Texas Mexican: A Native Culinary Heritage In Recipes"
Ingredients (serves 6)
3 lbs leeks (they will be trimmed, deep bias)
1 1/2″ piece of chile de arbol, deseeded
2 1/2 Tbs dark agave nectar (not processed syrup)
3/4 cup apple cider vinegar
1/4 cup piñones (pine nuts), roasted
1/4 cup parsley, minced
1/4 cup extra virgin olive oil
1/4 cup tomatillo, finely minced
1/4 tsp salt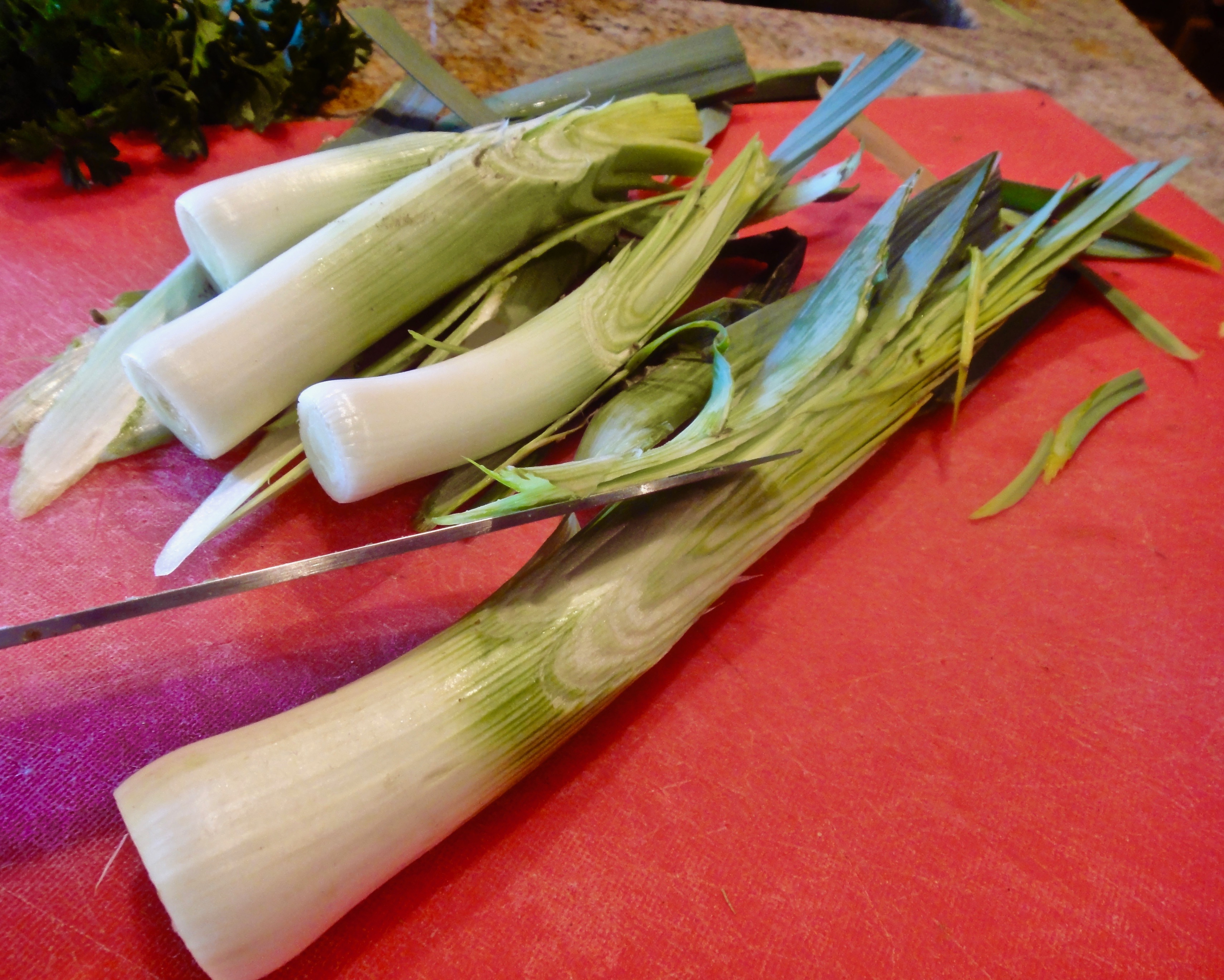 Method
1. Trim the leeks with a sharp knife, slicing lengthwise in a sharp bias, to remove all of the outer tough green leaves.  Slice down as far as needed,  keeping intact the tender inner green leaves. Rinse the trimmed leeks thoroughly to remove grit.
2.  Place the leaves in a pot, cover with water and bring to a boil. Cook on a simmer for about 20 minutes, until you can pierce the thickest part easily with no resistance. Carefully transfer the leeks to a colander or place on paper towels to drain and cool.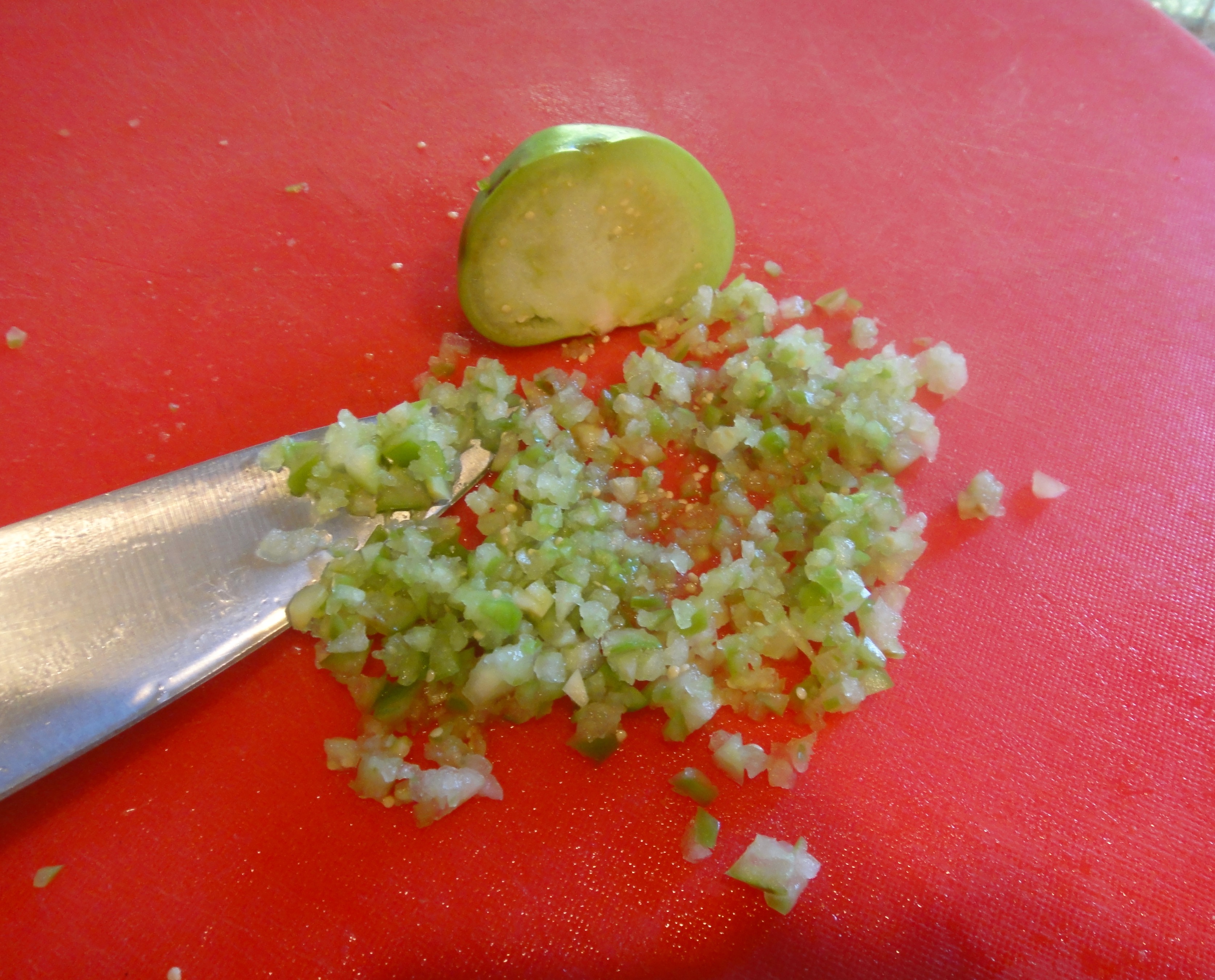 3.  In a saucepan, combine the agave nectar, vinegar, chile de arbol (no seeds), salt and bring to a boil. Simmer over medium heat until the liquid is reduced by half, about 7 minutes.  Remove the chile and set the mixture aside to cool.
4. In a 350º F oven, roast the pine nuts until they are just turning a golden brown, about 3-5 minutes. Set aside to cool.
5. Remove the papery skin and wash the tomatillo. Finely mince the tomatillo and also the parsley. Set aside.
6. Whisk the agave mixture with the olive oil to emulsify, then add the tomatillo, piñones and parsley and mix thoroughly.
You may keep the agave tomatillo dressing and the  leeks chilled in the refrigerator for up to a couple of days. Just remember to whisk the dressing again to emulsify, or shake it vigorously in a tight-lid jar.
To serve, arrange the leeks on a serving platter with high sides and  pour the tomatillo agave dressing over them, covering completely.
Serve chilled or at room temperature.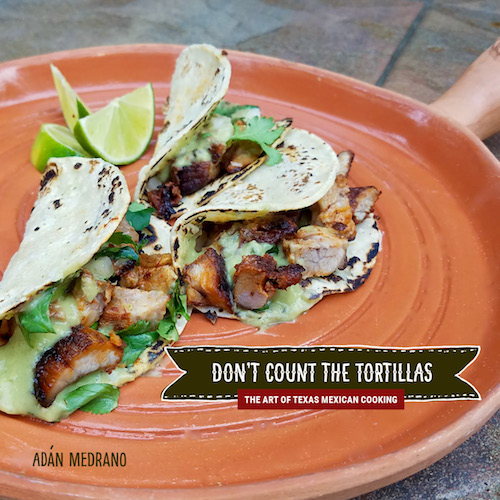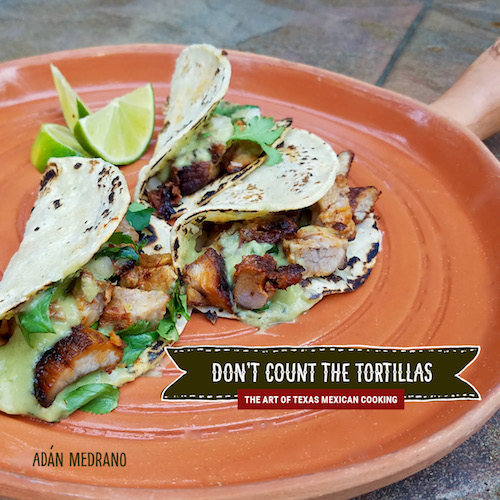 Over 100 kitchen-tested recipes: Tacos Al Pastor; Red Enchiladas; Tortilla Soup; Nopalitos Salad;
Also Vegan dishes and traditional Mexican pastries and cookies like Marranitos!
There's even a Chile Con Queso Soufflé and yummy Mesquite Candy Balls!  Easy step-by-step guide.
Appetizers, Cocktails and Desserts. Illustrated with gorgeous  pictures, written with history and humor.


 ORDER NOW