Chorizo Tacos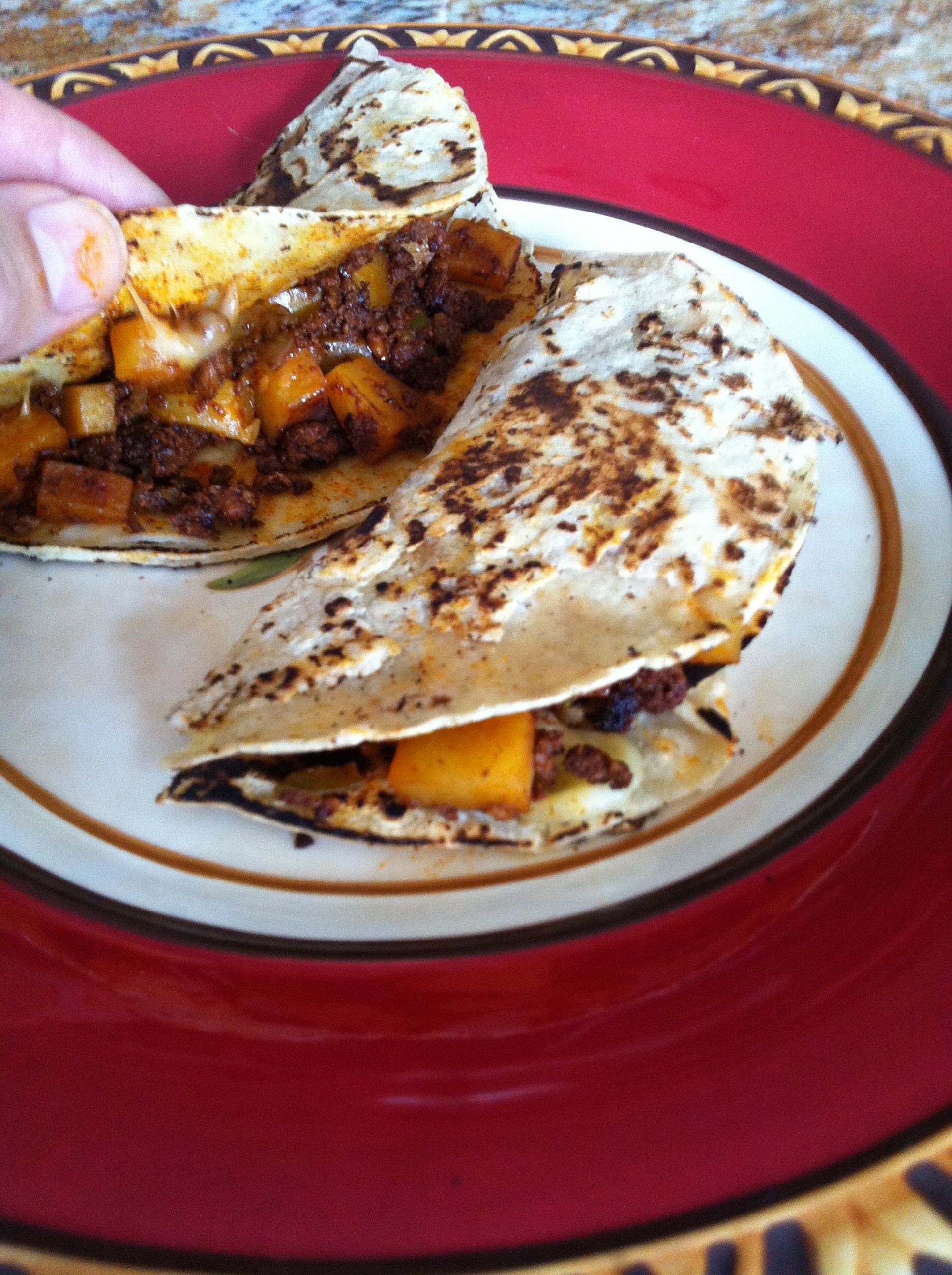 Sometimes you just feel like indulging.  These chorizo tacos  are weekend festive events, a taste that bursts with tang, spice, no-fuss enjoyment.
Be sure to add Jalapeños en escabeche (pickled jalapeños) to continue the vinegar of the chorizo and add a piquant lift.  This recipe is adapted from the Mexica cookbook, "Truly Texas Mexican: A Native Culinary Heritage" published by Texas Tech University Press.
Chorizo Tacos Recipe: (serves 4)
4 oz Mexican chorizo, this is ¾ cup (make your own with this recipe)
1 Tbs Canola or other vegetable oil (omit this oil if the chorizo you are using has a lot of fat)
1 medium waxy potato, cut into ¼ cubes. You will have about 1 cup.
1 Tbs Jalapeños en escabeche, (pickled Jalapeños) finely minced.
1 ounce Queso Chihuahua, cut into 8 thin strips or small cubes for easy melting
8 corn or flour tortillas
1/8 tsp Salt
1. If using the oil, heat it over medium heat in a skillet, preferably non-stick, and cook the chorizo for 10 minutes. If the chorizo has a lot of fat, drain most of it off after the chorizo has cooked, leaving about 1 Tbs.
2. Add the potato cubes, salt, and mix together. Lower the heat, cover, and cook for 10 minutes. Uncover and cook an additional 4 minutes to evaporate some of the liquid and finish cooking the potatoes.
3. Add the minced Jalapeño, set aside and keep warm.
4. Heat the tortillas and divide the chorizo mixture and the cheese among them to make the tacos
¡Buen Provecho!  Have a beer, or even better, a hot cup of Te De Manzanilla, Chamomile tea.  The world will keep.
NOTE: If you found my article helpful, I invite you to follow me on Twitter, Instagram and Facebook, or subscribe below for updates (I'll email you new essays when I publish them).
---
---