Tacos Al Pastor create a family fiesta!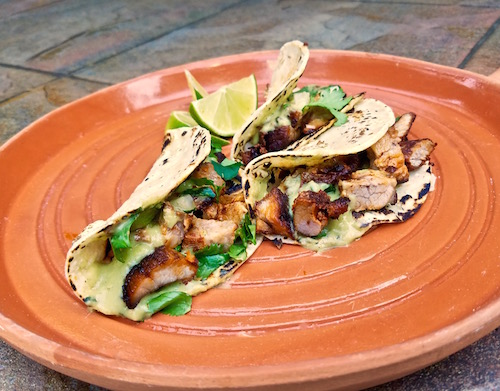 Tacos al pastor come to us as a Middle Eastern culinary tradition, the Turkish döner kebab being the earliest precursor. It became shawarma, in various spellings, in other Middle Eastern areas and gyros in Greece. Muchas gracias to the Lebanese community for bringing this delicious street-food recipe with them when they immigrated to Mexico in the 1920s.
These sumptuous tacos al pastor grace the book cover of my cookbook,
---
Once Mexican culinary hands got a hold of this marinated rotisserie treat, the dish went through a remarkable transformation. Mexican cooks substituted pork for the traditional lamb (pastor means shepherd), corn tortilla for the pita bread, and mixed lovely chiles and local Mexican oregano to create the marinade.
Every region of Mexico has its distinctive marinade and method, usually including onion and pineapple during the cooking. In Yucatán they add the local red-orange spice, achiote. Some regions use cumin as I do in this recipe that can be broiled in your oven.
Recipe for Tacos Al Pastor
Reprinted from the cookbook, "Don't Count The Tortillas: The Art of Texas Mexican Cooking,"
courtesy of  Texas Tech University Press,
Ingredients (serves 8)
5 pounds pork shoulder roast
3 dozen corn tortillas
For the Marinade
6 cups water
12 guajillo chiles, deseeded and deveined
6 pasilla chiles, deseeded and deveined
2 cloves garlic
1⁄2 teaspoon cumin seed
1⁄2 teaspoon Mexican oregano
1⁄2 cup onion, diced
11⁄2 teaspoons salt
1 cup water
For Garnish
1 bunch cilantro, coarsely chopped
1 small onion, small diced
Lime wedges
Method
To Make the Marinade
1. Deseed and devein the chiles by cutting a slit lengthwise on each chile. Turn each chile inside out and remove all the seeds and membranes. (You can wear rubber gloves to protect your skin from the capsaicin, the ingredient in chiles that makes them hot.) In a large saucepan, bring 6 cups of water to a boil and add the deseeded and deveined chiles. Simmer for 10 minutes un-til the chiles are rehydrated and soft. Drain the chiles and discard the water. Allow the chiles to cool.
2. In a blender, add the chiles and all the other marinade ingredients, including the 1 cup of water. Blend for 2 minutes or longer to make a smooth purée. Set aside.
To Prepare and Marinate the Pork
3. Trim all excess fat from the pork. You can also trim away the elastin—the silvery film that attaches to surfaces of the meat. You can also see elastin as clumps where the meat connects to the bone. Some people like this gristle; so you decide. Usually I trim it off.
4. Slice the pork into steaks that are 1/3- to 1⁄2-inch thick.
5. In a glass container or large zip-lock bag, combine the pork steaks with the marinade, making sure all surfaces of the meat are covered. Refrigerate for 4 hours or overnight.
To Broil (or Grill) the Marinated Pork
6. Broil: Place an oven rack 8 to 9 inches below the broiler and turn on the broiler (set to high
or 500 ̊F if your broiler has a settings control). Place steaks on the rack of the broiler pan (so that fat and juices drip away) and broil them for 7 to 10 minutes, until they get browned. Turn the steaks over and broil the other side for another 7 to 10 minutes, until browned and pork is completely cooked. Pork should be cooked to an internal temperature of 145 ̊F.
Grill: The grill should be between 350 ̊ and 450 ̊F.  If you don't have a thermometer, you can
gauge the temperature by carefully holding your hand 4 or 5 inches above the coals and counting the number of seconds you can hold your hand in place comfortably. You should be able to hold your hand in place for 3 to 4 seconds. If you can hold your hand in place only 2 seconds, the coals are too hot—you can spread them out or raise the grill. Brush the grill with olive oil. Add the pork steaks and cook them for 7 to 10 minutes until they are seared. Turn them and cook for another 7 to 10 minutes, until they reach an internal temperature of 145 ̊F.
To Assemble the Tacos al Pastor
7. Place the cooked steaks on a cutting board and slice them lengthwise into 1⁄2" strips; then slice again, crosswise, into 1⁄2-inch cubes.
8. Heat the corn tortillas by immersing them in a bowl of room temperature water for 2 seconds and then placing them on a very hot (400 ̊F) comal (griddle). After about 6 seconds, the tortilla will release and you can use a spatula to flip and cook the other side for about 6 seconds. The tortilla will be slightly roasted and wonderfully soft, aromatic, and steaming.
9. Fill with the pastor meat and garnish with onions and cilantro.
Serve with lime wedges and two salsas, a red and a green, like  this Serrano Avocado Salsa Verde  and  Fried Chile Serrano Salsa Colorada
NOTE: If you found my article helpful, I invite you to follow me on Twitter, Instagram and Facebook, or subscribe below for updates (I'll email you new essays when I publish them).
---
---