Smoked Trout Salad with Yerbaniz-Chipotle Dressing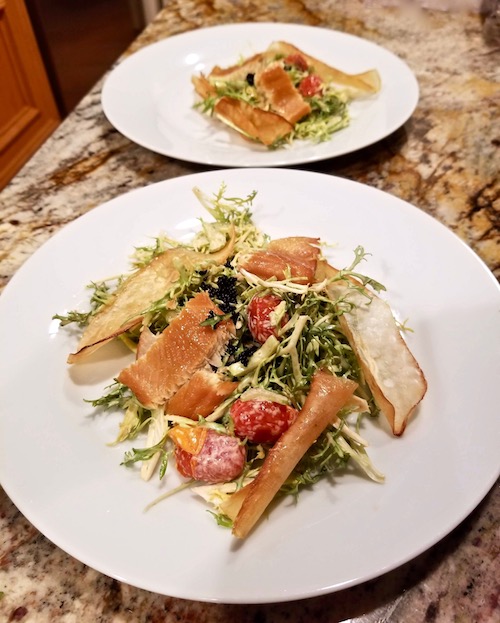 Special shout-out to intrepid, passionate cooks who like a challenge. This salad requires a bit of skill, but it's really fun.
I'll be serving this ensalada compuesta, a composed smoked trout salad, at a gala dinner in San Antonio next month during which I will cook with two brilliant chefs whom I greatly admire, Chef Johnny Hernandez and Chef Steven McHugh. A composed salad is a bit of work because several ingredients have to be specially prepared separately before you can compose the salad. So this recipe is for the passionate cook who enjoys a challenging composition.  Yucca and yerbaniz may be hard to find locally, but you can purchase them online.  The process is a bit extended, but well worth it because it really dresses up those special occasions.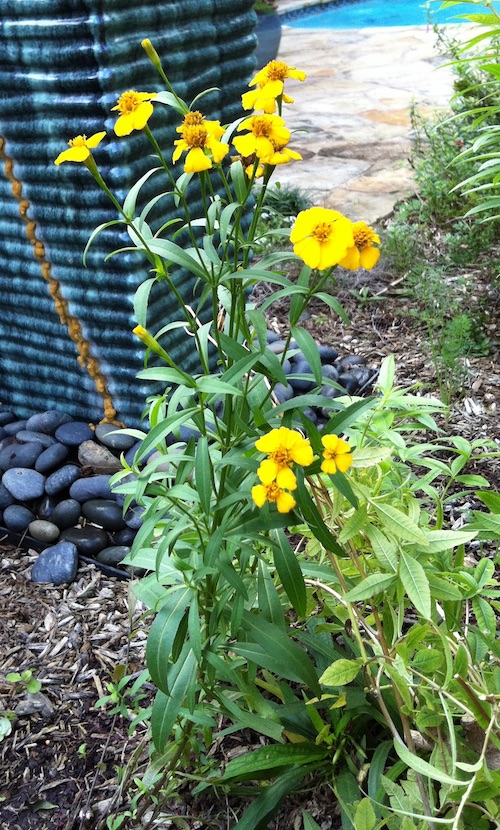 The smoked trout sits atop frisée and celery, with the main flavor backdrop provided by the wonderfully aromatic, yerbaniz-chiptle dressing.  I think you'll love yerbaniz, and I suggest that you grow it in your garden adding it to your collection of herbs. Buy a plant online if your nursery doesn't have one.
Native to Mexico and Guatemala where it is used to prepare corn and chayote dishes, this hardy, sun-loving herb also has ritualistic and spiritual uses (Universidad Autónoma del Estado de México, 2010). It is naturalized all over south Texas and in my garden. Growing up, we drank it as a tea, a remedy for colds and stomach aches.  In Mexico it is called pericón and yerbaníz. In the United States it has many aliases, including Texas tarragon, Mexican tarragon, Mexican mint marigold, and sweet mace. Scientists named it Tagetes lucida. We call it "yerbaníz."
Yucca and bowfin roe (caviar), both indigenous ingredients, finish off the smoked trout salad.

Recipe for Smoked Trout Salad
Ingredients (serves 4)
2 eight-ounce trout fillets, skin on
For the Brine
2 cups water
1 pound ice
1-1/2 ounces salt
3/4 ounce brown sugar
1/2 teaspoon garlic powder
1/2 teaspoon onion powder
1-1/2 teaspoon pickling spice
1 yucca root (cassava)
6 cups peanut oil for deep-frying the yucca root
12 red grape tomatoes, rinsed, dried.
2 Tbs peanut oil for flash frying the grape tomatoes
4 cups frisée leaves, removed from the thick stems, rinsed and dried
1 celery stalk
4 tsp bowfin roe (available online in 1 or 2-ounce jar)
For the yerbaniz-chipotle dressing:
1 cup mayonnaise
1 chipotle chile in adobo (canned)
1 Tbs fresh yerbaníz
minced
1/2 teaspoon white onion, minced
2 teaspoons fresh lemon juice
Method
For the trout:
1. Add the salt, sugar, and spices to the water and bring to a boil, stirring to dissolve the salt and sugar completely. Cool the hot brine mixture by pouring it over the ice.
2. Pour the brine over the fish, making sure that it is completely submerged.
3. Place in the refrigerator for 8–12 hours. Then remove the fish from the brine and lay the filets flat on a tray and dry them, uncovered, in the refrigerator for about 8 hours or until a dry, tacky glaze (pellicle) forms on the fillets. This pellicle formation is critical at the time of smoking because it helps the smoke flavor adhere and keeps oils and moisture where they belong.
4. After brining and drying the trout, place the fish in a smoker with plenty of space between the pieces so that the smoke can waft about evenly. Use pecan wood at 200°F and smoke it for 3–4 hours. The fish must reach an internal temperature of 150°F. Remove the fish from the heat and cool it down completely, removing all bones and skin. Cut each trout into four equal pieces. The trout will keep refrigerated for 5 days.
For the yucca strips: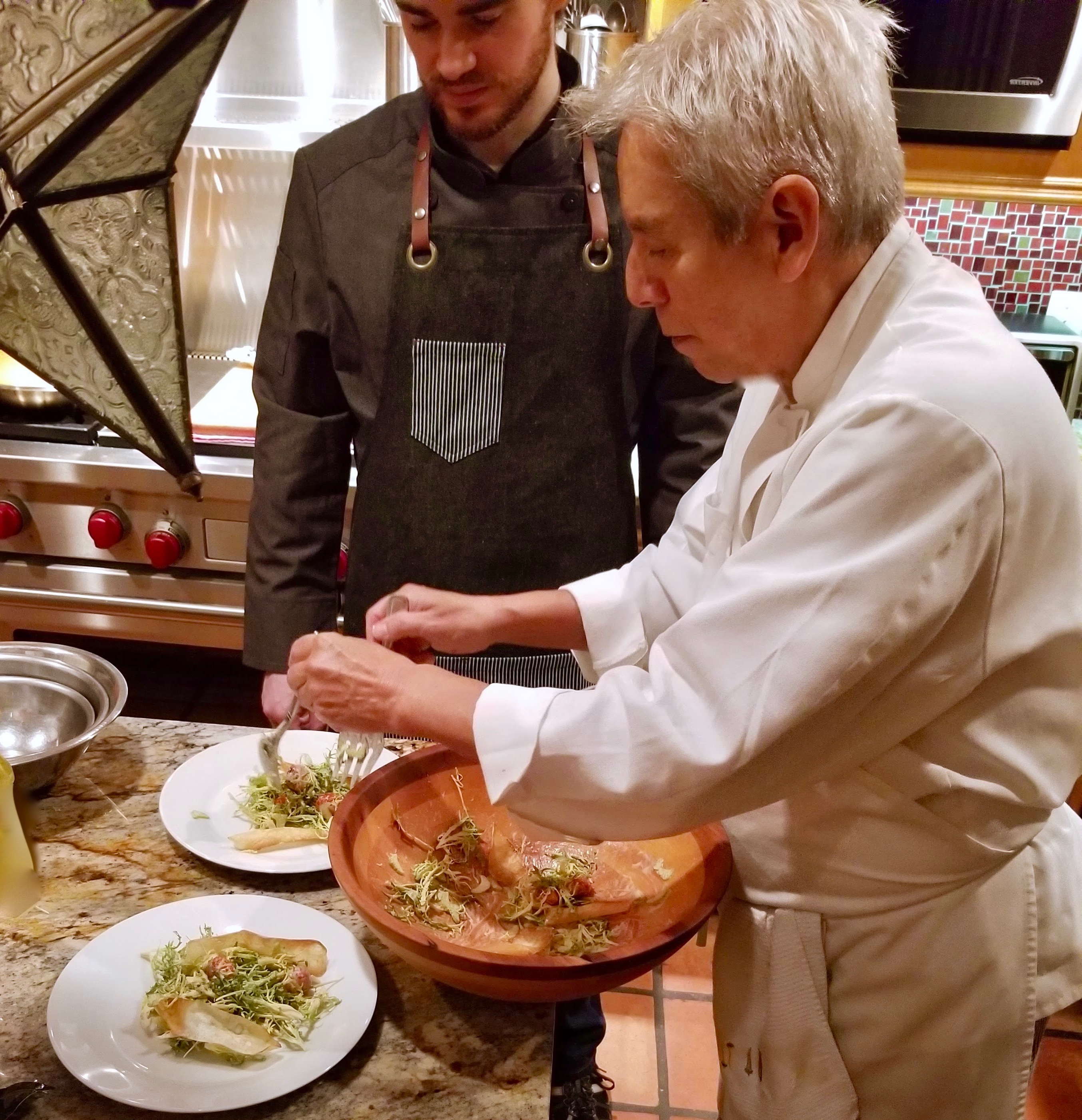 5. Peel the yucca and with a potato peeler, slice it lengthwise to create 12 paper thin slices that are about 1 ½" to 2″ wide.  Place them in a large bowl of cold water to rinse off excess starch.
6. Place 6 cups of peanut oil or other vegetable oil in a deep fryer or deep pot and heat to F150º.  Shake excess water off the yucca slices and add them to the hot oil, a few at a time, stirring as needed so they don't stick. Fry them for about 45 seconds or 1 minute until they have just a bit of color and are crisp.  They can go dark brown very quickly, so take care.  Remove them from the fryer onto paper towels to drain excess oil. Set aside.
For the grape tomatoes:
7. Heat 2 Tbs peanut or other vegetable oil in a skillet until the oil becomes wavy and just before it begins to smoke. Add the tomatoes and flash fry them, shaking the skillet to brown all sides of the tomatoes for about 1 or 2 minutes.  The skin will become flaky and will slightly detach. When the tomatoes acquire dark spots, transfer them to paper towels to drain off excess oil. Set aside.
For the yerbaniz-chipotle mayonnaise (makes 1 cup):
8. In a blender, add the mayonnaise, chipotle chile, yerbaníz, and salt. Blend until smooth, and then pour into a bowl and mix thoroughly with the minced onion and the lemon juice. Store in the refrigerator for 1 hour or even up to 6 hours for the flavors to develop.
To compose the salad, place 1/3 cup of the the yerbaniz-chipotle dressing in a salad bowl and add the frisée, celery and tomatoes. Mix to distribute the dressing evenly.  You can add 1 or 2 Tbs more of the dressing if it seems too dry. Divide the salad among four plates, with 3 grape tomatoes per plate. Place 2 pieces of trout on top of the frisée and arrange 3 yucca slices along the sides of the salad, nestled decoratively.  Top the salad with 1 tsp bowfin roe.
It's festive indeed, crisp and rich.  Serve at once.
NOTE: If you found my article helpful, I invite you to follow me on Twitter, Instagram and Facebook, or subscribe below for updates (I'll email you new essays when I publish them).
---
---