Cognac Shrimp with Beurre Blanc Cream – A Lesson In "Denaturing"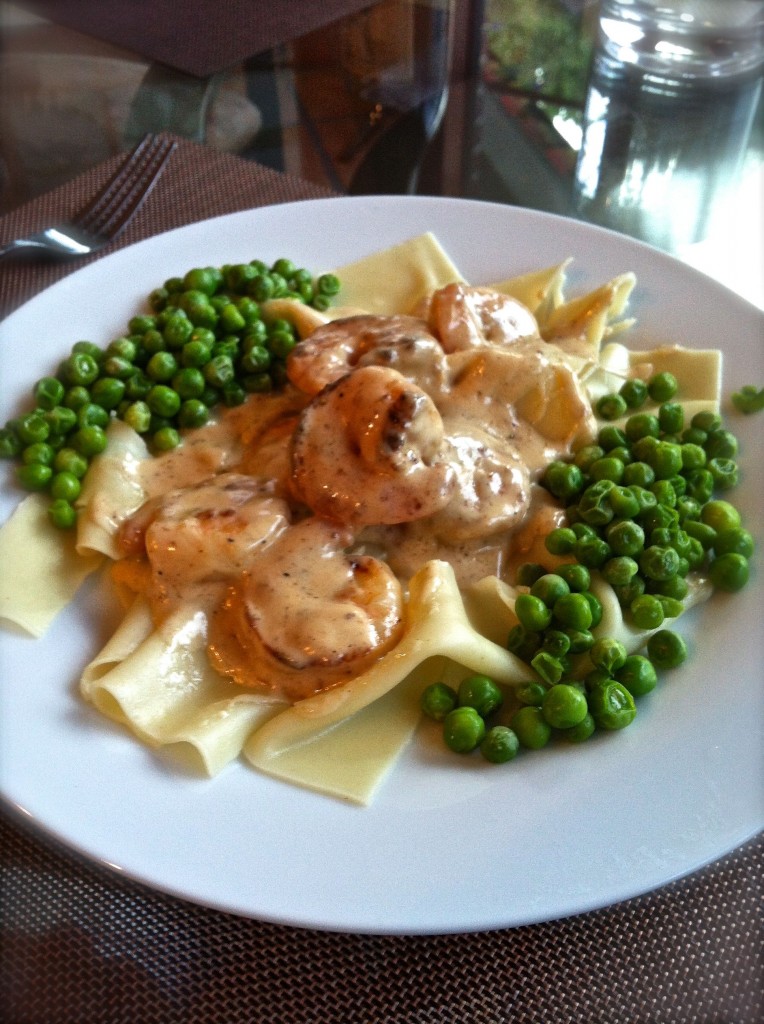 This Cognac Shrimp is a recipe for company dinner.  It says to guests, "unwind, mellow-out, welcome."
In the Beurre Blanc Cream, you taste a brightness, a tang, from the acidic white wine, but the major sensation results from the flavorful creaminess.  I think Harold McGee says it best. "Creaminess is a remarkable consistency, perfectly balanced between solidity and fluidity, between persistence and evanescence. It's substantial, yet smooth and seamless.  It lingers in the mouth, yet offers no resistance to teeth or tongue, nor becomes merely greasy" (McGee, 2004),
I feature Cognac Shrimp for three reasons.  It is quintessentially French (butter, cream, wine, cognac) and I always like to include the French in my Texas-Mexican perspective. It's a good choice for parties because you can prepare all of the elements ahead of time and be free to enjoy your guests. And finally, the creaminess-with-tang  gives me a chance to talk about a topic I like, denaturing of proteins.
A protein is denatured when it confronts a situation in which it can no longer hold together its natural molecular structure. For instance, when the proteins in milk interact with acid the milk curdles.  Add any acid (lemon, wine, vinegar) to milk or light cream and they will curdle.  Milk will curdle even when poured into a cup of very acidic coffee.
But add acid to heavy, whipping cream and it won't curdle. Why? Because the high fat content protects the milk protein from denaturing. It's like a heavy coat keeping the milk protein protected from the effects of the acid.
So as you make Cognac Shrimp, keep in mind your success in NOT denaturing the milk proteins and thereby creating a delicious sauce that contrasts: prominent brightness of the white wine in the midst of flavorful creaminess.
Recipe for Cognac Shrimp with Beurre Blanc Sauce
(serves 2)

Ingredients:
For the Shrimp
12 oz Shrimp (16-20 per pound), peeled, deveined, washed and dried
5 Tbs Unsalted Butter
3 Tbs Cognac
1/4 tsp Salt
For the Buerre Blanc Cream
1 1/2 cups Chablis or similar white wine
1/3 cups Shallots, finely diced
1 1/4 cups Heavy Whipping Cream
1 tsp Arrowroot (optional)
1 Tbs Water
1/2 tsp Salt
1/8 tsp freshly ground Black Pepper
Method
1. In a skillet, heat the butter on medium heat, then  add the shrimp, 1/4 tsp salt, and cook, turning once or twice, until  just cooked through, about 2 minutes.
2. Add the cognac (be very careful because the cognac will ignite when it heats up) and cook for another 2 minutes. Using a slotted spoon remove the shrimp from the skillet onto a plate and set aside.  Then remove the skillet from the heat and set aside.  You will use this flavorful butter to finish the sauce. (You can do this up to 4 hours before the party, cooled down, then chilled in the fridge)
3. In a saucepan, bring the wine and shallots to a boil and let simmer for about 10 to 15 minutes until the liquid is reduced to 1/4 cup.
4.  Using a fine mesh sieve, pour the liquid into another saucepan, pushing down on the shallots to squeeze out their liquid.
5.  Add the whipping cream to the wine liquid, stirring all the while with a wooden spoon or a heat-proof rubber spatula.
6. Place the saucepan on medium heat and bring to a simmer, stirring.  Cook for about 5 minutes to reduce slightly.
7. Dissolve the arrowroot in 1 Tbs water and pour into the cream mixture, stirring.  Cook for 2 minutes to thicken. (You can make the sauce up to this point up to 4 hours before the party.  Cool it down, chill in the fridge, then slowly heat it when it is time to finish it.)
8. Remember the skillet with the butter?  Heat it up on medium heat, then pour the cream mixture into it, stirring gently and continuously, yummmmm,
9. When combined, add the shrimp, bring to a gentle simmer and heat through. Add salt and pepper.
I recommend you serve it over wide noodles with green peas.
Enjoy!
References:
McGee, H. (2004). On food and cooking: The science and lore of the kitchen. New York: Sribner.
NOTE: If you found my article helpful, I invite you to follow me on Twitter, Instagram and Facebook, or subscribe below for updates (I'll email you new essays when I publish them).
---
---