Puerco En Chile Colorado – Bright Red With Guajillo Chiles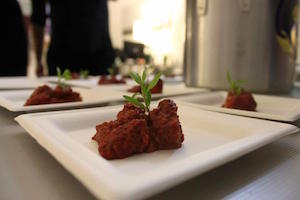 Puerco En Chile Colorado is one of the iconic Texas Mexican dishes that is shared with other regions, especially the northern regions of Mexico, each region of course having its slight variations.  I grew up with this on our table, whenever we could afford meat, and to this day just love the aromatic and earthy flavors of the red chiles with the roasted vegetables and spices. This dish depends on Guajillo chiles that are prized for their bright red color, and earthy, slightly piquant taste.
Seasoning meats with variously flavored chiles and roasting tomatoes and roots were already a Texas Indian culinary technique pre-1500.  I celebrate how the Texas Indian cooks went on to develop new and brilliant dishes after 1500, when European immigrants stepped ashore, bringing with them pigs, garlic, black pepper and cumin.  Puerco En Chile Colorado has its Texas roots certainly somewhere in the 17th century (Berzok, 2005) and celebrates indigenous "indio" identity.  It emphasizes to me, as a culinarian, how we may encounter "otherness" in life-giving and aesthetically beautiful ways.
Recipe for Puerco En Chile Colorado, Red Chile Pork

Recipe is adapted from the cookbook: "Truly Texas Mexican: A Native Culinary Heritage In Recipes"
Ingredients: (serves 4)
1 lb Pork Loin, trimmed of fat and cut into 1/2″ cubes
4  Chiles Guajillo, dried, deseeded and deveined
1/2 tsp Cumin seeds
3 Roma tomatoes
1 small White Onion, peeled
1/2 tsp Black Peppercorns
1 Garlic Clove, unpeeled
1 tsp fresh Mexican Oregano
1/4 tsp Salt
2 Tbs Canola or other vegetable oil
2 1/2 cups Water
Method:
1. In a dry, cast iron skillet or griddle (no oil added), dry roast the tomatoes, onion and unpeeled garlic on medium heat until they develop black spots as in the picture.
Peel the garlic after roasting.  Set aside to cool.
2. After removing the seeds and the inside veins from the chiles, place them in a saucepan and cover them with water.  Bring the water to a boil and then turn off the fire and let the chiles steep for 15 minutes until they become soft, reconstituted.  Drain them and discard the water.
3.  Place the chiles, roasted vegetables, spices and salt in a blender and blend to a fine purée. Add additional fresh water as needed to keep the ingredients blending.  This is in addition to the water that is on the menu above.
4.  In a dutch oven heat the Canola oil and then add the pork cubes in small batches to brown them.  You don't want to add the cubes all at once because crowding them in the dutch oven will make them sweat and release their juices. You want to only brown them. Set aside the browned pork.
5. In the same dutch oven add the chile purée (be careful because it will splatter as you pour) and cook for 5 minutes until most of the liquid has evaporated.  You will see the color deepen.
6.  Return the pork to the dutch oven and add 2 cups Water. Bring to a boil and then simmer, covered, for 30 minutes until the pork is fully cooked and tender.  Uncover and cook a bit more until the liquid has reduced and the chile has thickened.  Taste and adjust the salt.
Serve this gorgeous dish with rice and hot, toasty corn tortillas.
¡Buen Provecho!
RESOURCES
Berzok, L. (2005). American indian food. Westport: Greenwood Press.
NOTE: If you found my article helpful, I invite you to follow me on Twitter, Instagram and Facebook, or subscribe below for updates (I'll email you new essays when I publish them).
---
---