Pescado Zarandeado – Delicacy From Nayarit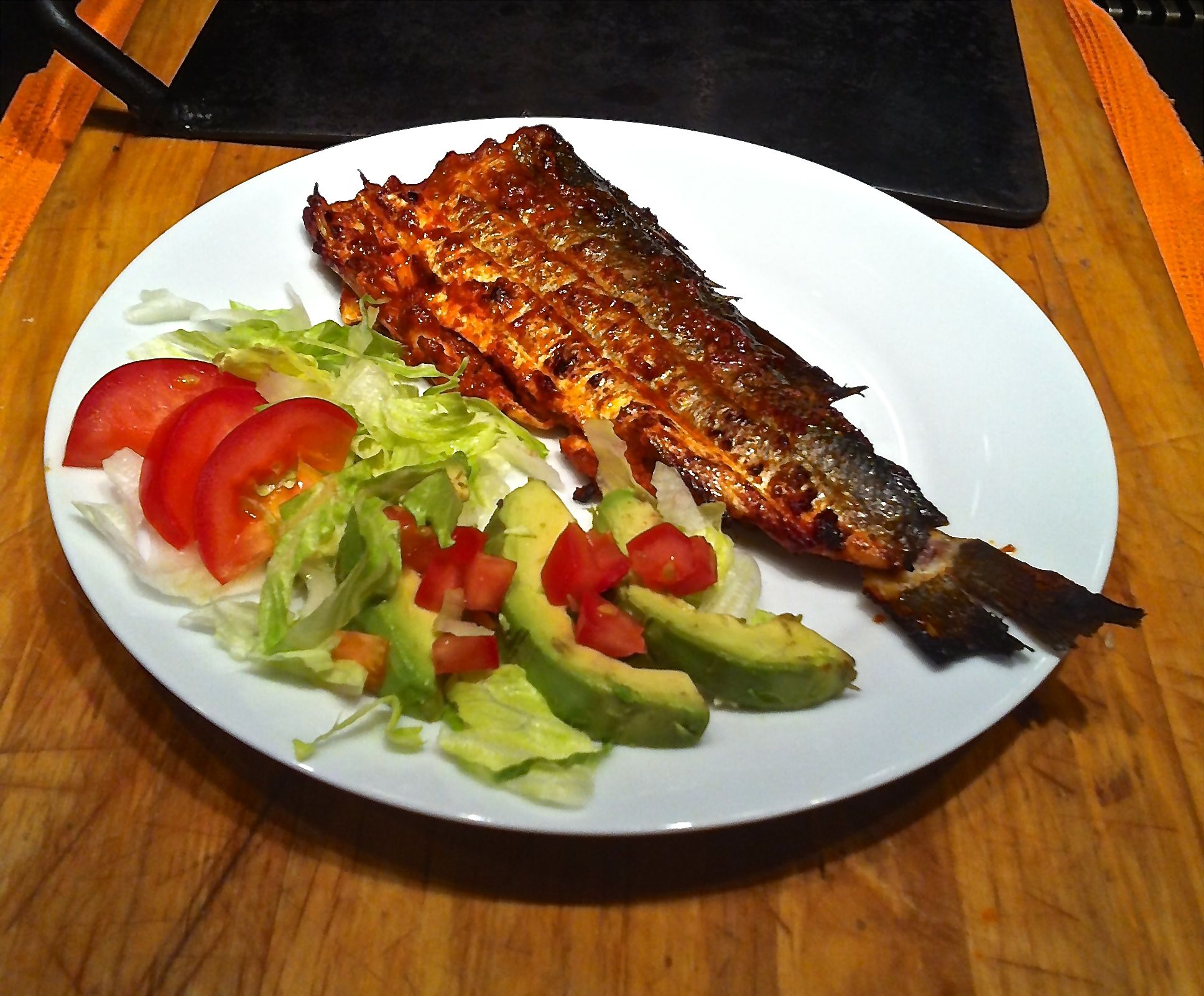 Pescado Zarandeado is an outdoor barbecue is the perfect venue to savor this example of the cuisine found in the state of Nayarit on Mexico's Pacific coast.  It is nuanced and complex in flavor, tender inside and outside a crisp Guajillo glaze.
Nayarit is from the Nahuatl language and means "son of God who is in the heaven and in the sun." Being a coastal state
, seafood features in much of the cuisine of the Huichol and other indigenous peoples who live here.  Nayarit is along the route that Texas Indians traveled as they communicated and traded with communities on the west coast and all the way south to Mesoamerica and Mexico City.  The Spaniard, Cabeza de Vaca, passed through Nayarit when he used this same route in 1530's when he traveled from Texas all the way to Mexico city.
Pescado Zarandeado is a fish that is smothered in  chile and spices, then slowly smoke-grilled in mesquite while being continually basted with chiles and spices. It is served with fresh, crisp greens and a Mexican lime and salt dressing.
Pescado Zarandeado Recipe: (serves 4)
Ingredients:
1 five-pound Red Snapper (Pargo) or 2 smaller, cleaned.  I sometimes remove the head, not always.
6 Guajillo Chiles, de-seeded and deveined
1/2 White Onion
2 Garlic Cloves
1 Tablespoon fresh Mexican oregano, firmly packed
1/4 teaspoon salt
1/2 – 3/4 cup water
1 Tablespoon Canola oil
4 Tablespoons butter, melted
additional salt to season the fish
Method:
1.  Devein and de-seed theguajillo chiles and submerge them in a large pot of boiling water.  Turn off the heat and let the chiles soak for 20 minutes until they are thoroughly re-hydrated.  Then drain the chiles and discard the water.
2.  In a blender, add the drained chiles, garlic, onion, oregano, salt and enough water (1/2 -3/4 cup) to blend well into a smooth purée.
3.  Heat the oil in a deep saucepan, over medium heat, then add the chile purée and cook until the color deepens and the chile coats the back of a spoon, about 6 minutes.
4. Clean the red snapper and butterfly it.  Salt both sides and then coat with the chile paste. Set aside in the refrigerator.
5. Prepare the mesquite fire until it turns to charcoal and burns red.  The heat level should be medium.  If you hold your hand (be very careful) four inches above the coals, you will be able to keep it there for only four seconds.
6.Use a grilling basket to hold the fish and place it, skin down on the fire.  Cook for about 3 minutes, then turn it over and baste with the remaining chile.  Cook for another 3 minutes, turn and baste again.  The chile, as it roasts on the fire, will become a shimmering deep, dark red and a bit crisped.   When the fish is cooked, brush with butter and carefully peel it away from the grilling basket.
Serve immediately with thinly sliced iceberg lettuce, tomato and avocado that has been sprinkled generously with an emulsion made of olive oil, Mexican lime juice, vinegar and salt.
The fish is delicate, smoky and the chile is mild and complex.  It's one of the truly Mexican gourmet, emblemetic ways of preparing fish outdoors.  I would be remiss if I did not give credit where credit is due.  I became enamored of this food when I was in Atlanta, of all places!  Yes, the Latino and Mexican community in Georgia is fascinating and flourishing.  During my last trip to Atlanta, Mr.  Alejandro Coss, President of The Latin American Chamber of Commerce of Georgia  invited me to lunch at a Mexican restaurant devoted entirely to cuisine from the Nayarit region.  Atlanta deserves more recognition for counting these wonderful regional restaurants among its food scene.   Gracias Mr. Coss for your hospitality and inspiration to re-discover exquisite areas of Mexico cuisine.
¡Buen provecho!
Test
NOTE: If you found my article helpful, I invite you to follow me on Twitter, Instagram and Facebook, or subscribe below for updates (I'll email you new essays when I publish them).
---
---