New Book on Texas Mexican Food, with 100 Recipes
Available now for advance purchase at Amazon,   Barnes & Noble, Walmart, and other retailers.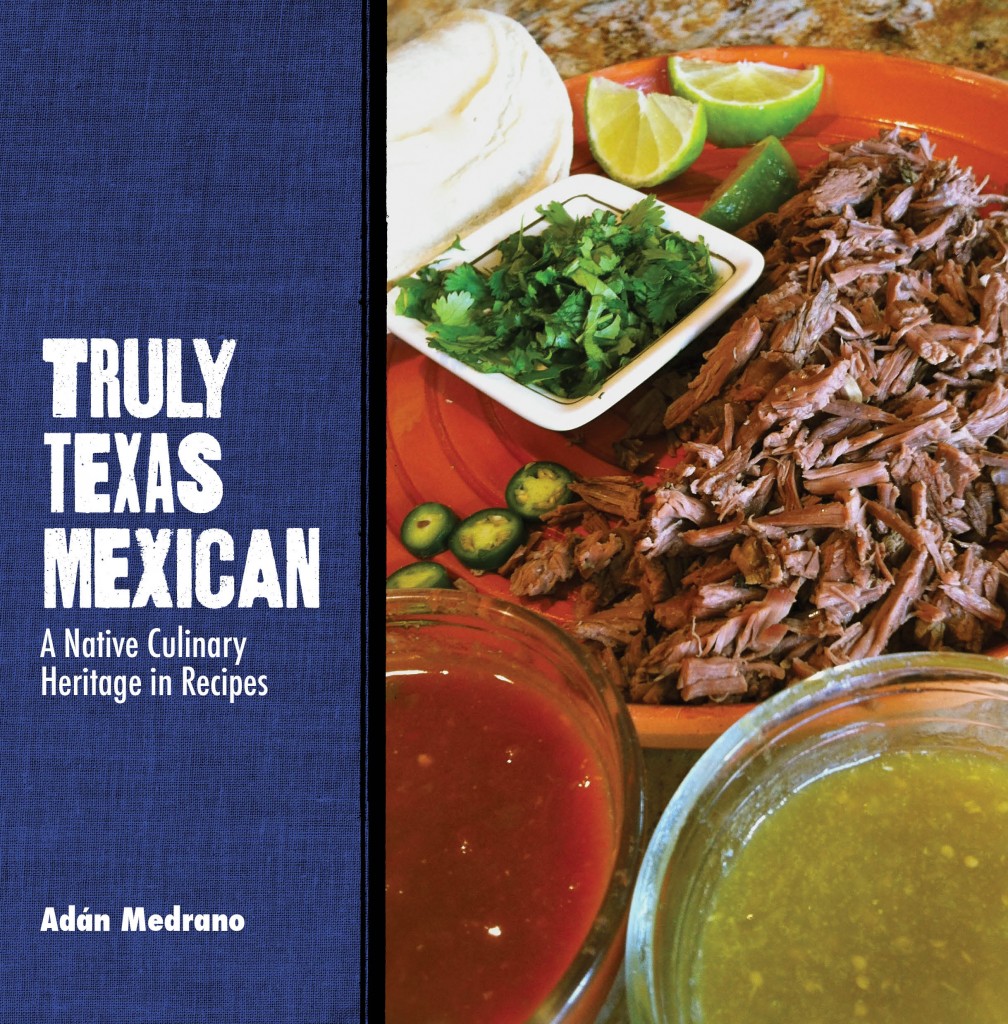 Truly Texas Mexican: A Native Culinary Heritage In Recipes is the culinary story of the Texas Indians, Native Americans who are the ancestors of today's Mexican American people of Texas.
Here's what Chefs are saying:
"Adán Medrano speaks from his roots and shares his passion for food, providing an insightful perspective on an often mischaracterized Texas Mexican cuisine."
—Alain Dubernard, CMB, The Culinary Institute of America, San Antonio
"In the deepest part of our soul we are celebrating food and hospitality. These recipes share not only where our culinary traditions come from, but the resiliency of our ancestors and the healing power of food."
―Johnny Hernández, chef/owner of La Gloria Street Foods of Mexico, The Frutería-Botanero, and El Machito
 "Adán Medrano is putting the spotlight on a style of food that often has been overlooked. Once you explore this remarkable Texas Mexican cuisine you will discover a richness that will be cherished for generations to come."
—Diana Barrios Treviño, owner of Los Barrios Enterprises
 Beginning in 900 AD, the point at which anthropologists identify distinct native communities and cultures in Texas, I describe the hundreds of indigenous tribes and their cuisine:  how they gathered and hunted food, planted gardens and cooked.  By detailing their culinary techniques developed over centuries–roasting, boiling, steaming, salting, drying, grinding, blending– I show the progression of foodways from one generation to the next. Blending foreign with native ingredients and using tested techniques, they created the delicious flavor profile of Indigenous Texas Mexican cooking today.
I should mention that my book is not about what is termed Tex-Mex food.  In Truly Texas Mexican I explain the differences between so-called Tex-Mex and the flavor profile of our indigenous Texas Mexican food.
This unique flavor profile is laid out extensively in 100 recipes, each kitchen-tested and with step-by-step instructions.  Illustrated with full color photographs, the recipes shed a new culinary perspective on well-known dishes, like enchiladas and tamales by explaining the complexities of aromatic chiles and variously textured corn flours.  The recipes show how to develop flavor through technique as much as through ingredients.  The secrets of lesser known culinary delights are freely shared, such as the recipe for Turcos, sweet aromatic pork pastries, and  Posole, giant white corn treated with calcium hydroxide.
I learned these recipes from my amá (mother) and family since childhood.  Later, as I worked professionally, graduated from the Culinary Institute of America and reconnected with home cooks, I came to realize that cooking is a powerful cultural practice integral to the history of Texas Indians, Native Americans, Mexican Americans, Chicano people of today.
In sharing personal anecdotes, I hope to illuminate the role this cuisine plays in identity and community.  I also want to share with the wider cooking community:  delicous recipes, steeped in tradition, cooked for today's lifestyle.
NOTE: If you found my article helpful, I invite you to follow me on Twitter, Instagram and Facebook, or subscribe below for updates (I'll email you new essays when I publish them).
---
---