Mushroom Strudel in Mexican Chile Dulce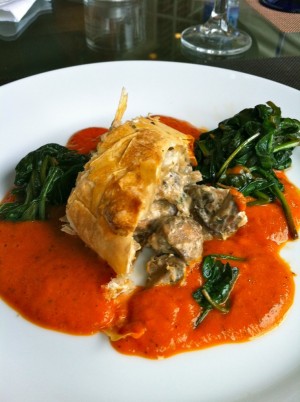 When you just feel like having friends over for a "gussied up" dinner party, try this delicious mushroom strudel.  This lacto-vegetarian dish is rich and fancy, but you can assemble everything ahead of time and, when your friends arrive, pop it in the oven.  No, this is not Texas Mexican at all, but we can't get away from using chiles, in this case the sweet, no capsaicin "Chile Dulce," aka Bell Pepper.
The Spanish fell in love with this Mexican chile and in the 1500s transported it to Europe where it naturalized in their gardens and is now an integral part of the Spanish culinary culture.  They call it Pimentón.  The same love affair happened in Hungary where it is called Paprika. Chile Dulce is just beloved by everyone.  You'll see why in this dish.  And so will your friends.
The strudel's a bit of a trick to assemble but keeps well in the refrigerator for hours, freeing you up to relax with your guests until you're ready to pop it in the oven.
Mushroom Strudel Recipe

(makes 2 strudel logs. Each serves 6. Keep one in the fridge for later)
Ingredients:
For the Strudel:
4 oz. Extra Virgin Olive Oil
1/4 cup Garlic, minced
1/2 cup Shallots, minced
5 lbs Mushrooms, quartered
8 oz. Dry Sherry
6 oz. Goat Cheese
3/4 cup Chives, minced
2 Tbs Fresh Thyme, chopped
Salt to taste
Generous grinding of Black Pepper
1 Box Phyllo Dough
8 oz. Salted Butter, melted
2 cups Bread Crumbs or Panko (3/4 cup for each strudel)
For the Chile Dulce Coulis:
1 oz. Extra Virgin Olive Oil
1/4 cup Shallots, minced
2 Tbs Garlic, minced
2 cups Red Chile Dulce, Bell Pepper, seeded and chopped
1 cup White Wine
1 3″ Sprig of Fresh Thyme
3 lbs. Fresh Spinach
1 Tbs. Extra Virgin Olive Oil
1 Tbs. Garlic, minced
Salt to taste
Method
For the Strudel: (follow the package directions and thaw the phyllo sheets.  After they are thawed, keep them covered with a very damp cloth)
1. In a large skillet heat the olive oil over medium heat and sauté the mushrooms until golden brown.
2. Add the shallots and the garlic and cook, stirring often, until all of the liquid has evaporated.
3.  Add the Sherry and scrape the pan to unstick all the browned bits. After the Sherry has evaporated completely, set aside and cool to room temperature.
4. Add the cheese and herbs, mix well and season with salt and pepper according to your taste.
5.  Divide the mixture in half and, using waxed paper, parchment or aluminum foil, roll into two 10″ logs.  Hold in the refrigerator to chill a bit.
6. To make the strudel logs, place one 14″ phyllo sheet on waxed paper or plastic wrap and brush it with the melted butter. Then quickly place a second sheet on top of the first, brush with butter and sprinkle bread crumbs over it. Place the other sheets on top, buttering each one and sprinkling with bread crumbs.  Do not butter the last sheet.
7. Remove the mushroom log from the refrigerator, place it on the stack of phyllo sheets and roll it. Fold the two ends and place the strudel, seam side down, on a greased baking sheet. Score the top with a sharp knife and place in the refrigerator, covered, until you are ready to bake it.
8.  Bake in a 375F oven for 45 minutes or until golden brown.
For the Chile Dulce Coulis
1.  In a skillet, heat the olive oil over medium heat, then add the shallots, garlic and chile dulce.  Cook on low heat until they become soft.
2.  Add the wine, herbs, crushed black pepper and cook, uncovered, over medium heat until the liquid evaporates to 1/3 the original volume.
3. Remove the Bay Leaf and Thyme, pour into a blender and blend into a smooth purée.  It should be velvety smooth.  If there are bits and flecks, strain through a fine mesh sieve. Pour it into a saucepan and place the saucepan in hot water. This will keep it warm for a good hour. Reheat the water as you like to keep the coulis warm.
To Sauté the Spinach:
1. In a large Dutch oven heat the olive oil over medium heat, then add the garlic and cook for 1 minute.
2. Add the Spinach and toss to coat it. Cover the pan and cook for 2 minutes.  Then uncover and keep stirring the Spinach until it is completely wilted.  Add salt to taste. It is ready to serve.
The strudel will slice easily once it is baked.  Arrange on plates as in the picture, spooning the Chile Dulce on each plate and adding dollops of the wilted Spinach.  I just love this dish. A Chilean sauvignon blanc would be great.
NOTE: If you found my article helpful, I invite you to follow me on Twitter, Instagram and Facebook, or subscribe below for updates (I'll email you new essays when I publish them).
---
---