Mole Poblano Travels well to Texas
Mole Poblano may not be commonplace in Texas nor just south of the Rio Grande but from time to time you get to taste the rich, complex sauce when perhaps newly arrived friends from Puebla, Mexico make it. Aromatic spices, roasted nuts, seeds, Chiles!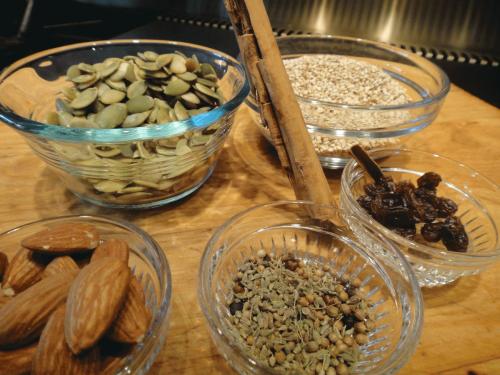 Or you taste it at a wedding because a Texas family uses that old recipe a travelling friend shared with them generations ago.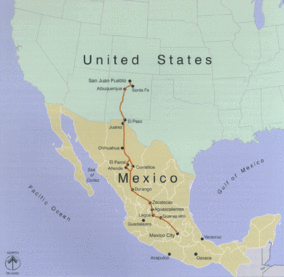 I think mole is becoming more available in Texas and Northern Mexico because of digital media and travel.  Travel routes connecting today's Texas, Northern Mexico and Southern Mexico date back to the Texas Indians prior to the 1400's.   The Mexico-US "Camino Real" of the Spaniards, was built upon one of these routes. These ancient routes enabled our native ancestors to learn about each other's cuisines (types of chiles, corn, cooking utensils, pottery, types of beans). With today's digital media I can blog.  I think this accelerated sharing will increase the presence of Mole Poblano on our tables here in Texas and Northern Mexico.
Following is the recipe for the Mole Poblano.  I find it's easier to learn to make it if you think of the types or groups of ingredients as you would an instrument section in a symphony orchestra.  If each group is to  bring its special character and tone to the sauce, the ingredients must be well prepared prior to blending.
Ingredients
—AROMATICS
14 Black Peppercorns
5 Cloves, whole
1 stick of Mexican canela, 3 inch
1/2 tsp Coriander Seeds
1/2 tsp Anise seeds
These aromatics are to be fried in a bare minimum of Canola oil to the point when they begin to release their aroma.
—NUTS, SEEDS AND GRAIN
20 Almonds
2 oz. Pumpkin seeds
1/2 cup Brown Sesame seeds
Chile seeds from the cleaned chiles below.
1 Corn Tortilla, stale
These are to be fried in a small amount of canola oil, each separately, to the point of golden.  NOTE, the pumpkin seeds turn bitter if over-cooked so be attentive.
—VEGETABLES AND FRUIT
1 White Onion, halved
3 Garlic cloves, unpeeled
4 Roma tomatoes, quartered
6 Tomatillos, quartered
3 tsp Black Raisins,
The tomatoes are to be fried in a small amount of canola oil in high heat to caramelize the starches, and the raisins are plumped, also in the oil.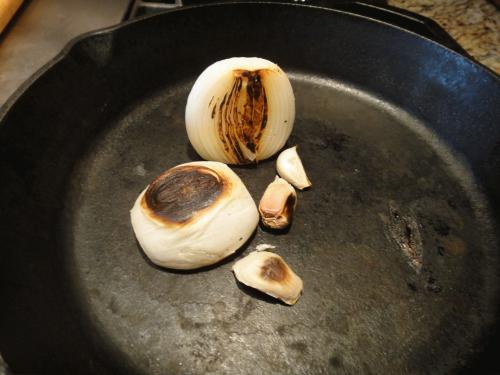 The onion and garlic are to be roasted in a cast iron skillet or comal.  Black spots and softness will tell you that they are ready.  Peel off the skin from the garlic after it is cooked.
—THE CHILES
These are the main attraction in this sumptuous sauce.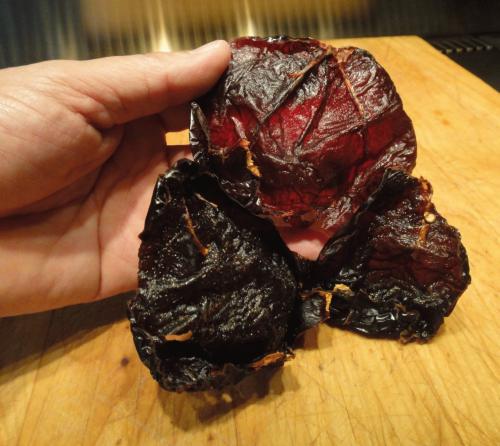 8 Mulatto chiles
5 Ancho chiles
6 Pasilla chiles
2 Chipotle chiles
Wipe them clean, seed and devein them.  Reserve the chile seeds for sauteeing as described.
—CHOCOLATE
Use 5 oz. Mexican chocolate.  Don't use plain cacao.  The Mexican chocolate has the necessary sugar and additional canela flavor.
Additional sugar and salt will be added at the very end of the process to fine tune the taste of this gastronomic symphony.
Method
Fry the chiles on both sides in
2 Tablespoons Canola oil until they begin to blister and change color.
Remove the chiles and soak them in hot water for 15 minutes. Drain them and puree in a blender, adding water as needed. The puree should be very smooth.  If there are large, grainy particles, strain through a fine mesh sieve.  Set aside.

Fry the tomatoes and tomatillos
in the remaining oil.  
Using 4 tablespoons of the oil,
sauté the raisins until they are plump and change color. Remove the raisins, then saute the almonds, pumpkin seeds,
tortillas, reserved chile seeds, and sesame seeds. Add more oil, as
needed, to sauté the remaining ingredients.
Dry-roast the onion and garlic
in a comal or dry skillet over medium heat. Remove the garlic when the skin begins to brown. Remove and discard the skin. Keep turning the onion until it is soft and has black spots on all sides. Remove from heat and set
aside.
In a small skillet, add enough
oil to sauté the black pepper, cloves, cinnamon, coriander and anise seeds
until fragrant over medium low heat. Remove from heat and set aside.
Blend the dry-roasted
vegetables, spices and fried ingredients in batches adding fresh water, as
needed, to form a smooth puree. Again, if the particles are large and grainy, strain the puree through a fine mesh sieve.  Set aside.
Heat 3 tablespoons of oil in a
Dutch oven over medium heat. Fry the chile puree, stirring frequently,
until it changes color and you can see the bottom of the pan when scraped
with a wooden spoon, about 8 minutes. Add the pureed vegetable and spice
mixture. Reduce heat to a simmer and stir occasionally until the mole
thickens, about 1 hour.
Add approximately 2 cups of
water or mild vegetable broth and continue cooking for 30 minutes. The
mole should coat the back of a spoon. Add the chocolate pieces and
continue cooking, about 10 minutes. Season alternating with salt and
sugar.
Serve the Mole poblano as the
main ingredient on the plate with either tortillas, tamales blancos or
tamales de frijol.

 

Garnish with
toasted sesame seeds.

Note:  The mole will keep in the refrigerated for two weeks.  Frozen it will keep for about two months.




I'm serving it here with bean tamales, sprinkled with sesame seeds.  You can also enjoy it with freshly made hot corn tortillas.  Different from the French "sauce" concept, Mexican mole is not an accompaniment for a meat.  Although it is often served with turkey breast, Mole is always the main character. 
Adapted from Chef Iliana De La Vega and the "Center for Foods of the Americas, Culinary Institute of America."
NOTE: If you found my article helpful, I invite you to follow me on Twitter, Instagram and Facebook, or subscribe below for updates (I'll email you new essays when I publish them).
---
---