Mexican Rajas Poblanas, Post Hurricane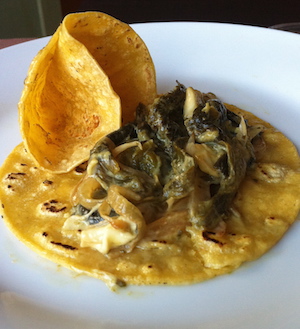 Perusing my archives for quick big batch recipes, found this perfect Mexican Rajas Poblanas dish.  In the hurricane Harvey aftermath, you gotta have both "delicious" and "big batch" for guests.  When you volunteer to help in your church kitchen or shelter,  get your hands on some Poblano chiles and make this delicious comfort food.  I went to a nearby Mexican grocery store yesterday, and they were stocked with the chiles and also the cheese, so I think you'll be able to find the ingredients even after the hurricane disaster and disruption to our lives.  If you cant'get Crema Mexicana, you can use mild sour cream.
You can multiply this recipe by a factor of 10 and you'll have plenty for 60 guests. Serve this rajas recipe alone, with corn tortillas, or as a side dish to accompany other items on the buffet table.  It reheats easily over a low burner or over a pot of boiling, steaming water.
Mexican cuisine has been roasting rajas for millenia.  This picture of chiles served on a platter is painted by a Mexica artist in 1541.  It's in the "Codex Mendoza,"  a pictorial, annotated chronology of Mexica (Aztec) history ordered to be written by Antonio de Mendoza who was viceroy of the conquered lands, called "New Spain" at the time.  I photographed the picture when I visited the current owner of the codex, the Bodleian Library in Oxford.
The word "rajas" means strips or bands of something. You can make original Mexican rajas simply by roasting chiles and cutting them into strips.  I grew up eating them that way.  They are delicious, as shown in this recipe that uses Anaheim chiles, without cream or cheese.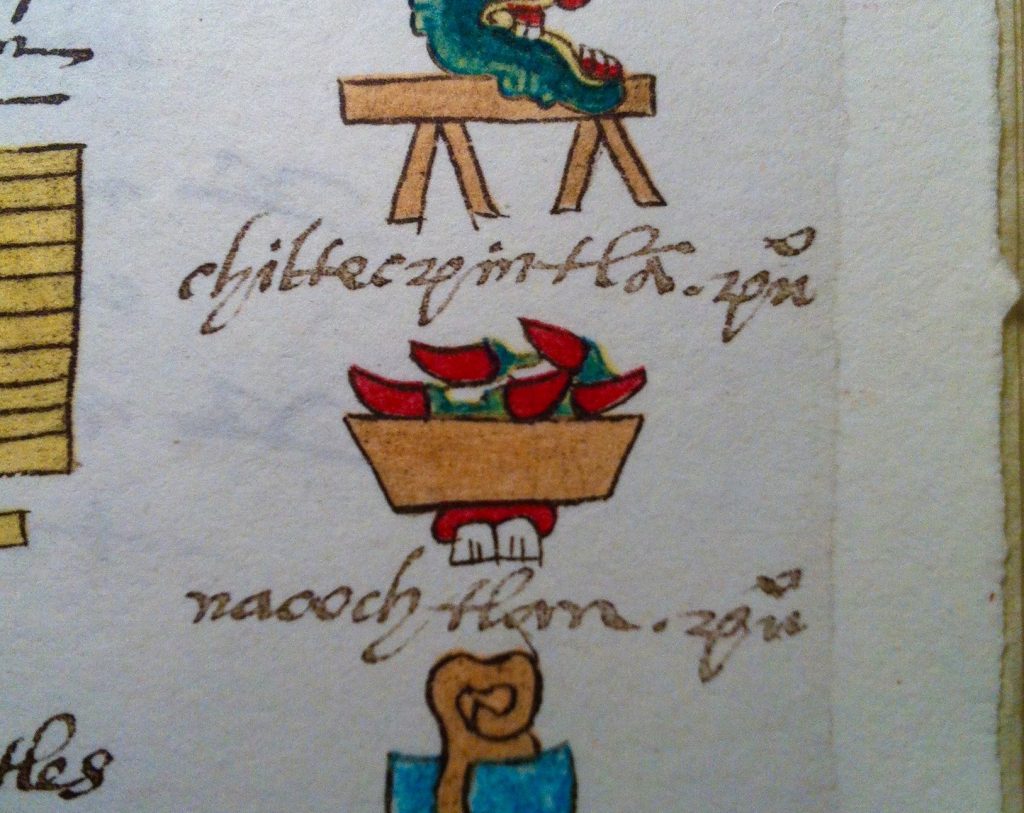 Chiles were roasted and served in many forms, but always "sin queso," without cheese.  It was only after colonization, with the arrival of cows and goats that lactose entered the Mexican diet.  Imported milk falling in love with the local chiles was inevitable. The marriage of cheese with chiles is simply delicioso.
This Mexican rajas recipe will remind you of the well-known chile con queso (recipe here).   There's a history link between the two.  Chile con queso evolves culinarily from rajas. Cows arrived in Mexico in 1527, and it was only matter of time until cooks saw the beauty in combining the chile poblano with cream.  In our Texas Mexican region we added cheese, and now chile con queso is traditional in the entire Texas Mexican Region, from Houston to Monterrey.   The difference between the two dishes is that "queso" adds tomatoes and emphasizes the cheese more than the cream.  Texas Monthly gets it wrong to trace the origin of queso to the "queso flameado," which is purely cheese with chorizo, no chile.
You can also serve both Rajas Poblanas and Chile con Queso side by side, and savor the nice, interesting differences.  These are cousins.
Recipe for Mexican Rajas Poblanas
Adapted from the cookbook, "Truly Texas Mexican: A Native Culinary Heritage In Recipes"
Ingredients (serves 6 as an appetizer)–Multiply X10 for 60 guests

4 Poblano chiles
1 White onion, sliced into 1/4″ strips
1 Tbsp Canola oil
3/4 cup Crema Mexicana (use crème fraîche if you don't have Crema Mexicana)
1/2 cup Panela cheese
Salt to taste
Method:
1.  Place the chiles under a broiler until the skin is completely blistered and somewhat charred. Place in a paper or plastic bag for about 10 minutes so that the steam loosens the skin, and then remove the skin, seeds and veins.  Slice the chiles into 1/2″ wide strips.
2.  Peel and slice the onion into 1/4″ wide strips.
3.  Cube the Panela cheese into 1/2″cubes
4.  Heat the oil in a skillet over medium heat, add the onions and sauté until they soften.
5.  Keeping the heat on medium or low, add the chiles and the Crema Mexicana and heat them thoroughly.
6.  Add the Panela cubes and stir gently.
7.  Season with salt.
Serve the Rajas with hot corn tortillas, or a bag of corn chips.  Comfort food like this sure does the trick at times like these.
NOTE: If you found my article helpful, I invite you to follow me on Twitter, Instagram and Facebook, or subscribe below for updates (I'll email you new essays when I publish them).
---
---