Mazapán is native to Latin America
I made this Mexican candy, mazapán, which was  shown as an art object, and eaten, at the collaborative art exhibit held February, 2010 in Houston, Texas,  "The Candy Shop." 
A cousin of marzipan (made with almonds and sugar) which originates in Asia and/or the Middle East, mazapán is distinctly Mexican in that it replaces the almonds with peanuts which are of Latin American origin and adds corn starch which is of course native to Mexico. To maintain the "cacahuate" flavor, it is not cooked.  Once you bite into these, you'll love the almost peanut butter sweet taste.  Some have called it Ruiz's pieces!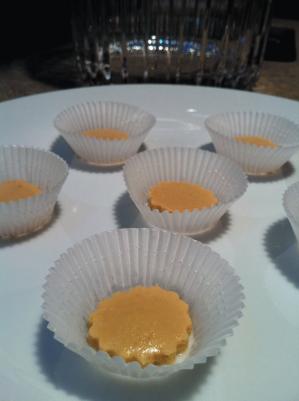 This localization of Marzipan is a great example of how adapting, changing and creating something new is a constant in cooking.  It's the same way with culture in general. So for this art show I wanted to emphasize how making candy and eating it is a way of re-making our identity, staying current while deeply rooted.  Below is a view of the art show.
Recipe  makes 2 dozen candies

6 ounces  unsalted peeled peanuts
3 ounces confectioner's sugar
Method
1.  In a food processor, process the ingredients until they form a pliable dough that feels like putty.
2. Roll out the dough to a 1/4″ thickness
3.  Using a round fluted cutter, form the candies and set aside for storage.
They are ready to eat!
Let me know how you like them.
In this picture the candy was presented as an art sculpture, part of the art exhibit.  Hmmmm, yeahh eat the art!
So, how come every one gets happy when sharing candy, food??!!!
NOTE: If you found my article helpful, I invite you to follow me on Twitter, Instagram and Facebook, or subscribe below for updates (I'll email you new essays when I publish them).
---
---