A Native Texas Thanksgiving Menu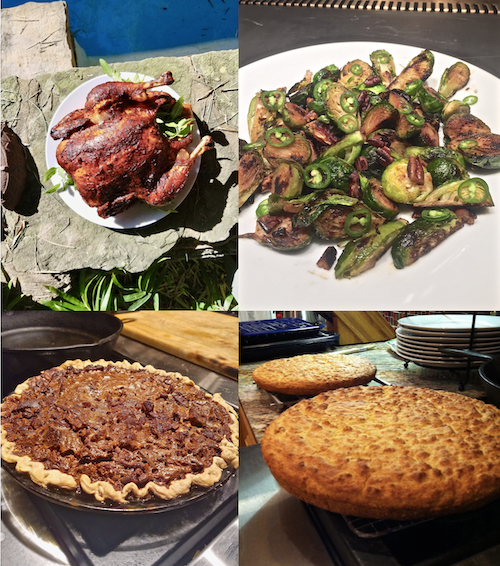 I've assembled four dishes that will make this Thanksgiving come together with full flavors of south Texas and northeastern Mexico, the Texas Mexican culinary region. The menu is
Mexican cornbread stuffing,
Brussels Sprouts with Pecans and Chile Serrano
Turkey Enchilado
Bourbon Pecan Pie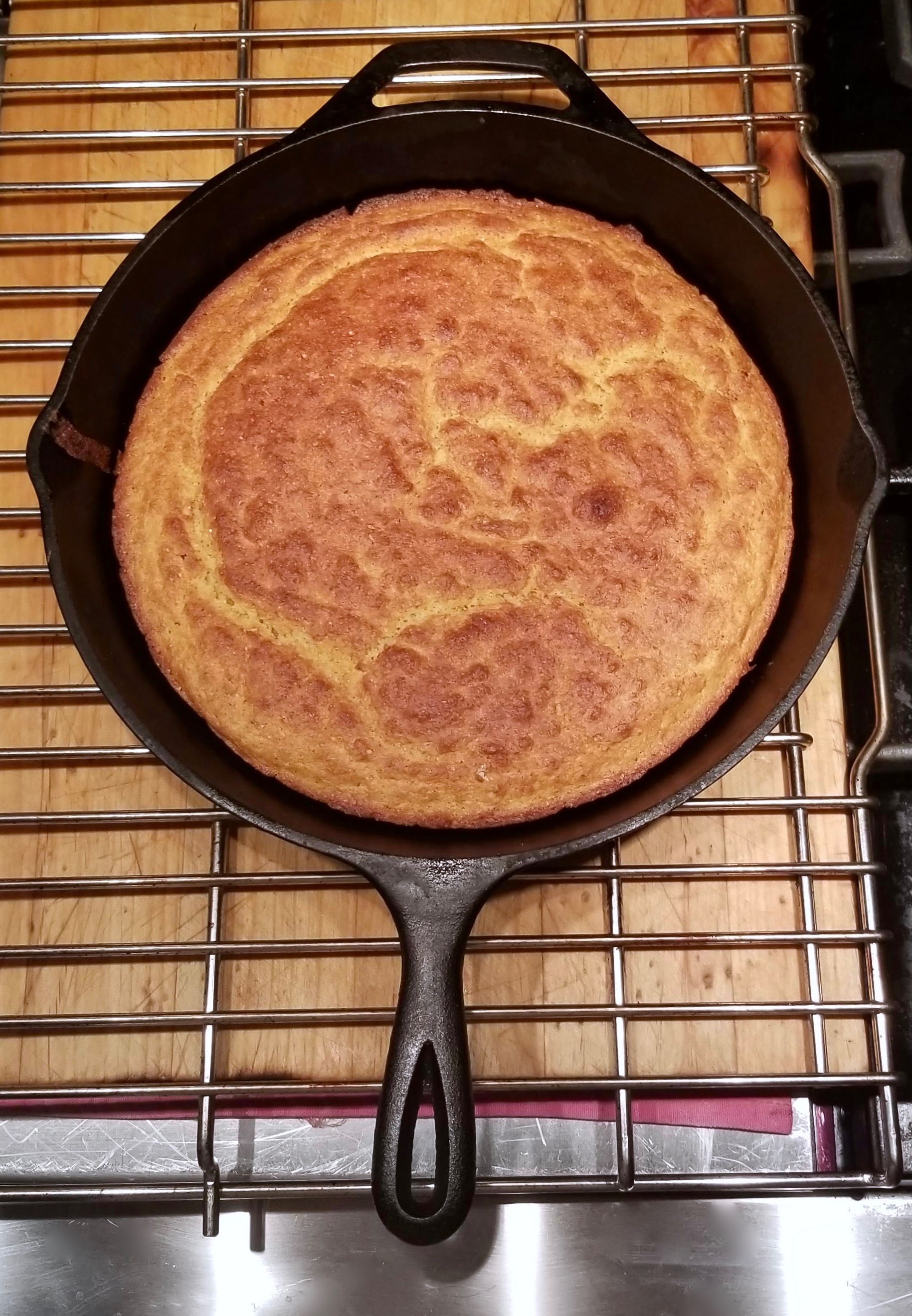 It starts with some cast iron skillet corn bread that you can use to make the cornbread stuffing that is my mom's recipe with pecans and raisins. Here's the recipe for making the  Cornbread and the Cornbread Dressing
Then a side dish of brussels sprouts takes a native Texas turn with the addition of roasted pecans and serrano chiles. Recipe for Brussels Sprouts with Pecans and Serrano Chiles.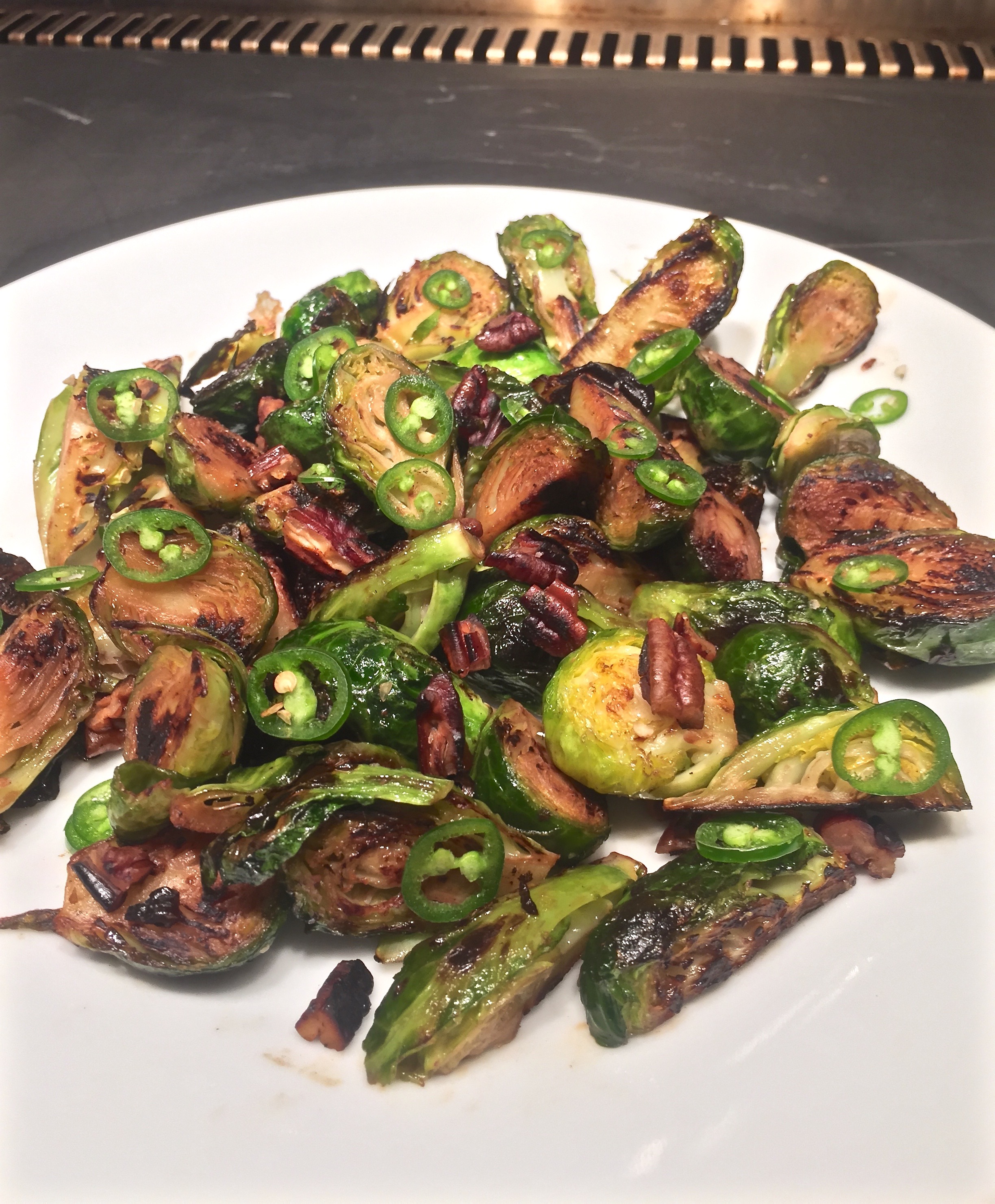 Finish with bourbon pecan pie, yum! Recipe for Bourbon Pecan Pie includes an interesting civil rights story about Emma Tenayuca.
The centerpiece is of course the turkey which is enchilado, infused with chile. This turkey is a little bit complicated because it is brined and then rubbed. But since we are in a Covid moment when we cannot have the usual family gathering, this will give you a nice project, and the turkey will keep until you can share it while social distancing.
Plan ahead if your turkey is frozen because after it's thawed, you'll brine it for 3 days, which makes it really tender and flavorful. Rubbing or marinating a turkey with chile is a southern Mexican tradition in some families, and to me it's also a celebratory nod to indigenous, Native American roots here in Texas and Northeastern Mexico.
---
Over 100 kitchen-tested recipes: Tacos Al Pastor; Red Enchiladas; Tortilla Soup; Nopalitos Salad;
Also Vegan dishes and traditional Mexican pastries and cookies like Marranitos!
There's even a Chile Con Queso Soufflé and yummy Mesquite Candy Balls!  Easy step-by-step guide.
Appetizers, Cocktails and Desserts. Illustrated with gorgeous  pictures, written with history and humor.
 ORDER NOW

---
Reclaiming the Texas Native American History
Europeans who started coming to Texas in the 1500s found that wild turkeys were indeed a food source in the various communities. The earliest archaeological evidence of turkeys is found in central Mexico. Not many people know that the Karankawa, Coahuiltecan, Lipan, Tonkawa and other peoples living in Texas this past millenia traded with the communities in southern Mexico. Actually, places like Houston, San Antonio and others were quite cosmopolitan, in the sense of having wide international sophistication.
Dr. Alston Thoms, Professor of Anthropology at Texas A&M University explains that the Gulf Coastal Plains, including Houston and vicinity, were the center of constant communication, with trade fairs that drew people from as far west as the hill country, and lasted for a couple of weeks. San Antonio had heavily traveled routes leading into central and southern Mexico and these routes were later used by the Spaniards and they called them El Camino Real.
Descendants of Native Americans like the Coahuiltecan, Jumano, along with Karankawa, Lipan, Tonkawa and others, continued to live all across Texas. But they did so as "Mexicans" because their Native American identities were erased by the Republic of Texas.  Their name was officially changed to "Mexican" in 1837 by the Texas Standing Committee On Indian Affairs in its report to then President Sam Houston:
"The People called Lipan, Karankawa and Tonkawa your Committee considers as part of the Mexican nation and no longer to be considered as a different People."
Suddenly, the identity of Texas Native Americans disappeared from the public record, morphed into "Mexican." Although Texas indigenous  peoples were thereafter recognized only as Mexican, we nevertheless continued cooking in our indigenous ways, and that's how we kept alive the native roots of today's Texas Mexican food.
The knowledge that we are Native American has always been present, and now more Mexican Americans are beginning to claim their indigenous identity. According to the 2010 US Census, "Mexican American Indian" is the second largest group of Native Americans to self identify as a tribal group, the first being the Navajo people,   The tribal grouping information in the US Census table below quantifies that Mexican Americans continue to ratify their indigenous, Native American, "Indian," identity.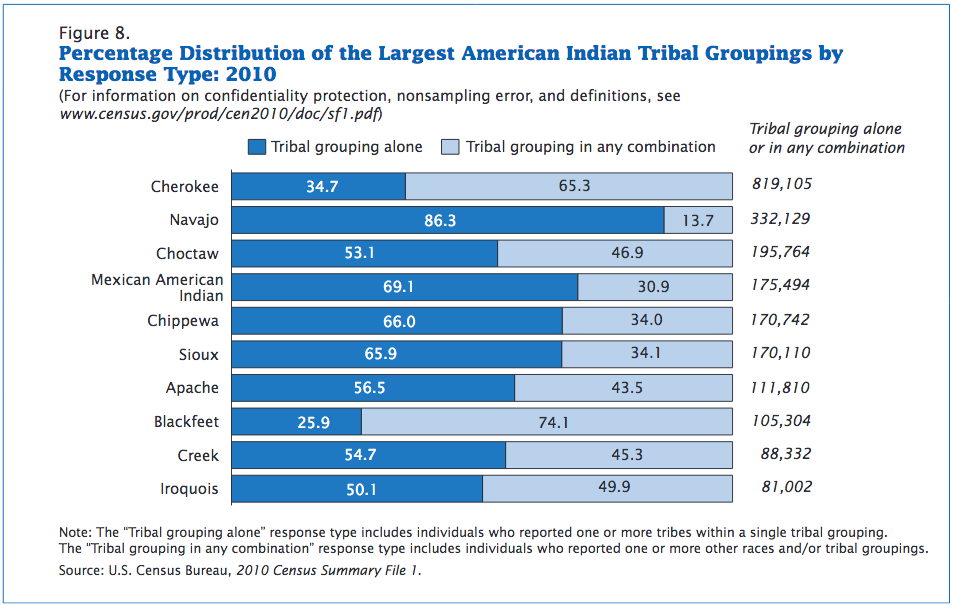 Native Texas Thanksgiving Philosophy
There is a philosophy about Native American cooking that I learned from my apá and amá, from the way they lived, and I try my best to follow it. The philosophy is of of universal kinship with all people, living creatures and with all matter like stones, trees, water and sky.  This mans that hospitality and welcoming are the core practice that defines what it means to be human.
On any land that we stand, we stand on sacred ground. Anytime we cook we get the chance to welcome all, everybody, no matter what race, ethnicity, gender, sexual orientation or religion. In the larger sense, indigenous means that all human beings are of this earth, bound up together as brothers and sisters in community. Let's celebrate that philosophy this Thanksgiving, (false pilgrim myths aside), at a table where all are welcome.
Native Texas Turkey Enchilado Recipe
Ingredients
1 Twelve-pound turkey (completely thawed if previously frozen)
For the chile ancho paste:
5 oz. chiles anchos, about 9 large
10 garlic cloves
1 cup chopped white or yellow onion
1 cup water
2/3 cup olive oil
For the giblet stock:
Neck and giblets from a 12-lb turkey
6 cups water
For the brine:
2 gallons warm water
6 oz. piloncillo (Mexican unrefined brown sugar)
11 oz. salt
2 cups chile ancho paste from above recipe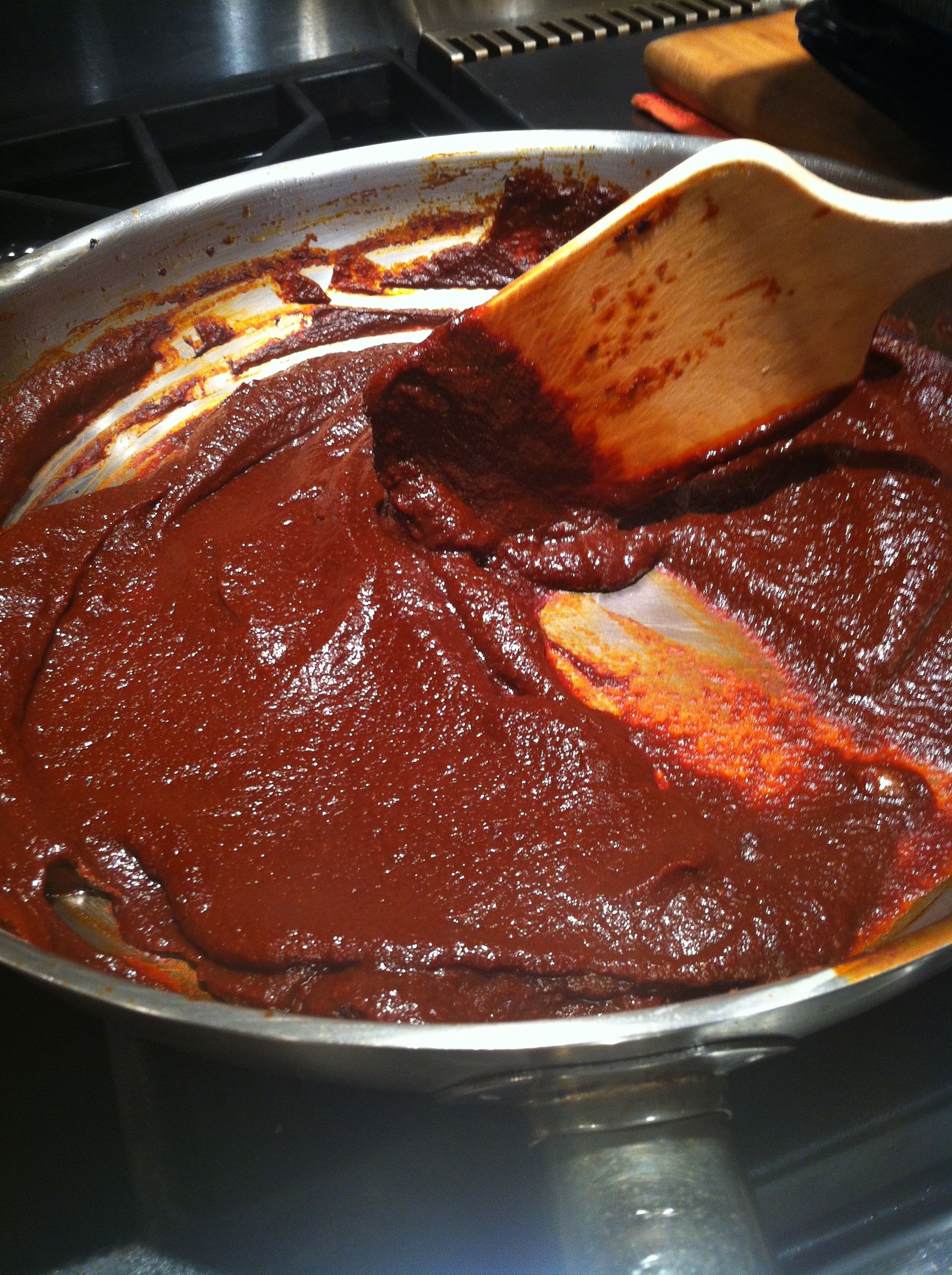 Aromatics to stuff the turkey:
10 five-inch sprigs of fresh Mexican oregano (Lippia Graveolens), or 2 Tbs dried
4 cloves garlic
1 medium orange, washed, unpeeled, quartered
1⁄2 small white or yellow onion
For the chile ancho adobo:
2 cups diced fresh or canned tomatoes
2 Tbs fresh Mexican oregano (Lippia Graveolens) or 1 tsp. dried
2 cups turkey giblet stock
2/3 cups chile ancho paste from above
1 tsp. salt
1/8 tsp. sugar
Method
To make the chile ancho paste (makes 4 cups):
1. With a paring knife or scissors, cut a slit lengthwise on each chile ancho, then open each pod and remove the stem, all the seeds and the membranes.
2. Place the de-seeded chiles in a pot of boiling water, turn off the heat, cover and let stand for 25 minutes, until the chiles are rehydrated and thoroughly soft.
3. Drain the rehydrated chiles and place them in a blender, along with the garlic cloves and the onion. Add 1 cup clean water and blend on high until there are no particles and the purée is smooth and velvety, about 45 seconds and up to 1 1⁄2 minutes.
4. Heat 1 Tbs of the olive oil in a large saucepan over medium heat, then pour in the blended chile purée and cook for 10 minutes, stirring occasionally, until the color deepens and the purée thickens slightly into a paste. Be careful, as the mixture will cause splatter and you may need to partially cover it.
5. Turn off the heat, add the remaining olive oil and whisk to combine thoroughly. Measure to make sure there are 4 cups of paste, adding a small amount of water as needed. Set aside.
To brine the turkey 3 days before it is to be roasted:
1. In a large non-corrosive container such as glass, enamel, plastic or stainless steel, mix all the brine ingredients so that the salt and piloncillo are completely dissolved.
2. Remove the neck and giblets from the turkey. Submerge the turkey in the brine so that it is completely covered, and refrigerate for 3 days.
To make the giblet stock:
1. In a large saucepan, add the neck, giblets, 6 cups of water and bring to a boil.
Lower the heat and simmer gently, partially covered, for 3 hours, skimming and discarding the foam that forms on the surface. The liquid will reduce to about 3 cups. Set aside to cool, and then refrigerate until needed to make the chile ancho adobo, below.
To roast the chile ancho turkey
1. Remove the turkey from the brine and pat it dry. Place in a roasting pan and let it stand at room temperature for 45 minutes.
2. Pre-heat oven to 325°F.
3. In a wide-mouth bowl, pour 1 cup of the remaining chile ancho paste, to use for basting the turkey. Apply a thin coating of chile paste over the entire turkey.
4. Stuff the turkey with the Mexican oregano, garlic cloves, onion and quartered orange.
Place the turkey in the 325º  F oven and roast for a total of about 4 hours, until the internal temperature reaches 165º F.
5. After the first hour, remove the turkey from the oven and baste it with the fat drippings, then brush a second thin layer of the chile paste all over. Do this also after the third hour.
6. When the turkey reaches an internal temperature of 165º F, remove it from the oven and let it rest for 30 minutes. Remove the aromatics from the cavity and discard.
To make the chile ancho adobo
1. In a blender, place the tomatoes and oregano and blend on high until there are no large oregano flakes, about 30 seconds.
2. In a saucepan, over medium heat, add the tomato and oregano mixture, along with 2 cups of the giblet stock, plus the salt and sugar. Bring to a simmer and cook gently for 30 minutes. The adobo will thicken slightly.
Set aside and keep warm until ready to serve.  Happy Thanksgiving to all.
---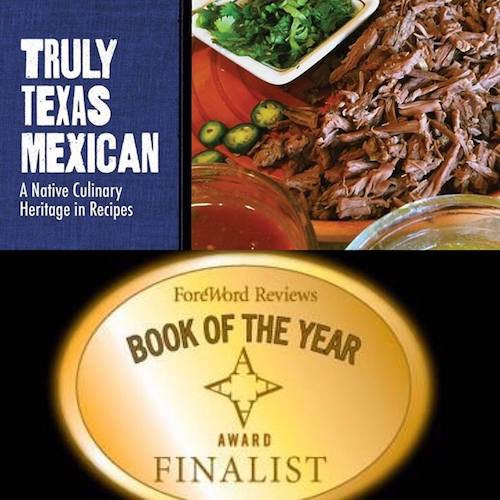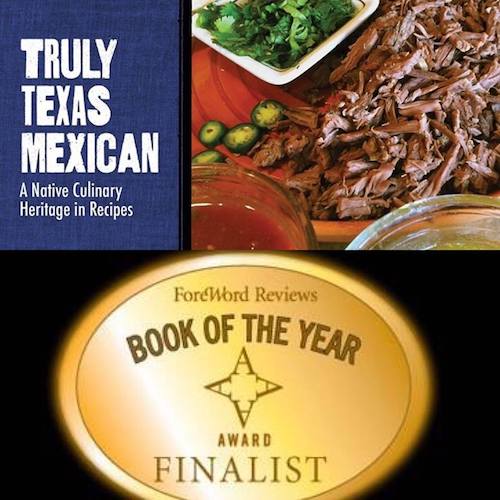 Click here to buy my award-winning cookbook, "Truly Texas Mexican: A Native Culinary Heritage In Recipes."
Over 100 kitchen-tested recipes of the most delicious traditional dishes like: Barbacoa,  Cilantro Rice,  Huevos Rancheros,  Tostadas,  Tamales,  Cheese Enchiladas and many more.  Margaritas, Cocktails, Appetizers and Desserts. Gorgeous photographs and step-by-step instructions.
NOTE: If you found my article helpful, I invite you to follow me on Twitter, Instagram and Facebook, or subscribe below for updates (I'll email you new essays when I publish them).
---
---