Cranberry Conserve: tangerine, ginger and sultanas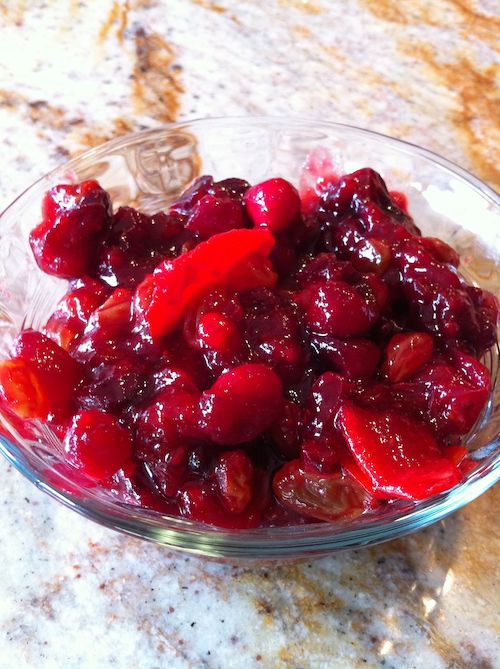 Yes, tangerine, ginger and sultanas.  A contrast of flavor and color that I
think is really amazing with the seasonal cranberries.  I urge you to try it
at your Thanksgiving meal.  I've adapted this recipe from one I read many,
many years ago in Gourmet magazine.
Remember that?  Ruth Reichl's highly influential monthly register of food travels, chef's cultural insights, slow-cooking meditations, etc.  Gourmet Magazine went under because it could not survive the shifting reader interest toward faster-paced and more bouncy food-making. That's my opinion. Happily, though, her elegant and "keep it real" influence continues and, as they say, that's a good thing.

Recipe for Cranberry Conserve
Ingredients (makes 3 cups)
3/4 lb fresh cranberries
1 tsp grated peeled ginger
1/2 cup sultanas  (golden raisins)
1/3 cup freshly squeezed tangerine juice
4″ X 1″ Tangerine peel, pith removed.
2/3 cup light brown sugar
2 Tbsp sugar (optional)

Method:
1. Place all the ingredients in a saucepan and bring to a boil, stirring to dissolve the sugars.
2.  Lower the heat and simmer, uncovered, for about 15 minutes until the cranberries begin to pop open.
3. Remove from heat and let it cool.
You can serve the conserve immediately or store it in the refrigerator for up to 2 days.  To me it tastes better after about 12 hours in the fridge.
Happy holidays!
NOTE: If you found my article helpful, I invite you to follow me on Twitter, Instagram and Facebook, or subscribe below for updates (I'll email you new essays when I publish them).
---
---