Crab-Stuffed Poblano with Cilantro Cream
I dedicate this crab-stuffed Poblano dish to the Karankawa descendants in Corpus Christi and across Texas. The gulf coast was their home for millenia. As I was growing up, we'd regularly climb on the pickup and drive to "Corpos" for a day on the beach. Gulf seafood always connects me to the Texas Mexican American indigenous roots.
"Being indigenous to Texas is to identify with a story that is not often told in the dominant culture, the story of the Texas Indians, the Native Americans of Texas. These first peoples of Texas were driven from their lands by Spaniards, Frenchmen, Mexicans, Anglo Europeans who formed the Republic of Texas, and by U.S. Americans. But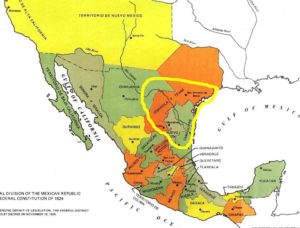 they were not extinguished. They survived, and even prevailed, not only within the Indian reservations of Oklahoma and those of the Kickapoos and the Alabama-Coushattas in Texas but also in Catholic Church missions and in towns and communities throughout the state and northeastern Mexico.
Texas and northeastern Mexico are connected culturally, historically, and biologically. My extended family, like many others, has lived in towns on both sides of the Rio Grande long before it became a walled border. We continue to visit each other, crossing the river back and forth, because that's what we've always done.
I am indigenous because my roots are in Texas. I'm not an immigrant from across the border. My father told me so, just as his father, my grandfather, told him. My grandfather was told by his father, and so this truth has been told and passed on from our past generations." (From "Don't Count The Tortillas: The Art of Texas Mexican Cooking" Adán Medrano, Texas Tech University Press)
Recipe for Crab-stuffed Poblano with Cilantro Cream
Printed with permission from the Cookbook: "Don't Count The Tortillas: The Art of Texas Mexican Cooking"
Ingredients (serves 4)
4 poblano chiles
8 ounces crab meat, picked over to remove shell particles
1⁄2 cup fennel bulb, cut into 1-inch by 1/8-inch sticks
1⁄2 white onion, small diced
1⁄2 cup red bell pepper, small diced
1 tablespoon canola oil
1 cup Monterrey Jack cheese
2 tablespoons crema mexicana
1⁄2 teaspoon salt
1⁄2 cup pine nuts, baked for 5 minutes in a 35ºF oven, then coarsely crushed in a molcajete or other mortar.
For Cilantro Cream:
1 cup crema mexicana
1⁄4 cup fresh cilantro
1⁄4 teaspoon salt
Method
Pre-heat oven to 350ºF
1. Place the chiles under a broiler and cook until the skins blister and get slightly charred, turning them to broil all sides. This will take about 5 minutes per side. Remove from the broiler and place in a paper bag or cover with a damp towel for 15 minutes.
2. After 15 minutes peel off all skin from the chiles.
3. Placing each chile on a cutting board, make a slit along one side and remove all the seeds. Do this carefully so that the chile remains whole and the stem remains attached. Set aside.
4. In a skillet, heat the canola oil over medium heat and add the onions, fennel, red bell pepper, and salt. Cook for 8 minutes, stirring, until the onion is translucent and the fennel becomes soft. Add the crab and heat through, then remove from heat. Add the cheese and crema mexicana and blend together well. Taste and adjust the salt.
5. Fill each Poblano chile with the crab mixture and place in a baking dish, seam side down.
6. Place in a 350º F oven and cook for 30 to 45
minutes until the chiles are hot and the cheese is bubbling.
To Make the Cilantro Cream
7. While the chiles are heating in the oven, place the crema mexicana, cilantro, and salt in a small blender and blend until the cilantro is in tiny flecks. Set aside.
8. When you are ready to serve, heat the cilantro cream in a small saucepan, bringing it barely to a simmer, then turning off the heat immediately. Hold warm.
To serve, place a chile, seam side down on a plate and ladle plenty of cilantro cream over it. Garnish with roasted, crushed pine nuts.
The chiles can be filled and then held in the refrigerator, covered, for up to 6 hours. Reheat in a 350ºF oven for 30 minutes. The blended cilantro cream can be held in the refrigerator for 4 hours. Re-heat on low to a bare simmer.
Enjoy!
NOTE: If you found my article helpful, I invite you to follow me on Twitter, Instagram and Facebook, or subscribe below for updates (I'll email you new essays when I publish them).
---
---