Crab Louie for Lunch Lovers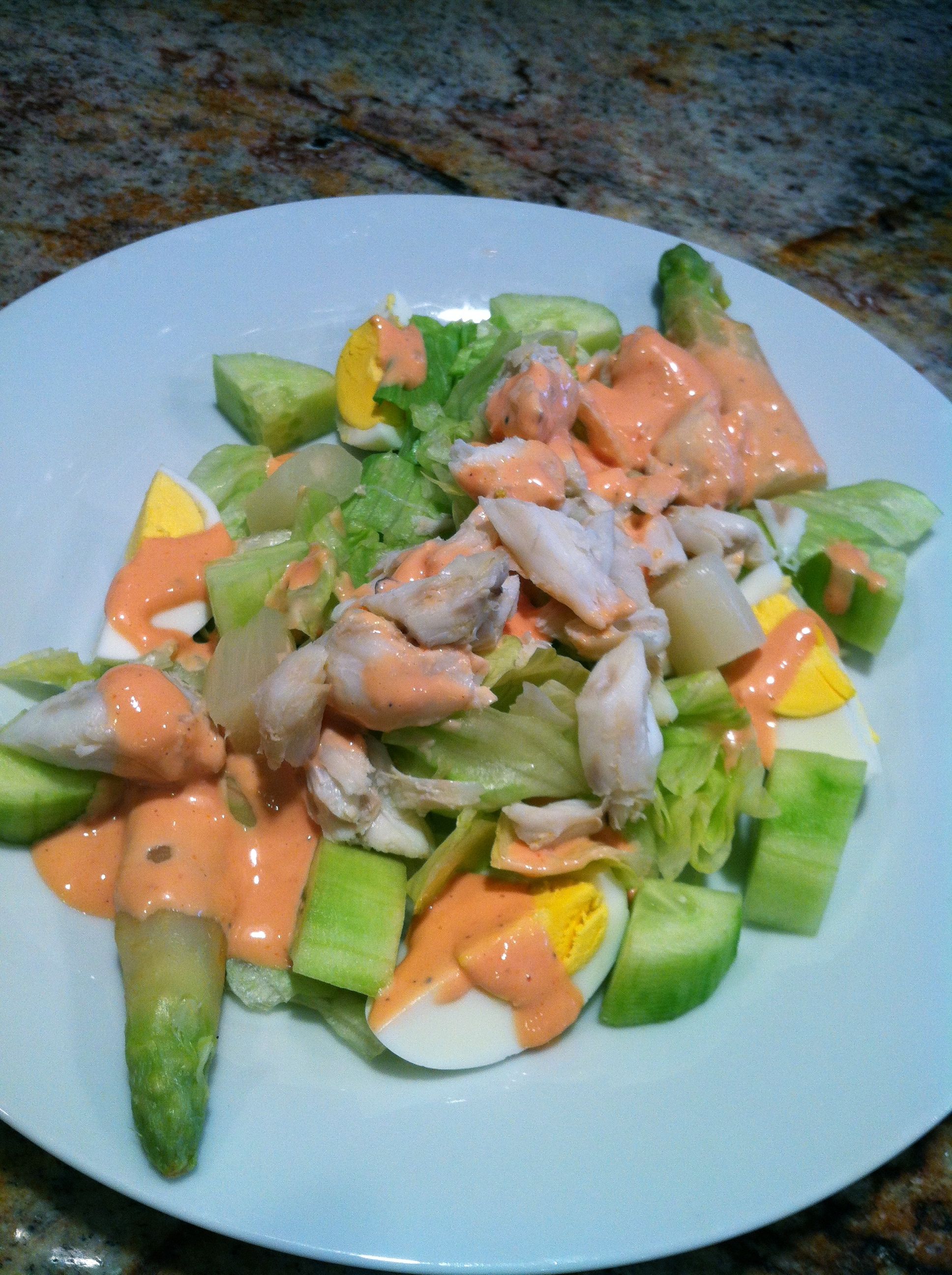 I first tasted Crab Louie as a teenager just a few (ahem) years ago.
Every time I see it on a menu I order it 'cause I love it.
It first appeared on hotel menus around 1915 in Washington State and San Francisco.  I use Thousand Island dressing which was the rage in the 1950's and whose origin is said to be in the early 1900's in upstate New York, although some say New Orleans, some Chicago.  University studies today are placing more importance on food history and so I think we'll have better knowledge about our food pathways.  To me food history lets me enjoy the food more.
A note about the dressing.  You'll see that I use fresh shallots and not any pickles or pickle relish.  I think this makes it more alive and bouncy.  Also add cayenne.  This dressing is mouthwatering and so emblematic of the US 1950's surreptitious use of chiles.  Mexican influence on cuisines is yet to be fully known and understood.
Crab Louie Recipe (serves 6)
Ingredients:
1 iceberg lettuce, cut into medium-size pieces
12 small asparagus spears, boiled, chilled, cut into 3″pieces
6 eggs, hardboiled, chilled, quartered
1 lb lump crabmeat, cleaned, picked through
1 cucumber, peeled, cut into 1″cubes (one of my friends tells me to omit the cucumber)
For the Dressing: (makes 1 1/2 cups, so you'll have some leftover.)
2/3 cup mayonnaise
6 Tbls Ketchup
1 plus 1/4 Tbs white wine vinegar
2 tsp Dijon mustard
2 Tbls shallots, chopped
1/8 tsp cayenne
1/4 tsp salt
1/8 tsp ground black pepper
1/2 cup Canola oil
Method:
For the Dressing:
1. Place all the ingredients, except the oil, in a blender and blend until smooth.
2. Then pour in the Canola oil while the blender is running.  Done.
Arrange the salad ingredients on plates and drizzle with the dressing.
Enjoy. ¡Buen Provecho!
(Recipe by author of "Truly Texas Mexican: A Native Culinary Heritage In Recipes." )
NOTE: If you found my article helpful, I invite you to follow me on Twitter, Instagram and Facebook, or subscribe below for updates (I'll email you new essays when I publish them).
---
---