Chalupas, Interactive Party Food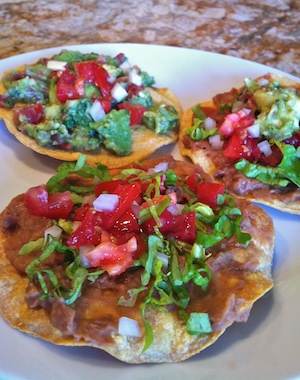 Chalupas are made even more delicious when you can compose them yourself, satisfying your taste urges and personal preferences. You deserve to get what you want, so interact with the ingredients, live it up!  Caveat: refried beans always form the bottom layer of the chalupa.
From then on, you can pile anything you like on your chalupas, exploring whatever ingredients the host laid out for the party.  For me the traditional way is the best:  a layer of beans, then lettuce, then onions and tomato. Takes me back to my first grade when volunteer ladies from the neighborhood would come to the school kitchen and make these as snacks for us in the middle of the afternoon.   Was a culinary playground!
Chalupas Recipe: (serves 6)
This recipe is adapted from the book: "Truly Texas Mexican: A Native Culinary Heritage In Recipes"
Ingredients:
12 corn tortillas
1/4 cup vegetable oil
2 ripe tomatoes, small dice
2 cups finely sliced iceberg lettuce
1/2 cup white onion, small dice
3 cups refried beans Recipe from blog posted here
Method:
1. Preheat oven to 350°F
2. On cookie sheets, lightly brush both sides of the tortillas with the vegetable oil and bake for 15-20 minutes or until the color of the tortillas          turns a deep tan.  If the tortillas are too light, they haven't cooked long enough and will be chewy rather than crisp.
3. When they are done, store the tortillas on a large platter, ready for the guests.
4. Place the tomato, onion and lettuce on separate bowls so that guests can layer them on the chalupas.
5. Keep the beans warm on the stove, a crockpot or a chafing dish.
You can add the following ingredients to the table (search my blog to find the recipes):  guacamole, various salsas, chorizo, and carnitas. Don't just watch the glowing faces on the interactive guests, jump in and enjoy!
NOTE: If you found my article helpful, I invite you to follow me on Twitter, Instagram and Facebook, or subscribe below for updates (I'll email you new essays when I publish them).
---
---