Moqueca Brazil Fish Stew Is Brilliant!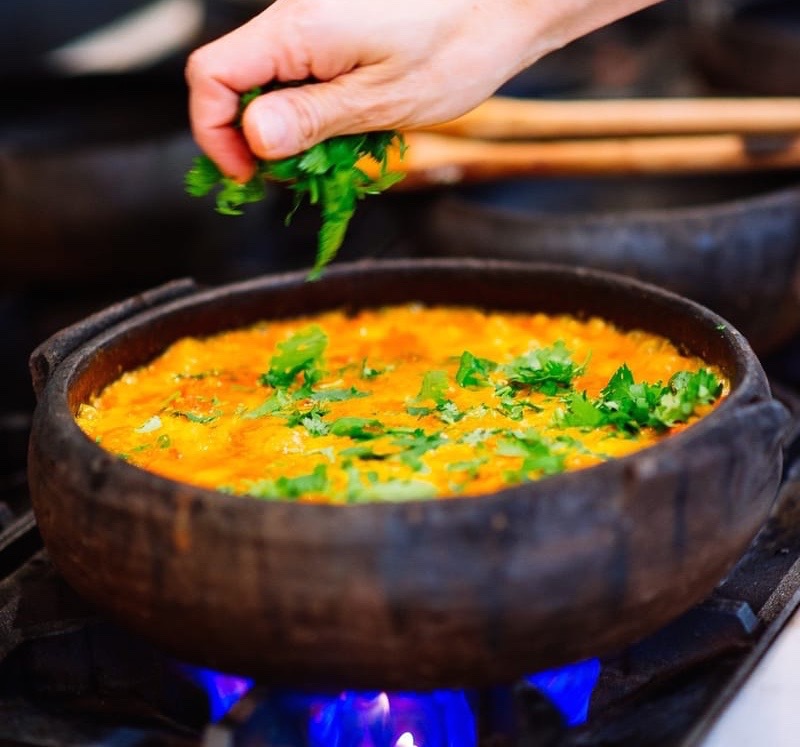 When we first met, some years back, Houston artist, Tony Paraná invited me to a Sunday  party at his home, and we made Moqueca Brazil Fish Stew.  It is  a Northeastern Brazilian seafood dish served in a clay pot. Fish and some shellfish are quickly boiled in an aromatic broth of coconut milk, vegetables, cilantro and the highly flavorful Brazilian red palm oil, dendê.
Beware when you purchase the delicious red dendê: the production of palm oil is highly contested, and most commercial processes are dangerous to the environment and some wildlife.  Read the label carefully when you buy dendê and make sure that it is RSPO certified. 
This moqueca is the best weekend party dish, and I learned to love it when I first traveled to the state of Bahia in the 90s.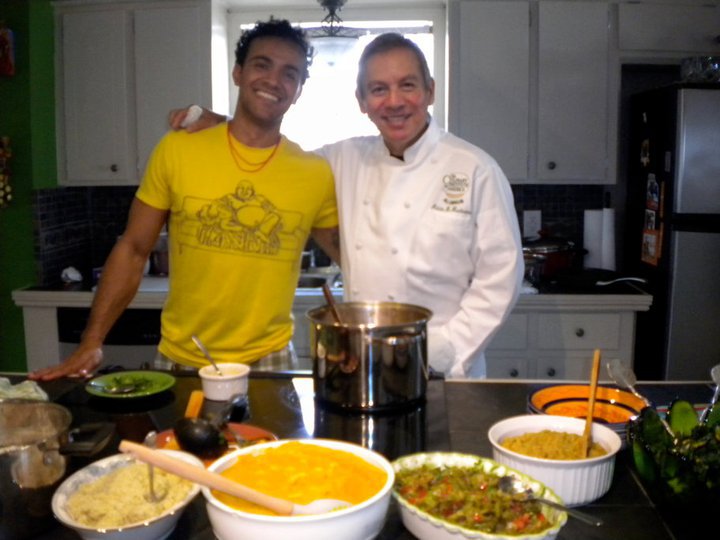 I learned from my Brazilian friends how varied the differences are for this dish.  As in Mexican cooking, there are strong preferences, and lively debates about the use of certain ingredients, like garlic.  In some circles the use of garlic is known to have frayed friendships.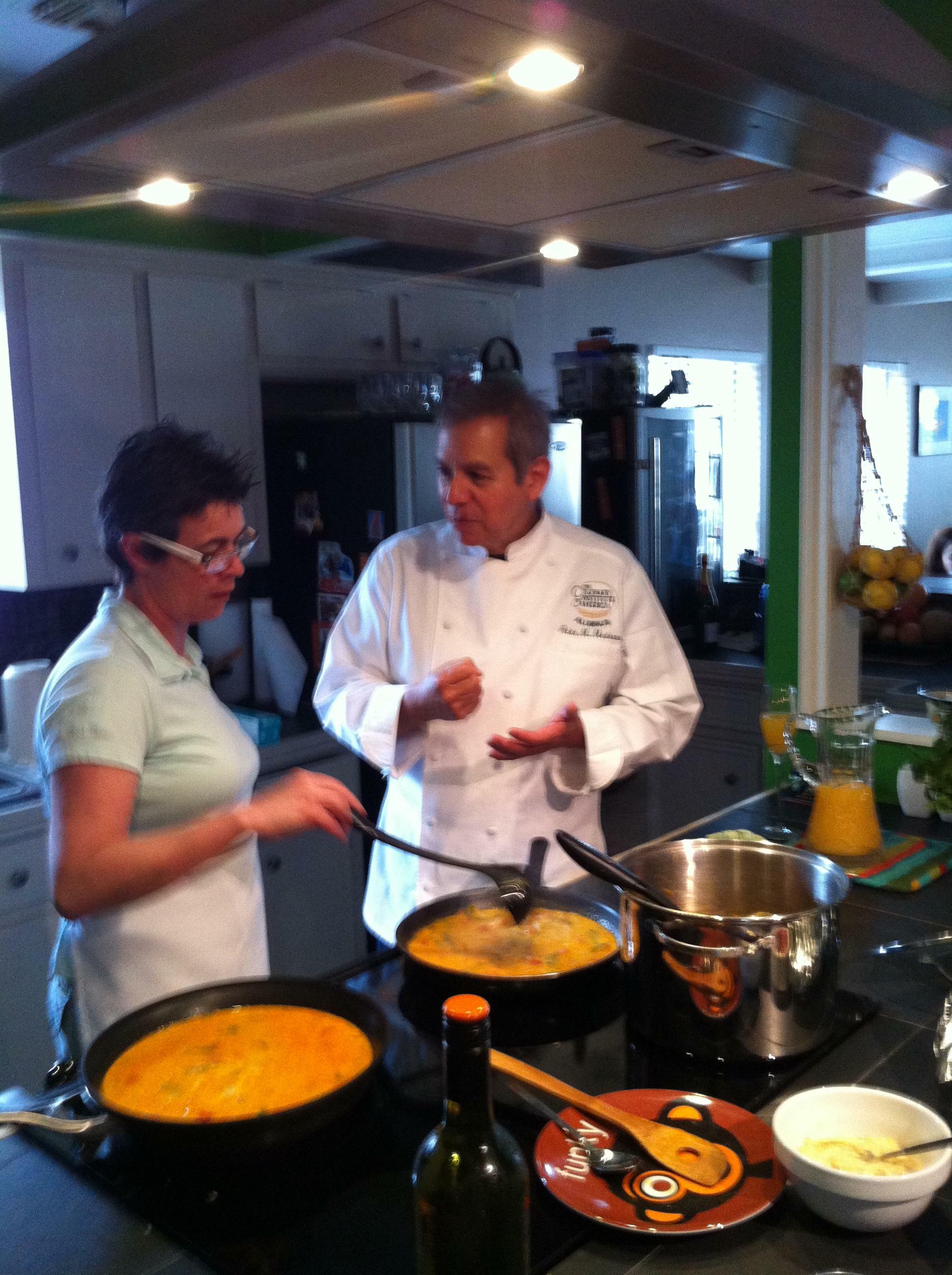 Since it was Sunday afternoon, mimosas were served during the preparation. Lovely.
Recipe for Moqueca Brazil Fish Stew
1 coconut:  to make fresh coconut milk, crack open the brown mature coconut and reserve the liquid. Then using a butter knife or similar blunt but sturdy instrument, gently pry the white coconut meat from the shell. The white coconut will break into medium size pieces as you pry. Be careful that you don't get flying shards in your eyes. Cut the white coconut into small dice, place in a blender, add the reserved coconut water and purée until completely liquefied. Add tap water if needed to blend properly. Strain through a fine mesh sieve. Set aside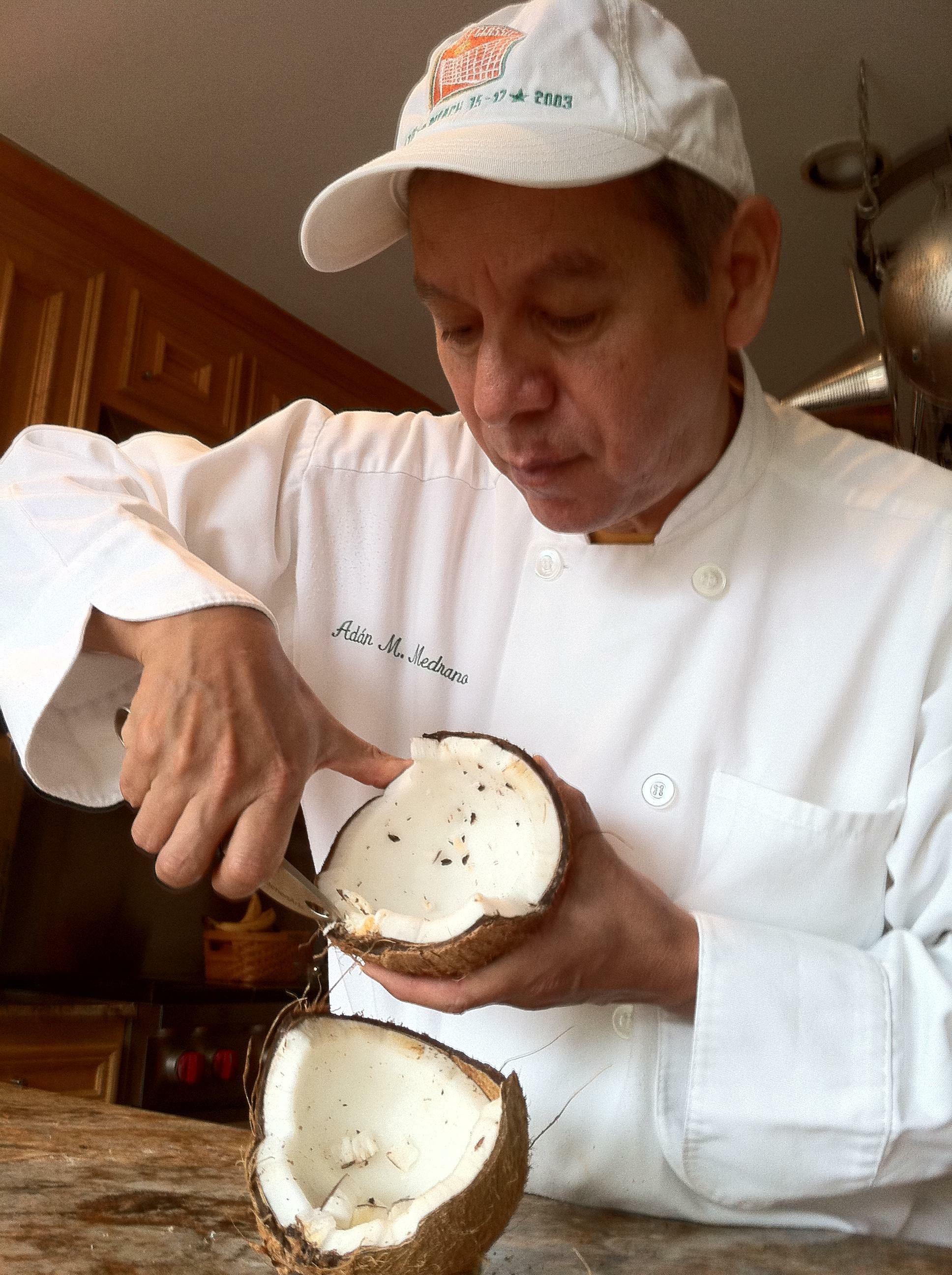 2 cloves garlic, minced
1 Tbs kosher salt
2 limes, juiced
half bunch cilantro, coarsely chopped
4 Roma tomatoes, diced
1 green bell chile
1 medium yellow onion
dendê oil
1 lb mahi-mahi or halibut fillets, cut into 1 1/2 inch cubes
1 lb fresh shrimp, shelled, deveined
1 lb crab fingers or lump crabmeat
Method
1.  Make a smooth paste with the salt, garlic and half the lime juice (2Tbs) and rub the fish filets with all of it. Place the filets in a glass dish or ziplock bag and add half of the cilantro.  Allow to marinate for 1 to 3 hours. (One of my native Bahí­a friends who was at the party said NOT to marinate, although we did so.)
2.  In a 12″ saute pan or in a dutch oven or the traditional Brazilian moqueca pot, on medium low heat, add 1-2 Tbs dendê oil.  Add the onions, bell chiles and sweat them for about 5 minutes, until the onion is translucent, then add the tomatoes.
3.  Once the vegetables are soft, add the coconut milk. Simmer gently for 1 hour, a bit longer is ok, so the flavors develop fully and the broth is reduced.
4. Add the fish pieces and cook for 3-4 minutes. Add the shrimp and crab and cook for another 2 minutes. Sprinkle with the remaining chopped cilantro
5.  Taste and adjust the salt.  Drizzle the surface with lime juice and a bit of dendê oil.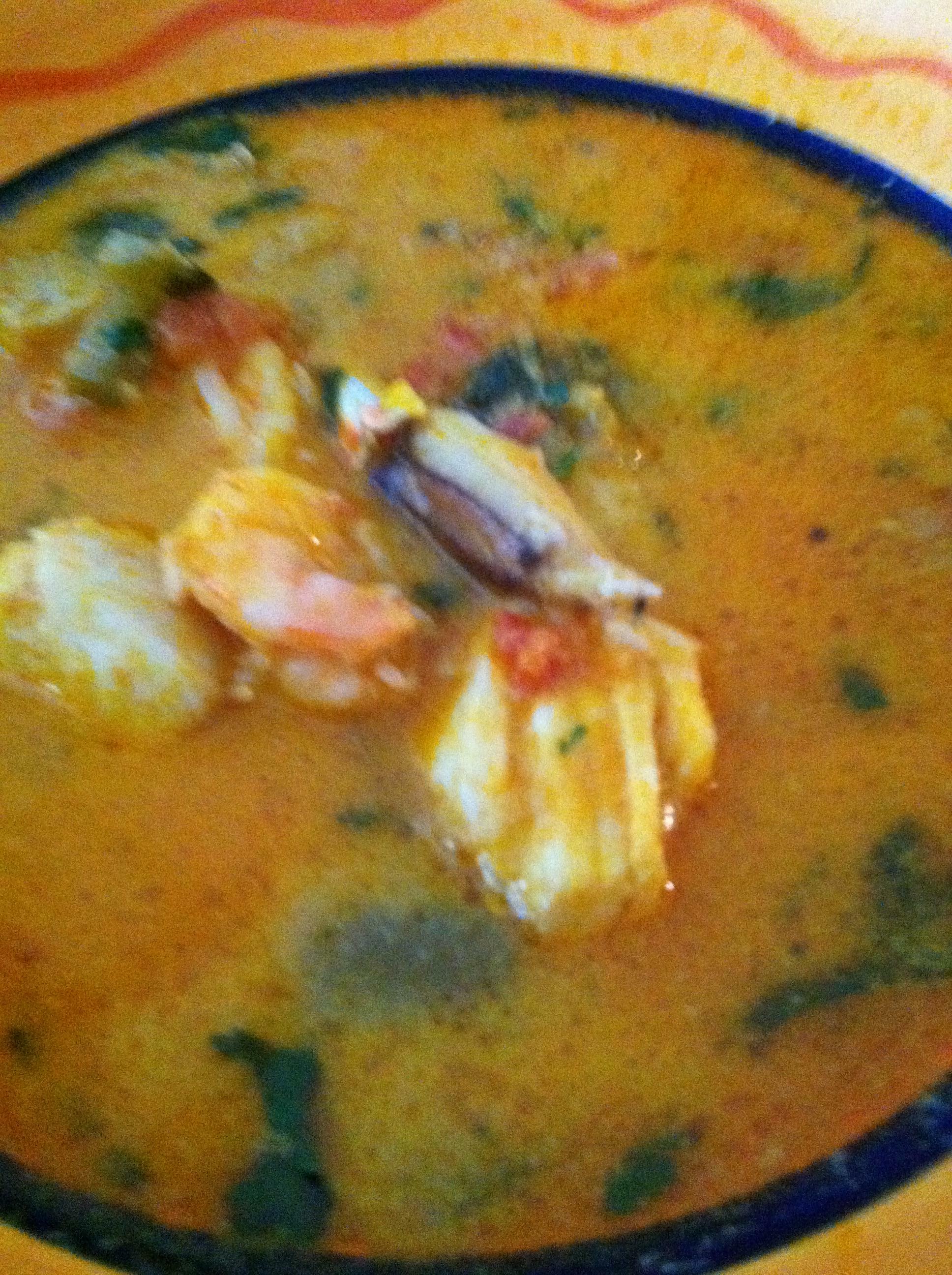 Serve tableside while it is bubbling.  This is so delicious. Enjoy your weekend!
References:
Moqueca on stove picture courtesy of Moqueca Brazilian Restaurant, Thousand Oaks and Oxnard, California.
NOTE: If you found my article helpful, I invite you to follow me on Twitter, Instagram and Facebook, or subscribe below for updates (I'll email you new essays when I publish them).
---
---