Basil Bruschetta In Winter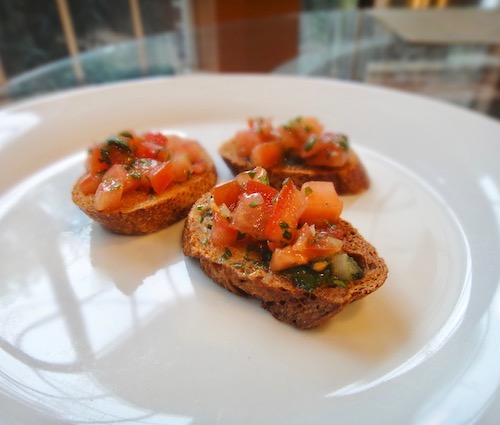 Basil Bruschetta normally says "summer," here in Houston, but when the basil in my little winter green- house surprised me by growing luxuriantly, I had to taste it, so I winter harvested some.  The flavor is very mild, but it's perfect just after the tamales of New Year's eve. So, this refreshing little basil bruschetta was a delicious part of my 2019 new year's day.
This recipe is for my friends in Chile and across South America and Asia that are south of the equator. Fortunately, right now the aromatic basil is in season for you.  For the rest of us, global northerners, bookmark this so you can share basil bruschetta with friends once spring arrives and you're growing basil in your garden.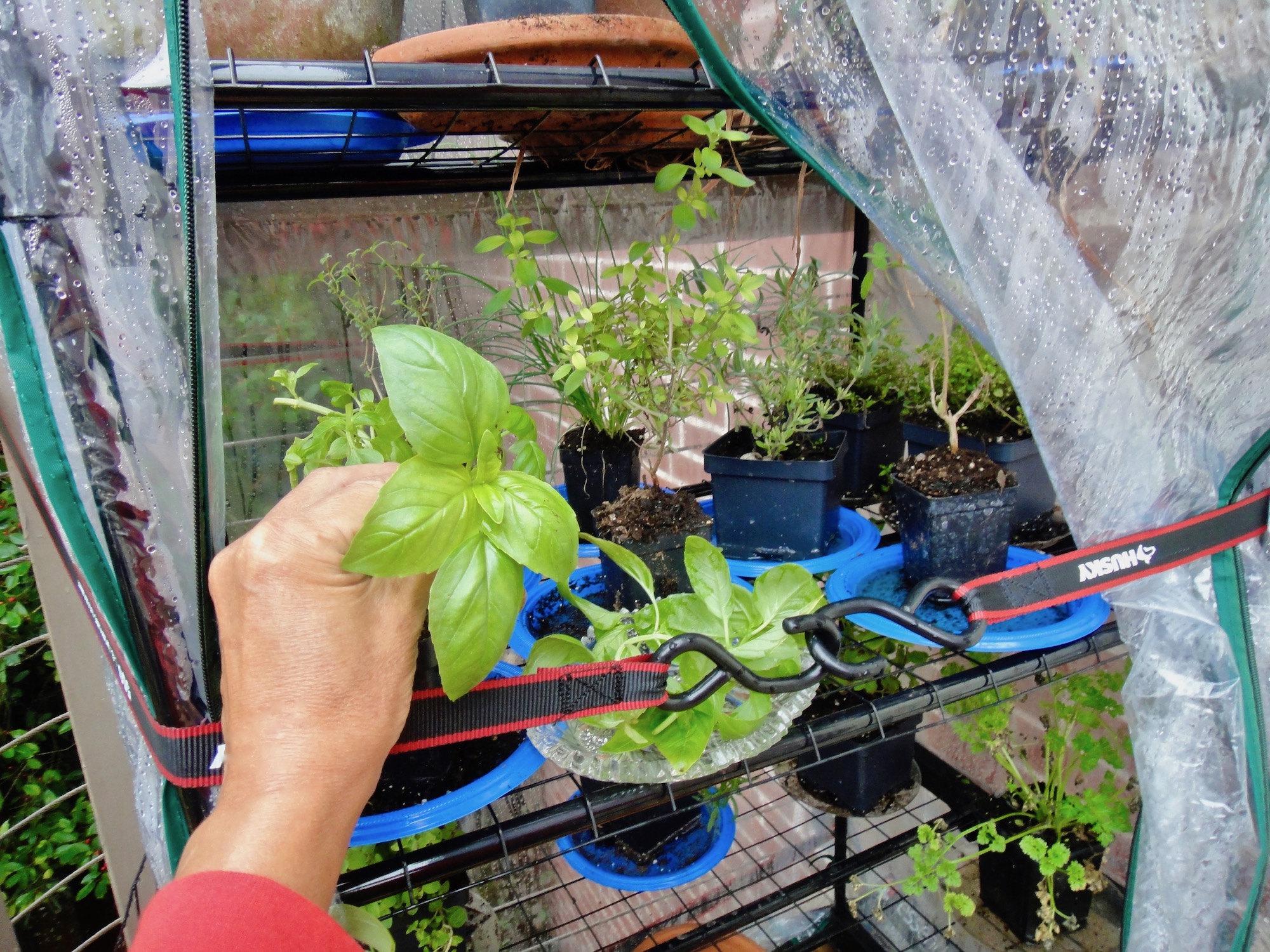 Bruschetta is an Italian slice of crisp bread with garlic and extra virgin olive oil.  Delicious simplicity dating back to Roman times.  After the 16th century, Italians incorporated the tomato that had been brought to Europe by Spaniards following their invasion of Mexico, Central and South America.  I follow this Italian/Mexican tradition, and add tomatoes and onion.  I used Chilean extra virgin olive oil, and suggest that you give it a try if you are unfamiliar with Chile's amazing EVOO.
Brush the crisp baguette wafers with a fresh garlic clove just before adding the topping.
Recipe for Tomato Basil Bruschetta

Ingredients
-1 1/2 cup tomato, small dice.
-1/2 cup firmly packed Basil leaves, coarsely chopped
-4 Tbs Extra Virgin Olive Oil (I used Chilean olive oil in this recipe)
-2 Tbsp onion, fine mince
-1 whole garlic clove
-salt to taste
-14 slices, 1/4″ to 1/2″ thick diagonal cut, baguette
Method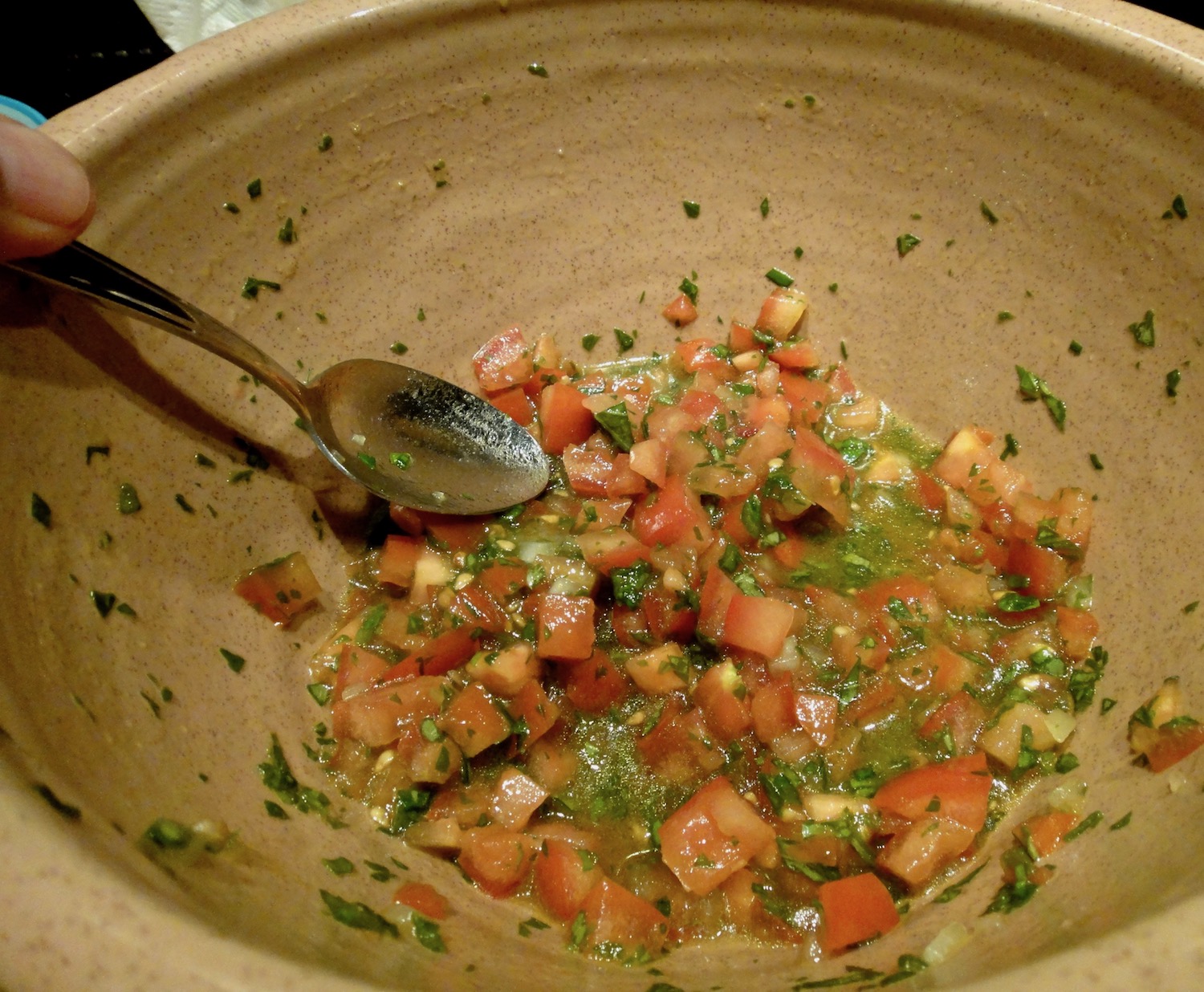 1.  Toast the bread slices in a 350°F for 15 minutes, or until it is slightly golden, completely dry and crisp.  Allow to cool.
2.  In a mixing bowl combine the tomato, olive oil, basil and onion, and add salt to taste3.  Rub one side of each bread slice with the garlic clove to give it a hint of garlic peppery taste, then top this with a spoonful of the tomato mixture, making sure to include the juice that stays at the bottom of the bowl.
Serve immediately.
Take a nice glass of white Orvieto with this bruschetta, or a crisp Chilean Chardonnay.  It's divine.
NOTE: If you found my article helpful, I invite you to follow me on Twitter, Instagram and Facebook, or subscribe below for updates (I'll email you new essays when I publish them).
---
---